Why Wells Shouldn't Chase After Danielle M. On 'Bachelor In Paradise'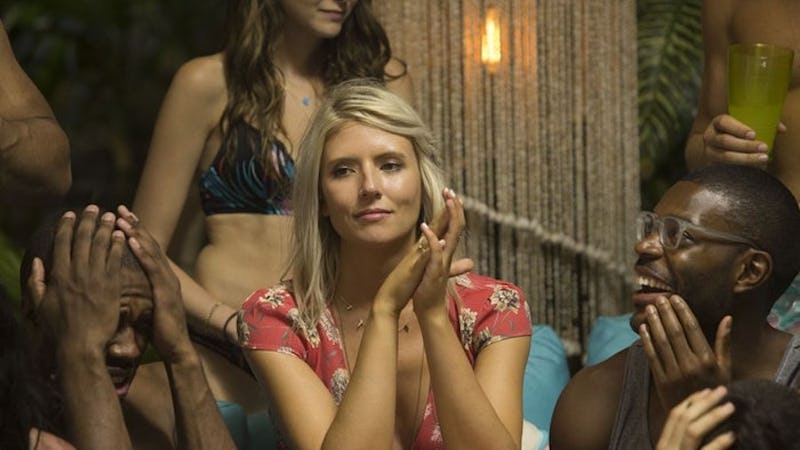 Paul Hebert/ABC
It's hard to surprise Bachelor in Paradise fans, but the standout love story on Season 4 so far is an unlikely connection between a constestant that left voluntarily and one of the employees. But will Wells leave Bachelor in Paradise to chase Danielle M.? If the show was written by master of the tragic love story Nicholas Sparks, I'd say absolutely, and then I'd be very worried that something terrible would happen to one of them before they got the chance to share their lives with one another. But, alas, this is real life — sort of — and Danielle M.'s trip to volunteer overseas in Kenya, the justification for her early departure from Paradise, isn't the type of opportunity that can be easily adapted to accommodate a brand-new romantic relationship.
And, of course, as the resident bartender, Wells has a job to do and no other dates to go on, so if Wells does decide to pursue a relationship with Danielle, staying in Paradise until the rend of the season wouldn't jeopardize that. So while it may be a little less dramatic, it actually makes a lot of sense that Wells probably won't be leaving Bachelor in Paradise this season in order to chase after Danielle.
But that doesn't mean that the kiss the two shared doesn't have some potential behind it. In fact, on Bustle's Bachelor podcast, Wells said, "You also have to remember — if I go on dates, does that mean I don't get to be the bartender anymore? ... Would you think that I would forfeit the cool gig that I've got to go on dates? Maybe so. And if I did, who would be the one to pull me out from behind the bar?"
After his moment with Danielle just before she left Paradise, it seems that if anyone has a chance of winning Wells' heart, it's her. After all, the two were friends before their little hookup on the show — back in February, Wells posted the above picture, captioned, "Just a couple of old friends who got dumped on a 1 on 1. Honestly one of best humans I know. Love you [Danielle]!"
Friends that turn into more than friends? That's another development straight out of a romance novel, and while it's certainly not impossible to imagine that once they were back at home (both Danielle and Wells live in Nashville), they began to pursue a relationship. And according to the below Instagram post from Carly Waddell (who fell in love in Paradise, remember?), Wells and Danielle have, at the very least, been hanging out with other couples, possibly giving love a shot. Carly wrote, "We love love!!! Here's to hoping it works out for everyone like it did for us!!!" alongside her picture, suggesting that Taylor and Derek and Wells and Danielle are among Bachelor in Paradise Season 4's successful couples.
So, while Danielle's work in Africa may have brought her flirtation with bartender Wells to a premature ending on Bachelor in Paradise, perhaps that wasn't the end for this couple — their fellow Paradise couple pals, at least, seem to be rooting for Wells and Danielle to make up for some lost time and start transforming their friendship into love right away.