This Is The Weird Way Your Period Affects How You Sweat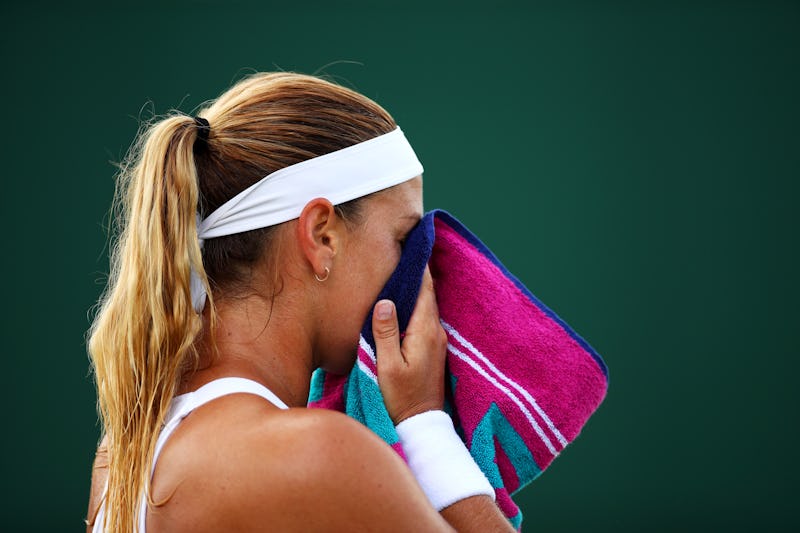 Clive Brunskill/Getty Images Sport/Getty Images
Menstrual cycles, as we all know, can be difficult and occasionally rather annoying — but they're also a fascinating biological phenomenon that affects different parts of our bodies in ways we're still discovering. If you've ever felt like your period is affecting how much you sweat, some intriguing new science is starting to get to the bottom of why.
Sweat is one of the body's primary ways of regulating body temperature, but it's also closely tied to the hormonal cycle of ovulation and menstruation, and that can have unexpected consequences. Bustle spoke to scientists from the period-tracking app Clue about the specifics of sweat and why our bodies adjust their sweating patterns over the course of a cycle.
The relationship between your menstrual cycle and sweat still has a long way to go before we fully understand it, or track exactly how it works. Sweat itself is also a field of scientific interest that keeps producing new discoveries; it was only in 2017, for example, that we found out that tattooed skin sweats far less than non-tattooed skin in young men. You may not think that how much you're sweating matters all that much, nevermind your sweat's connection with your period, but if you find yourself sweatier than usual, there's a possibility your hormones are to blame — and that information is crucial for understanding your health in a holistic way.