Eva Longoria Wants To Improve Hollywood For All Latinas — Not Just The Famous Ones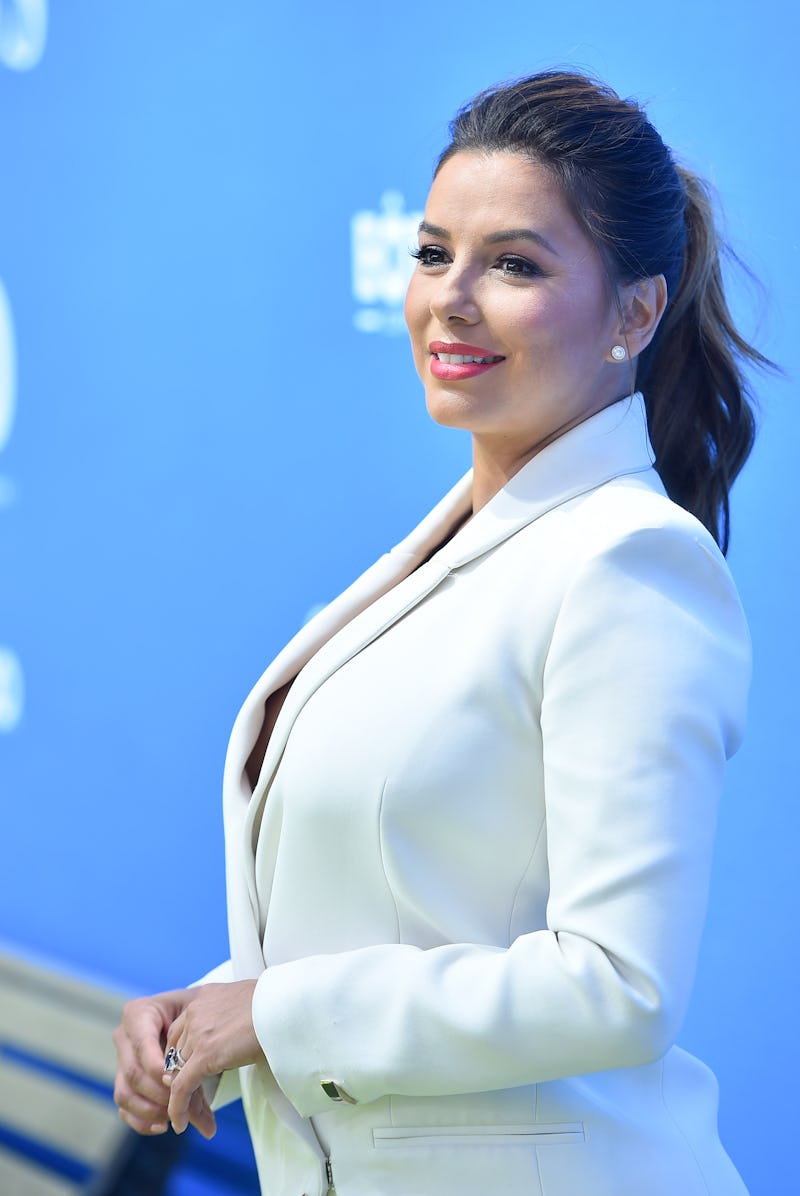 Alberto E. Rodriguez/Getty Images Entertainment/Getty Images
When Gina Rodriguez posted a photo posing with Eva Longoria, America Ferrara, Stephanie Beatriz, Rosario Dawson, Andrea Navedo, Melissa Fumero, Justina Machado, and a ton of other Latina actors with the hashtag #FiercelyLatina back in October of 2017, fans were not only shocked that these women were all in the same place — they were inspired. "When we posted the photo, people were like, 'Oh my god, these people are friends?' And it's like yeah, we love each other we support each other whether it's for projects or personal, it's a really great group of women," says Longoria, looking back at the photo, when we sit down to chat about her new movie, Dog Days (out Aug. 8), in Los Angeles.
Since that initial shot — taken at a brunch organized by Ferrara and Rodriguez for Latinas in Hollywood to bond and help each other succeed — the group has grown immensely; just a month later, in November, Rodriguez posted another #FiercelyLatina group photo showing that the squad had completely doubled in size. In April, a few of the same ladies (including Beatriz, Machado, and Fumero) showed up to support Longoria at her Hollywood Walk of Fame Star ceremony.
Fans, naturally, have been in awe at the powerful group of women joining forces — comments like "You wonderful beautiful latinx womxn are so powerful and inspiring. You are all great thank you! You give me hope as a latinx filmmaker" and notes calling them "a latina power squad" abound on photos.
For Longoria, that's what this group — sometimes referred to online as #FiercelyLatina and what Longoria refers to as #LatinasWhoLunch — is all about. "Latinas in general are really family oriented so we've created our own family here in Hollywood," the actor explains. "We started small and now we're growing and growing. But we really want to be inclusive of everyone trying to work in the industry. It's not just for stars and people who've made it. It's for the young Latina who wants to get into the industry."
And the industry certainly isn't making it easy for them. In a new study released by UCLA in early 2018, it was found that only 2.7 percent of the roles in 2016's top films went to Latinx actors and only 6 percent of broadcast scripted roles on television were played by Latinx people.
But women like Longoria are taking matters into their own hands. In addition to her acting and producing work, she runs her own foundation (appropriately called the Eva Longoria Foundation) which focuses on lifting up young Latinas all over the country through its mentorship program, providing business loans to Latina entrepreneurs, and sponsoring after school programs for STEM skills like coding and robotics. And while she wasn't at the most recent #FiercelyLatina event held at One Day At A Time showrunner Gloria Calderon Kellett's home (Longoria was a little occupied bonding with her newborn son, Santiago Enrique), now that she's back to work, she's ready to hit the ground running for all of her causes, including Time's Up — for which she is an acting organizer.
Not only did she share her very candid thoughts on the recent allegations against Les Moonves and call for a thorough investigation at the premiere for Dog Days, she tells me she's committed to keeping the Me Too conversation alive and kicking for as long as possible. "This movement is for us, not just in this industry, but across industries," she says. "Even though I don't have a Me Too moment, I still want change for women in the world. I want gender equity, I want equal pay. I want equal access to opportunity. I think it's important for journalists to keep asking the question and for us to keep it alive, so we know this isn't a march, it's not a moment, it's a movement."
Leave it to Longoria, who's always been an outspoken advocate for causes that she cares about, to spread the good word during the press tour for a rom-com featuring fluffy, four-legged best friends. And even in that happy, bounding world of canine pals, Longoria is advocating for those who need our help.
Dog Days, while mostly a light-hearted movie about the idea that dogs are the purest embodiment of love, also sends a strong message about the Adopt, Don't Shop movement. The film's main events center around the fundraising event for a local dog shelter and the idea of rescuing pups from less fortunate situations. Naturally, it's another cause close to Longoria's heart (see her recent heartbreaking tribute to her late dog, Jinxy, if you need further proof that she's a dog person).
"I think people have a vision of like, 'I want a Golden Retriever, I want a poodle.' They want a specific breed, and what they don't know is that a lot of these pounds and shelters have those. Like you will find what you're looking for because there are so many dogs who need a home," the actor says. "But I also truly believe you don't choose the dog, the dog chooses you, so if you go to an animal shelter the dog will choose you right away. You'll know, that's the perfect fit for me."
Longoria might sound like a spokesperson for the Humane Society, but that's more the territory of pals like Olivia Munn, she says. Speaking up, though, is just part of who she is. If there's a cause she cares about, she makes it known, whether its for women in Hollywood, or pups who need homes.