Here's How You Can Get 50 Percent Off Any Domino's Pizza This Week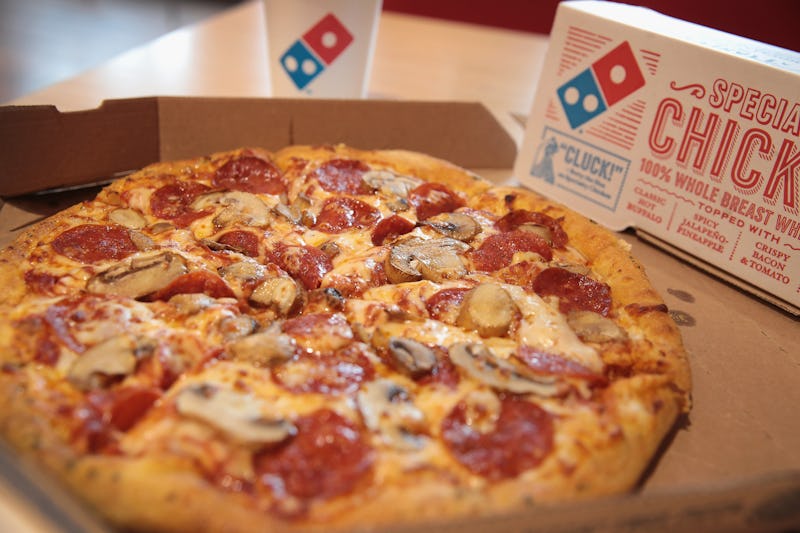 Scott Olson/Getty Images News/Getty Images
If you're looking for an excuse to throw a pizza party, consider this your sign. From July 9 through July 15, Domino's is offering all its pizzas for 50 percent off menu price. As long as a customer orders from the Domino's website, they qualify for the discount. Have you wanted to try an indulgent topping combination but been deterred in the past by the extra cost? Now's your chance to create the weird, fancy pizza of your dreams. Pineapple and pepperoni? Why not! Every single vegetable? Make your intestines a garden! It's 2018, and this week in particular the world is your oyster ... or pizza, rather.
Domino's has had a pretty big year thus far. The pizza, pasta, and sandwich chain also hosted a giveaway in March for free pizza for a year. A collaboration with Quikly, the contest gave entrants the opportunity to win some majorly cool prizes, including FREE PIZZA FOR A YEAR. An additional five people won $100 Domino's Pizza e-gift cards, one won an $100 Domino's Pizza e-gift card, five won $50 Domino's Pizza e-gift cards, and 25,000 were awarded $5 Domino's Pizza promotional e-gift codes. Apparently if there's one thing Domino's does better than pizza it is FREE pizza.
One overlooked benefit of summer is how many opportunities there are for snagging some free food. In addition to all the barbecues to which you will surely be invited, many of the bigger food chains across the country happen to offer free eats during the warmest season.
On July 15, the United States will celebrate National Ice Cream Day. The holiday was first designated by President Ronald Reagan in 1984, and has been going strong ever since. Luckily, many of the country's largest frozen dairy chains also like to commemorate the occasion with free or reduced-price treats. Baskin-Robbins is offering a buy one get one free ice cream cones, as well as $2 off milkshakes on the holiday. Carvel, too, is offering customers a buy one get one free deal on soft serve. Plus, Dippin' Dots is offering free mini cups of its one-of-a-kind dessert. It is a shame the two occasions only overlap for a single calendar day, but let that be your cue to make it count.
Another iconic day that overlaps with Domino's promotion is July 11, or 7/11. Every year on July 11, the chain of convenience stores offers free cups of the icy beverage it birthed into the world: the Slurpee. Plus, 7/11 is currently offering one flavored like Cap'n Crunch Crunch Berries, so there's really no time for a '90s kid to get in on this deal quite like the present.
So, you heard it here first: July is the best time of the year for fast food deals. This week alone you could feasibly feast on a large pizza and a Slurpee for next-to-nothing.
Maybe by next July Domino's will have expanded its menu even further to include the chocolate pizza it sells in the UK. Maybe chocolate will just be a general topping option. Imagine the possibilities you would have if you could not only choose a savory, tomato-based pizza, but a pizza with chocolate as the base sauce. One can only hope.
Until that day comes, be sure to take advantage of the pizza deal this week. If you're unsure of where your closest Domino's is, just take a peek at the chain's store locator online. You can choose from five different crusts (including gluten-free!) as well as NINE sauces to craft your perfect masterpiece. The combinations are only as limited as your imagination allows.