Donald Glover's Marital Status Is Something He Keeps Very, Very Private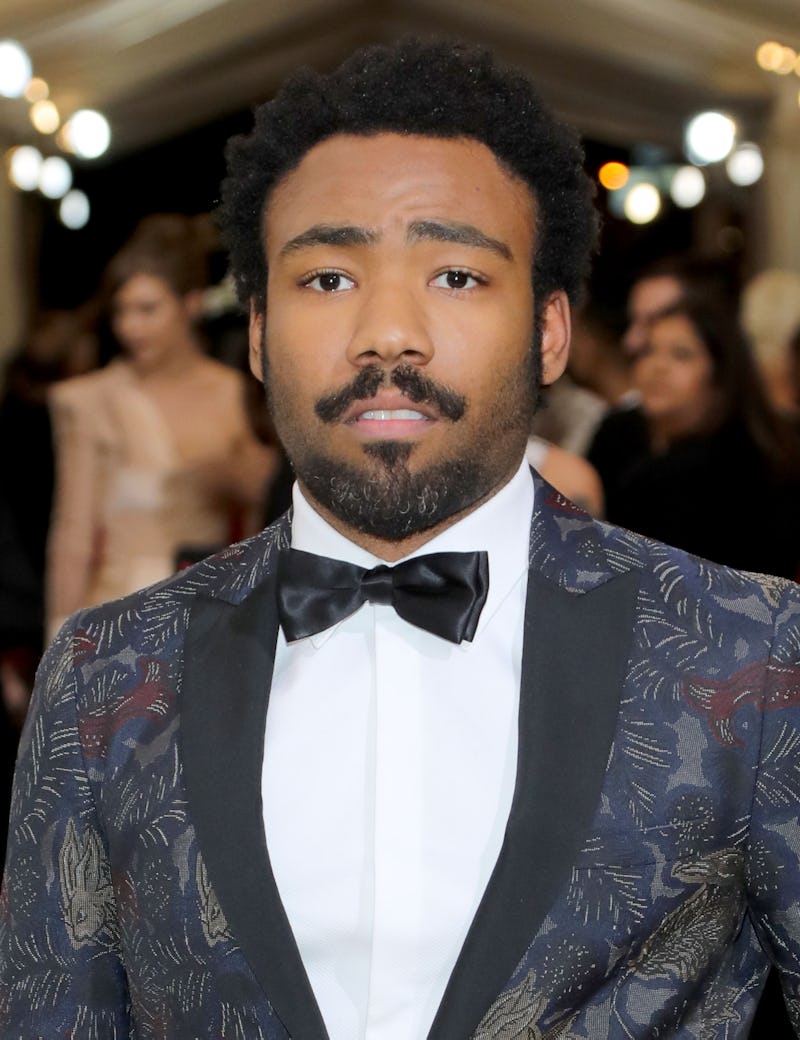 Neilson Barnard/Getty Images Entertainment/Getty Images
Fans were obviously shocked to learn that Donald Glover and his girlfriend secretly welcomed a son early last year. But, equally, if not more surprising is the notion that the pair may have secretly tied the knot right under our noses. After all, considering the secrecy surrounding the birth of his son, whether or not Donald Glover is married is a valid question.
The actor is notorious for keeping his private life tightly under wraps. So, it's unclear whether or not the two are actually husband and wife, and it's also quite possible that we may never actually know the real answer. At least, not until Glover is good and ready to divulge the news.
He and his partner, who has yet to be publicly named, appear to have been together for quite some time. The pair were first spotted grocery shopping in Hawaii together in January 2016. She was displaying a very noticeable baby bump, thus sparking the notion that they were expecting an offspring some time in the future. The photo circulated throughout the media, but didn't really cause a huge stir — presumably because it was months before Glover's hit comedy/drama, Atlanta made it's huge television debut.
Then, in May, the duo was seen in New York City pushing a baby stroller, according to Us Weekly, ultimately confirming the child's birth. However, Glover never uttered a word to the media about the baby or his speculated girlfriend until he thanked her in his Golden Globe Awards' acceptance speech in January 2017. This would come well after the premiere, and overwhelming success, of Atlanta.
While Glover was well-known to those fans who followed his character Troy Barnes on Community and those who loved the music he made under the hip-hop moniker, Childish Gambino, his newfound visibility would spark a huge interest in the tripe threat entertainer and his personal life.
Although, he was careful to not specifically indicate that the pair were romantically involved in his speech, Glover did thank the mother of his son for her support while accepting the Golden Globe for Best Actor during the ceremony. It would be the first acknowledgement of his relationship with the unidentified woman, as well as his first revelation of the baby's sex since the birth sometime in early 2016.Glover spoke directly to his family, saying:
"I really want to say thank you to my son and the mother of my son for making me believe in people again and things being possible, so thank you."
This would immediately send both the media and fans into a frenzy about the big reveal, as people clamored to find out more about the newborn and special lady in Glover's life. But no one has yet to be successful in unearthing the details about Glover's private life.
Fans should hold out hope that Glover will offer them another sneak peek into his life when he, presumably, takes the stage to accept his accolades as award shows continue to air. There's a good chance that he'll take home a trophy or two, given the fact his breakthrough series, Atlanta, is up for a whopping six awards at this year's 69th Primetime Emmy ceremony. It most certainly deserves to win, and Glover's Golden Globe earnings have already confirmed the greatness of the show as well as his mastery in writing and acting.
At 33-years-old, Glover has proven that his talents are limitless — be it as an actor, writer, producer, director, comedian, rapper, singer, or songwriter. However, remaining elusive with his private life just may turn out to be his greatest area of expertise of them all.