Donald Glover's Speech Revealed So Much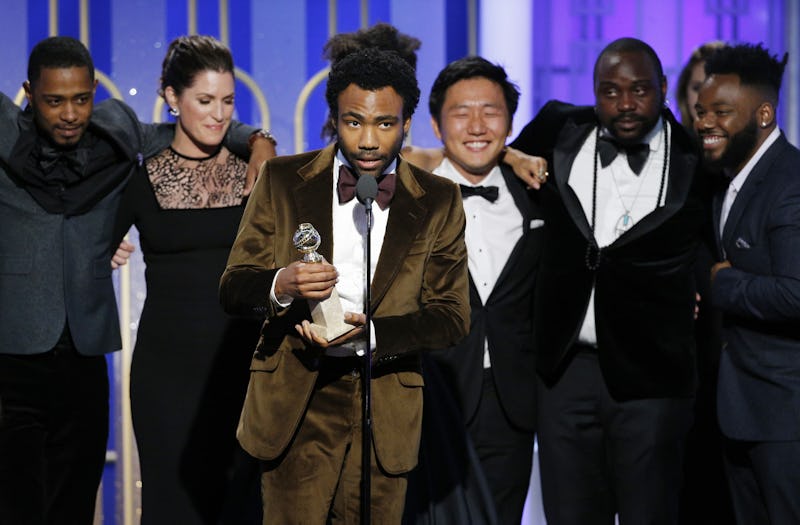 Handout/Getty Images Entertainment/Getty Images
Donald Glover took home the Golden Globe for Best Actor in a TV Comedy, and his speech did not disappoint. Glover revealed his baby's gender in his Golden Globes speech, and his shoutout to his new baby boy could not have been cuter, although the speech didn't start out with such personal details. When his name was called, Glover walked up to the stage. "Thanks for just giving me this," he said, seeming stunned. He added that he was a bit in awe of the other stars in the room, saying, "I grew up in a house where magic wasn't allowed, so everyone in this room is like magical to me." Aww.
After Sunday's show, Glover has definitely won the right to call himself a magician too — and he knows it. "We're the ones who, kind of in a weird way, tell a story or a lie to children so they do stuff we never thought was possible," Glover said. This year at the Globes, Best Performance by an Actor in a TV Comedy was a pretty heated race. Between previous winners Jeffrey Tambor (Transparent) and Gael García Bernal (Mozart in the Jungle), Anthony Anderson (Black-ish), Nick Nolte, and Atlanta star Glover, it was anybody's game. Award shows tend to favor repeat winners, and, after picking up an award for Best TV Comedy, Glover probably thought he wasn't going to win again, so, seeing him take home the golden statue was a happy surprise.
Glover then gave a rare glimpse into his personal life, thanking his girlfriend and his baby son — revealing his child's gender for the first time. "I really want to say thank you to my son and the mother of my son for making me believe in people again and things being possible. So thank you," Glover concluded.
The star will continue to work his magic on Atlanta when it returns for Season 2, and I, for one, can't wait.