The Best & Worst Golden Globes Jokes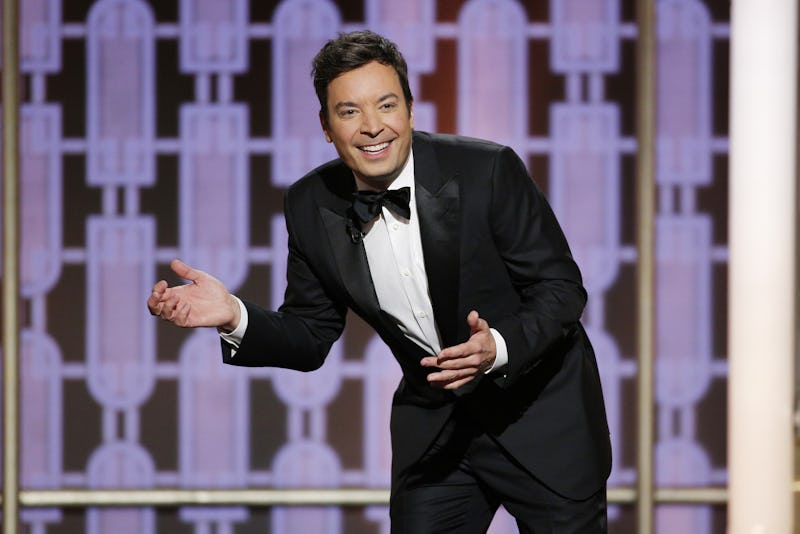 Handout/Getty Images Entertainment/Getty Images
Even though 2016 was sour, the 2017 Golden Globes decided to honor the movies and television series of the year by playing it sweet. Moving on from the mean humor of Ricky Gervais, the jokes from the 2017 Golden Globes were led by this year's host, the breezy Jimmy Fallon. As was to be expected, Fallon kept the spirit of the show light with his happy-go-lucky attitude — even when the teleprompter didn't work! — but that didn't mean that there weren't some zingers and requisite bad jokes during the 2017 Golden Globes.
Fallon spoofing La La Land in the opening number with an absurd amount of celebs — including Justin Timberlake, Ryan Reynolds, Nicole Kidman, and Tina Fey (can she please come back with Amy Poehler to host again one day?) — and cast members of Game of Thrones, Westworld, and Stranger Things set the playful tone for the show. It combined everything Fallon is known for on The Tonight Show Starring Jimmy Fallon — music, sketches, and celebrities letting loose.
Yet, the show wasn't all lighthearted fun. Although Fallon typically doesn't go into dark comedic territory like his Globes predecessor, he did have to acknowledge the political elephant in the room — Donald Trump. Yes, even after his hair-tousling interview with the president-elect in September, Fallon made some great jokes about Trump. And of course, no live awards show is safe from awkwardness, so Fallon, the presenters, and award recipients at the 2017 Golden Globes had some bad joke moments too.
So whether you were laughing out loud or cringing from the couch, here are the best and worst jokes from the 2017 Golden Globes.