Trump Has More Than 50 Lawsuits Already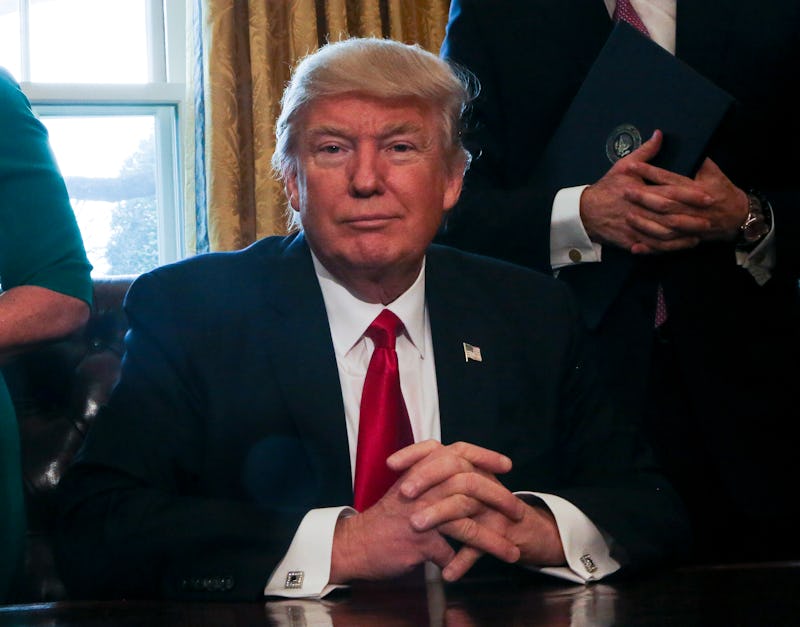 Pool/Getty Images News/Getty Images
It's now been exactly two weeks since President Donald Trump's inauguration day, and to say it's been a busy fourteen days would be a dramatic understatement. If you're at all plugged into the news cycle, then you've no doubt heard about the slew of controversial executive orders and inflammatory proclamations that Trump has already made, amid the lowest-ever approval ratings on record for such a young presidency. And there's another inglorious record the new administration is reportedly setting ― you won't believe how many lawsuits Trump has already been hit with, even within the pantheon of past presidencies.
As National Public Radio reports, the figure is eye-popping: in the first two weeks of his presidency. Trump has been hit with 55 lawsuits. According to NPR's breakdown, the vast majority of the suits have related to his hyper-controversial executive order barring refugees entering the United States from seven majority Muslim nations ― you may have heard it shorthanded as Trump's Muslim ban, evolved as it reportedly is from his plainly unconstitutional proposal back in Dec. 2015.
By the numbers, 40 of the suits reportedly relate to that ban, while nine of them are civil rights related. Another four involve his policies relating to immigration outside the realm of the ban.
One additional lawsuit filed by the city of San Francisco challenges his promise to withhold federal funds to so-called sanctuary cities, and one more is centered around conflicts of interest relating to Trump's ongoing ownership of his business empire. Trump has not fully divested himself from his businesses, potentially violating the emoluments clause of the U.S. Constitution in the process.
Now, presidential administrations are the subject of a lot of lawsuits. It's the name of the game, in some sense, especially in a hyper-polarized political environment. But by way of comparison, according to NPR's numbers, former presidents Barack Obama, George W. Bush, and Bill Clinton had only been targeted by five, four, and five lawsuits by this time in their administrations respectively.
It's also worth noting that Trump is also the subject of a defamation lawsuit filed before he took office, which wasn't included in the above figures. That suit, filed by one of his more than a dozen sexual misconduct accusers, Summer Zervos, alleges that Trump knowingly lied when he called his multiple accusers "horrible liars," and claimed "the events never happened." Former Trump campaign spokesperson and current White House Director of Strategic Communications Hope Hicks denied the lawsuit's validity to NBC News, saying "there is no truth to this absurd story."