4 Women Accused An Attorney General Of Abuse & Don Jr. Used It To Prop Up His Dad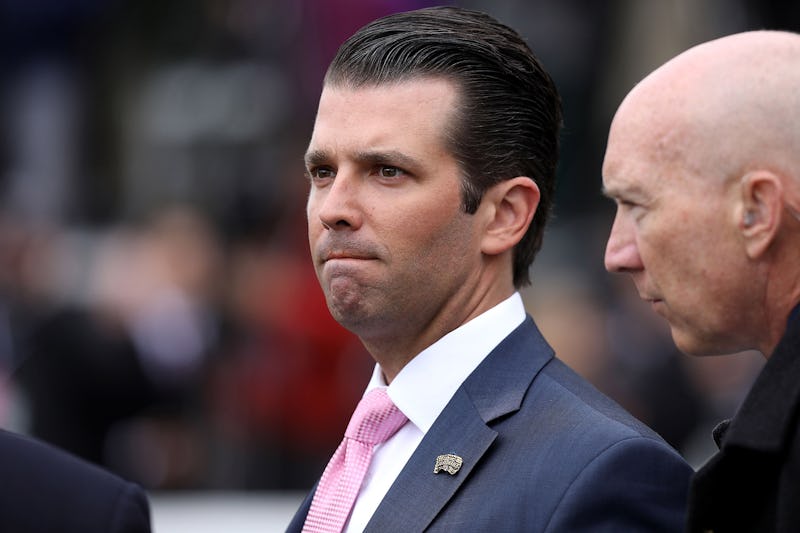 Chip Somodevilla/Getty Images News/Getty Images
On Monday, The New Yorker reported that the New York state attorney general was accused of physical abuse by four different women. He denied the allegations. Not long thereafter, Donald Trump Jr. suggested his dad believed Eric Schneiderman was a "crook" back in 2013, and continued to tweet about the allegations over the course of the evening. In other words, Trump Jr. used the opportunity to prop up his dad, who faces multiple sexual misconduct allegations of his own. He denies them, as well.
In a statement provided to The New Yorker, Schneiderman denied the allegations, writing, "In the privacy of intimate relationships, I have engaged in role-playing and other consensual sexual activity. I have not assaulted anyone. I have never engaged in nonconsensual sex, which is a line I would not cross."
Before the news began to heavily circulate, the eldest Trump son appeared to jump at the opportunity to focus the news on his dad, who has been accused of sexual misconduct by over a dozen women. (Donald Trump denies all of the allegations.) Donald Trump Jr. appeared to suggest that his father has long-suspected Schneiderman of engaging in illegal activity.
Using the remark, "There is a tweet for everything," which is often used by Trump's opponents when they are dredging up old social media posts made by the president before he entered politics, Trump Jr. shared his father's five year-old tweet. It said, "Weiner is gone, Spitzer is gone - next will be lightweight A.G. Eric Schneiderman. Is he a crook? Wait and see, worse than Spitzer or Weiner."
However, the president's son was not done publicly addressing the allegations. Shortly after 8 p.m. ET, Trump Jr. sent another tweet. That time, he retweeted Schneiderman from last October. Schneiderman had said, "No one is above the law, and I'll continue to remind President Trump and his administration of that fact everyday." When Trump Jr. shared the tweet, he added, "You were saying???"
In yet another tweet, sent out just after 8:30 p.m. ET, Trump Jr. suggested that Schneiderman lacked self-awareness. "Self awareness level: 0. Or substantially less than that," he tweeted, sharing a post from Schneiderman that praised The New York Times and The New Yorker for their Pulitzer-winning reportage on the #MeToo movement. ("Without the reporting of the @nytimes and the @newyorker —and the brave women and men who spoke up about the sexual harassment they endured at the hands of powerful men—there would not be the critical national reckoning underway," Schneider had said.)
In the New Yorker piece, Schneiderman was accused of assaulting four women. Each one said that she was in a romantic relationship, or else having a romantic encounter, with the attorney general at the time of the alleged abuse. Only two of the women accusing him agreed to let the magazine use their names.
Those two women, Michelle Manning Barish and Tanya Selvaratnam, told reporters that they were speaking out to protect other women from being harmed in the future. Both claimed that the alleged assaults had at times been serious enough for them to seek medical attention.
Schneiderman, as New Yorker reporters Ronan Farrow and Jane Meyer point out in the piece, has long been considered a Democratic champion for women, and has been recognized many times over for his work to protect women's rights. As part of his work, Schneiderman was lauded for choosing to investigate sexual misconduct allegations directed at big-time movie producer Harvey Weinstein. (Weinstein denies allegations of nonconsensual sex.)
"As alleged in our complaint, The Weinstein Company repeatedly broke New York law by failing to protect its employees from pervasive sexual harassment, intimidation, and discrimination," Schneiderman said in a statement in February.
What will become of the allegations against Schneiderman is yet unclear, though multiple outlets reported that New York Gov. Andrew Cuomo called on him to resign from his post shortly after the allegations broke. As this all played out, President Trump's eldest son seized upon the opportunity to revert attention back to his father.