Don Jr. Apparently Scored A Book Deal To Write About Politics & His Dad's Fans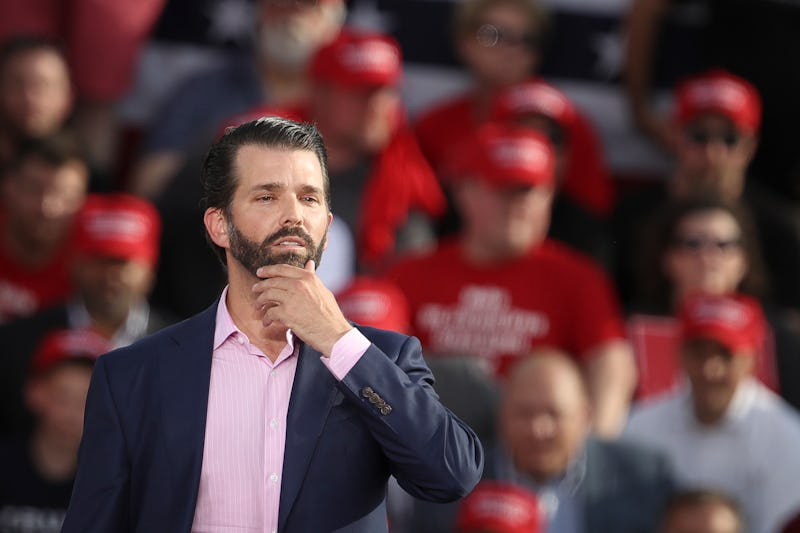 Drew Angerer/Getty Images News/Getty Images
The Trump family is no stranger to book deals. The Art of a Deal from the president and Ivanka's Women Who Work have helped curate their personal (and now political) brands. Next in line, according to Politico's Playbook, is the oldest Trump child who will have a book out late this year. Center Street Books will be printing Donald Trump Jr.'s book on politics and the MAGA movement, the outlet reported.
The new book news seemed to be confirmed by Center Street Books' Twitter account, which quote tweeted Politico and wrote, "NEW BOOK ALERT‼️ Who's ready for Donald Trump Jr.'s book?" Bustle reached out to the Trump Organization and the publisher for comment. Center Street Books is an imprint of Hachette and focuses on nonfiction books on conservative politics and the military, according to its website.
The announcement led to the hashtag #DonJrBookTitles to trend on Twitter, with many making fun of the president's eldest by sharing ideas for a title such as Unfortunate Son and Crime & No Punishment being shared by a number of prominent Twitter users.
Ivanka even weighed in on the hashtag. "When #DonJrBookTitles is trending on Twitter...@EricTrump @LaraLeaTrump @TiffanyATrump @kimguilfoyle and I are having some fun with this one!" she wrote.
News of Trump Jr.'s book deal appears to be a turnaround; just last year, Forbes reported that major publishers weren't interested due to the Mueller investigation that was going on at the time. "There was basically no interest in a book that's basically a defense of daddy book when you're under federal investigation yourself," Fox Business quoted a publishing insider as saying.
Now, though, the Mueller investigation is over, the report has been released — if redacted — and Trump Jr. was not charged. Mueller's report found that the investigators "did not obtain admissible evidence likely to meet the government's burden to prove beyond a reasonable doubt that these individuals acted "willfully," i.e. with general knowledge of the illegality of their conduct."
Trump Jr. may still need to visit Capitol Hill to answer the Senate Intelligence Committee's questions about the meeting at Trump Tower. The Republican-led committee has subpoenaed the president's son to appear and answer questions about what he knew of the Trump Tower Moscow project, according to NBC News. The Guardian reports that Trump Jr. will testify at some point in June.
As for the content of the book, Trump Jr. has been getting more and more into the Republican political scene, particularly in advance of the 2018 midterms, BuzzFeed News reported. He gave speeches around the country, together with girlfriend Kimberly Guilfoyle, a former Fox News personality who now works on the 2020 Trump campaign, according to The New York Post.
Even before that, though, he was attending political fundraisers, and there has been talk he may run for office following his 2016 Republican National Convention speech, according to The Guardian. At a rally in March, he renewed the speculation. "Right now, I'll never rule anything out," Trump Jr. told Fox News' Sean Hannity when asked if he'd run, according to Newsweek. "I do enjoy it. I like being in the fight. I like being in the mix."
The book could definitely help flesh out his political brand if he did.