Trump Has A Real Shot At Winning The Nobel Peace Prize Now — Here's Why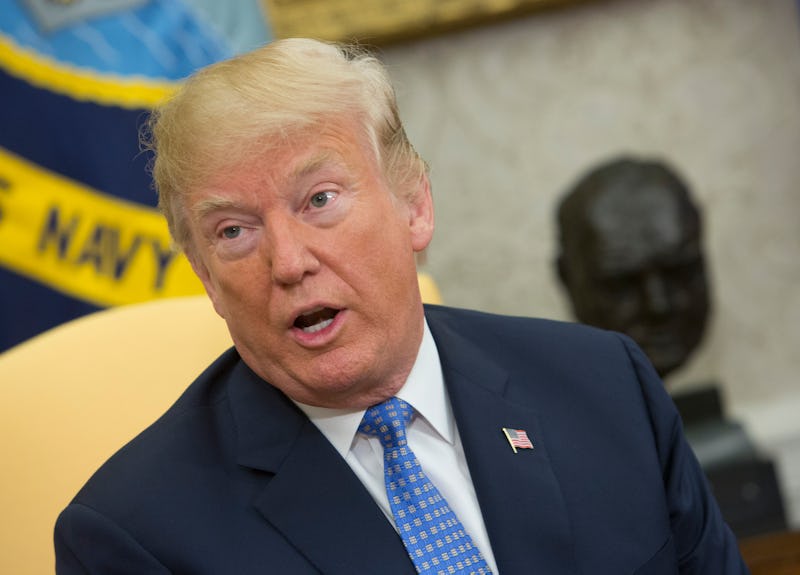 Pool/Getty Images News/Getty Images
In recent days, as South Korean President Moon Jae-in has held a historic meeting with North Korean leader Kim Jong Un, there's apparently a movement bubbling up in support of President Donald Trump winning the Nobel Peace Prize. And if he did, it would add his name to a long list of recipients, including former President Barack Obama.
As CNN detailed this week, South Korean foreign minister Kang Kyung-wha has credited the American president with fostering the environment that allowed the historic meeting to take place. She told journalist Christiane Amanpour that "clearly, credit goes to President Trump," and claimed he had "been determined to come to grips with this from day one."
South Carolina Senator Lindsey Graham has vocally suggested that if a peace agreement is reached between North and South Korea, Trump should be the recipient of the world's foremost peace prize.
"It wouldn't have happened without Trump. It may not happened, but it's the biggest change since the end of the hostilities," Graham reportedly told Fox News. "What happened? Donald Trump convinced North Korea and China he was serious about bringing about change."
"We're not there yet, but if this happens, President Trump deserves the Nobel Peace Prize," Graham concluded.
Trump himself has not yet met with Kim, although such a meeting is expected to take place at some point in the future. Kim's historic meeting with Moon has already generated an immense amount of attention, however, and although it's impossible to know for sure whether Trump's presence was a factor in the meeting, officials within South Korea have shown a willingness to lavish him with praise.
It's worth noting that South Korea was not a signatory of the armistice that brought a cessation of combat in the Korean War in 1953 ― rather, representatives of North Korea, China, and the United States entered into the agreement.
If Trump were to actually win the Nobel Peace Prize, it would almost certainly be treated as a deeply controversial decision. Whatever the outcome in North Korea, and to whatever extent he can be said to have been central to it, myriad aspects of Trump's tenure as president have been anything but conducive to peace.
Civilian casualties by way of American military activities in the Middle East, for example, have skyrocketed since Trump took office. He's also presided over a surge in immigration raids and arrests domestically, including the breaking-up of the families of undocumented immigrants, and has repeatedly insisted he wants to scrap the Iran nuclear deal, one of the most significant diplomatic strides toward peaceful nuclear nonproliferation in recent memory. In short, there are plenty of reasons Trump getting a peace prize would be highly controversial.
He would not be the first American official to win the award despite an overall record that made it seem very unlikely he'd even be in the running, however. Perhaps most notably, former U.S. Secretary of State Henry Kissinger won the award in 1973 for his role in negotiating an end to the Vietnam war, despite his reported role in the planning of the U.S. carpet-bombing of Cambodia.
Estimates of the total death toll from the four-year bombing campaign range from tens of thousands to hundreds of thousands. Today, Kissinger is considered a war criminal throughout much of the world, but is still a well-connected figure in the nation's capital, and has aggressively defended his own legacy and decision-making.
Notably, he was honored by the Obama administration, and has advised and rubbed elbows with both Trump, and his former presidential campaign rival Hillary Clinton. He also stands as a stark reminder that you can't always predict who will ― or won't ― win a Nobel Peace Prize, and that's just as true for Trump as diplomatic developments unfold on the Korean peninsula.
For that matter, Obama himself won a controversial Nobel Peace Prize in 2009, which some critics regarded as having been awarded prematurely. The justification for the award was Obama's embrace of nuclear nonproliferation, as well as his high-profile diplomatic outreach to the Muslim world. In 2015, former Nobel committee secretary Geir Lundestad wrote that he believed the decision to give Obama the award had only been "partially correct."
In short, who wins the Nobel Peace Prize can be a fraught and at times controversial question, and given how deeply polarizing Trump's presidency has been, that would almost certainly be true were he to win it. But with the amount of heightened attention being paid to the Korean peace process, and the extent to which South Korean leaders are emphasizing their praise for him, it now seems far more possible than it would have this time last year.