Dorinda Medley Really Wants This Celebrity Mom To Join 'RHONY' & Now So Do We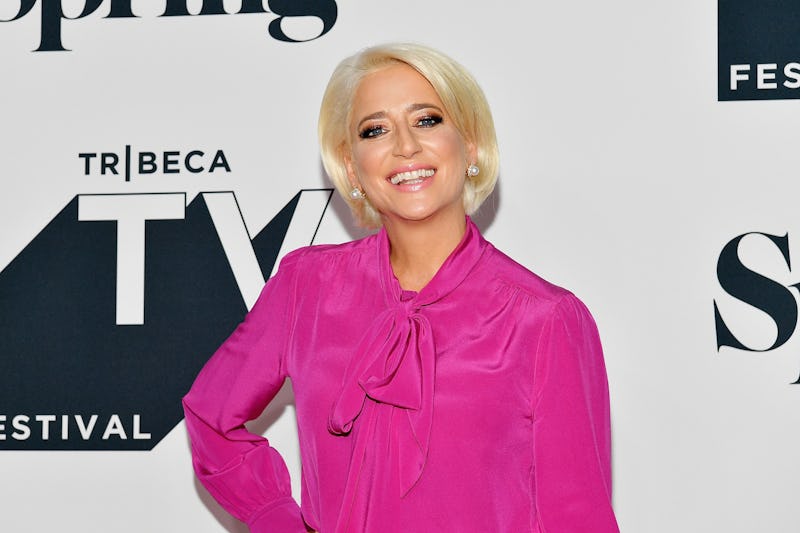 Dia Dipasupil/Getty Images Entertainment/Getty Images
If you could hand-pick the next candidate to join the RHONY cast, who would it be? It sounds like Dorinda Medley, if asked the same question, might be inclined to name Cynthia Germonatta. Little monsters, you heard right: Dorinda Medley wants to see Lady Gaga's mom on the Real Housewives of New York, per some new comments from the reality star over the weekend.
The women of RHONY gathered together in lower Manhattan Sunday afternoon, Sept. 24, to speak on a panel at the Tribeca TV Festival. (Well, roughly half of them: Sonja Morgan, Tinsley Mortimer, and Medley were in attendance.) During the course of the panel, all three Housewives fielded questions from audience members before Andy Cohen — Bravo's Watch What Happens Live host and resident Housewives reunion moderator — jumped in with some inquiries of his own.
When an audience member asked the panel if they'd ever been star-struck by any one of RHONY's lineup of celebrity fans, Medley chimed in. "Well, I'm still in contact with Sarah Paulson," she said, referencing the incredible moment just a little over a year ago, when Medley and Paulson met during a surprise segment on Cohen's WWHL. Paulson, suffice to say, is something of a Housewives super-fan.
And speaking of the franchise's famous fans, Cohen countered Medley's initial reply with another, perhaps slightly more obvious, suggestion: Lady Gaga. Those who've been keeping up with Medley's RHONY shenanigans will probably remember the Gaga-inspired bubble dress she painstakingly acquired, and later wore, last Halloween. But, replying to Cohen's comment during Sunday's panel, Medley revealed that her appreciation for Gaga is less of a "star-struck" fan situation, and, apparently, more of an actual camaraderie. To that point, Medley told the audience,
"I actually just was in contact with [Lady Gaga] and her mother about two weeks ago, she was here. I'm trying to get Cynthia on the show."
Whether or not Germonatta will join the likes of Medley, Morgan, and Mortimer on RHONY seems pretty up in the air right now. But if Medley's public communication with Gaga over the last several years is any indication of her relationship with Gaga's mother, then perhaps there's a possibility Germonatta might take Medley up on her offer, if given the chance. After all, Lady Gaga has been vocal about her penchant for all things Housewives (and Bravo-related, generally) in the past.
Funnily enough, Gaga even took to Twitter back in 2015 to publicly declare her fondness for Medley, in particular. "DORINDA is life!" she tweeted at Cohen in July of that year, when Medley's first RHONY season was about mid-way through its on-air run. Some thirty minutes later — after Cohen kindly let her know that she'd been "Gaga approved" — Medley responded to Gaga's tweet in perhaps the most relatable way. "I mean..... I live!!!!" she tweeted back.
Which brings us to Medley and Germonatta's first meeting. Not too long after the pop star's Twitter exchange with Medley, the two met in person for the first time during a backstage rendezvous at one of Gaga's Atlantic City concerts that same summer. The reality star even documented the event on Instagram.
Per Medley's IG post, it looks like her first time meeting Gaga in real-life also doubled as her first time meeting Gaga's mother — aka "Mama Gaga," as her post's caption cleverly put it. "#MamaGaga and @Lady Gaga...both here with Dorinda!!!" Medley wrote at the time. And, while the trio's enduring friendship (or acquaintanceship, at least) might not have been made publicly known until now, judging by the RHONY star's recent comments, it certainly sounds like they've kept in touch since that fateful first meeting three-plus years ago.
And thank goodness for that. Because, even though fans might not have considered Lady Gaga's mother as a potential new addition to the RHONY roster before, after hearing Medley's suggestion, it's pretty hard to disagree. A quick question for the brains over at Bravo TV: If Mama Monster can't snag an official spot in the RHONY title sequence, can she at least make a cameo? Who's to say whether Germonatta would actually go for it, at this point, but it seems safe to assume Medley's already on board.
Additional reporting by Lia Beck.