Whoa, You Have To See Drake Stop This Woman From Being Groped At His Concert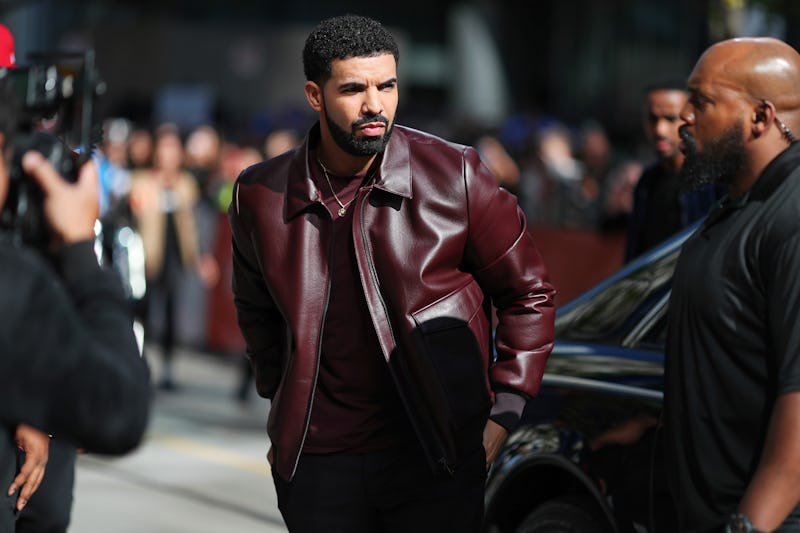 Joe Scarnici/Getty Images Entertainment/Getty Images
Hold on, because if you touch anyone inappropriately at one of Drake's show, he might just send you home. While touring in Australia, Drake threatened a fan who was groping a girl. Complex shared a fan-shot Instagram video in which Drake stopped performing to yell at a fan in the crowd at the Sydney nightclub Marquee. "If you don't stop touching girls," Drake says, pointing into the crowd after stopping his track "Know Yourself" midway through. "I will come out there and f*ck you up." The rapper then signaled as if he was going to jump into the crowd and do exactly that.
Those in attendance went wild, but as Complex pointed out the alleged groper seemed to respond to Drake's comment because Drizzy repeated himself letting him know he "wasn't playing." This time he gave his warning a bit more forcefully. "If you don't stop putting your hands on girls," he said, "I'm gonna come out there and f*ck your ass up." Luckily, it didn't come to that and Drake continued his performance as planned. But, that doesn't mean the moment didn't stun the fans who were in attendance.
The Instagram fan who shot the video, @louisesukari captioned the clip, "I got this close to Drake threatening to jump into the crowd to start a fight with a guy groping a woman in the audience. Violence against women, 6 God says no."
A moment like this would certainly grab headlines at any time, but this moment especially stands out now in the weeks after the New York Times and The New Yorker revealed three decades worth of sexual harassment and assault allegations against Harvey Weinstein. Since that bombshell report, each day more stories of sexual misconduct allegations against those in Hollywood and beyond have been revealed.
Seeing Drake stop to help a female fan who appears to be in need is a first-class move. And it will hopefully encourage other people to speak out when they see someone in trouble, whether it's at a concert, on the subway, or in the workplace. But more importantly, by stopping his show to make sure everyone heard him give this fan a stern ultimatum, Drake makes it clear that his concerts are a safe space for everyone in attendance. It shows that sexual misconduct will not be tolerated at his shows and it's something more musicians need to make clear — especially male ones.
It's probably why so many fans chimed in to thank Drake for what he did. "That's why he is my fave artist I could cry now," one fan commented. "He's such a nice human being !! Protecting his female fans." Another person wrote, "Well done Drake!! You're a champ!" While someone else commented, "I've never listened to Drake's music, I am now a fan for life."
While some have questioned whether Drake's lyrics are misogynistic, the rapper, who has gotten a reputation for being a sensitive guy, has talked about the need to respect women. Specifically, in a 2013 interview with , Drake called out Chris Brown for not respecting Rihanna, saying he did what any real man would do and "treated her with respect." (In 2009, Brown was charged with assaulting Rihanna.)
Drake is also known for being a bit of a momma's boy, even if he doesn't call enough. He often talks about how his mom Sandi Graham is the reason he was able to become the star he is now. "I don't wanna get too emotional, but I had to hug her," Drake told MTV in 2009. "My father doesn't stay with us, so I had to be security for her and just let her know that everything is going to be all right." Clearly, Drake's mom taught him well, just check out his closet full of Birkin bags for his future wife.
Drake has yet to comment on this viral video of him calling out a fan, but it appears he's given his take on the matter. And that take has made him one of the good guys.
If you or someone you know has been sexually assaulted, call the National Sexual Assault Telephone Hotline at 800-656-HOPE (4673) or visit online.rainn.org.