19 Powerful Men Who Were Called Out As Predators In 2017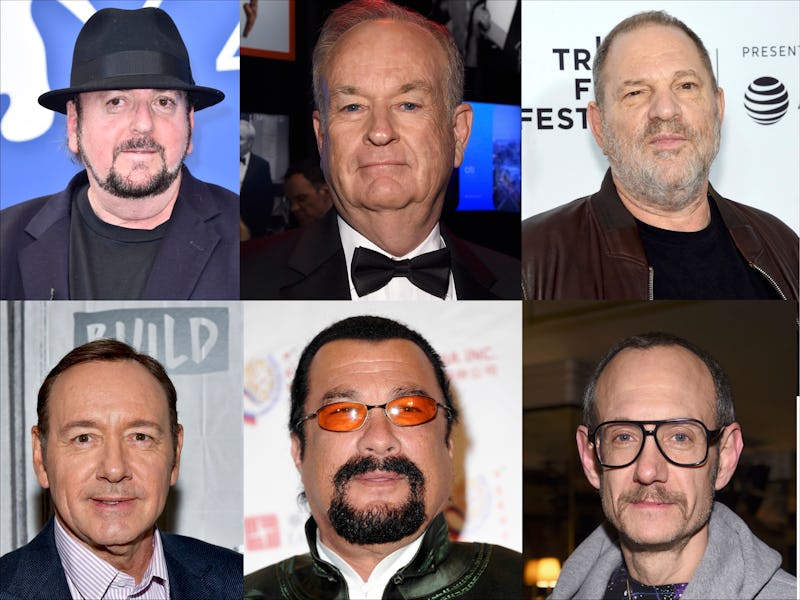 For the many, many victims of sexual harassment out there, 2017 has been at once a celebratory and frustrating year. On the one hand, powerful men are being outed as sexual predators, and being forced to actually contend with real consequences of their actions. On the other hand, this wave of powerful men across so many industries having to leave their positions only came about because of the bravery of the people who they harassed and assaulted.
In other words, this is progress. But there is still work to do.
For one thing, society still needs to shift the responsibility for sexual harassment onto the harassers, by instilling boys with the knowledge that sexual harassment is always wrong, in all cases, from the time that they're young. It also needs to start giving victims the benefit of the doubt, instead of the other way around.
"There is ample evidence really out there in the world that this is a very serious and common problem, with deep ripples of aftereffects," says National Sexual Violence Resource Center Chief Public Affairs Officer Kristen Houser. "It's high time that that's the backdrop for when we hear a single person make an allegation — we should begin by believing."
Victims have a million reasons not to report sexual assault or harassment; wouldn't it be better if potential harassers had a million reasons not to do it on the first place? Hopefully, their ousting mean that the tide is turning.