Drake Visited A Fan In The Hospital & The Sweet Details Will Have You In Your Feelings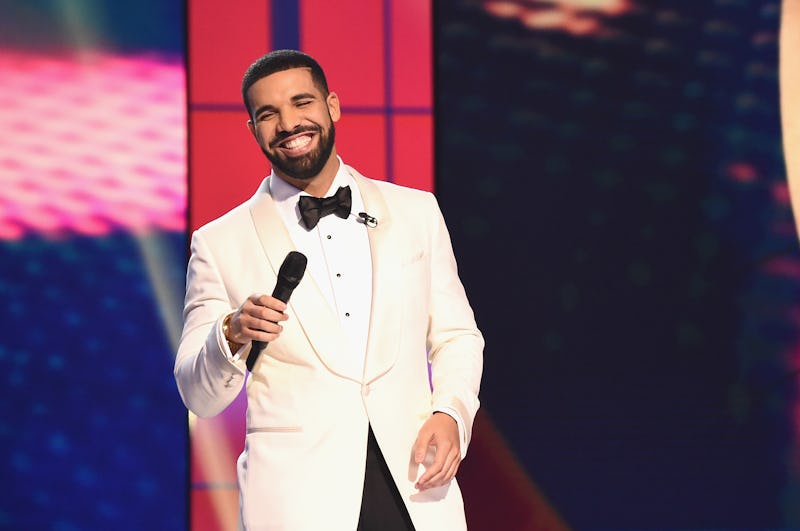 Michael Loccisano/Getty Images Entertainment/Getty Images
Be still, hearts everywhere. It's almost just too sweet to handle. On Aug. 20, Drake visited a fan waiting for a heart transplant, Fader reported, and the photos from their hospital hang are going to wreck you in the best possible way. Truly, though — the rapper went way beyond just *visiting* 11-year-old Sofia Sanchez in Illinois. Drake dedicated two whole Instagram posts to the little cutie, and apparently they bonded over Justin Bieber (more on that later).
According to the Chicago Sun Times, Sanchez was diagnosed with cardiomyopathy — a condition that can cause heart failure — and underwent open heart surgery back in July. Now, though, she reportedly needs a heart transplant, and has been waiting for one to come through at Chicago's Ann & Robert H. Lurie Children's Hospital.
Drake kicked off the Aubrey & The Three Migos tour earlier this month, and was scheduled to play Chicago on Aug. 17 and 18 — the latter of which just happened to be Sanchez's 11th birthday. The young fan explained her situation to Drake in a too-sweet video message prior to the shows, and asked him if he'd be willing to swing by the hospital to cheer her up.
That's not all she did to win over the rapper. Sanchez also joined in on the viral Drake's "In My Feelings" challenge, and the whole thing is very, very cute. The little girl is currently confined to a hospital with a bunch of cords and tubes, so obviously, she's not able to hop out of a moving vehicle and dance (not that that's recommended regardless). Instead, the staff at the hospital helped Sanchez achieve the next best set-up: jumping out of moving wheelchair.
By some modern miracle, Drake ended up getting Sanchez's messages, and the scheduling stars aligned so that the two of them could meet. On Aug. 20, the rapper posted two photos of their hang on Instagram. The first is black and white, and he and his tiny super-fan are legitimately grinning ear to ear. "Me and my love Sofia talking about Bieber and Owls and Basketball," he captioned the photo, followed by three blue heart emoji.
The second photo Drake posted of his visit is an in-color solo shot of Sanchez, and wow — she's got some serious swagger. Do they make that Adidas tracksuit she's wearing in grown-up sizes? Hook it up. The little girl also donned a Scorpion dad-hat in the picture (with a second tour-themed hat on the bed beside her), which might have been a gift from Drake himself.
Drake did a super sweet deed by making time to hang with Sanchez in Chicago. There's a chance he might have even skipped out on the VMAs to chill with her instead, but that's not yet been confirmed. The rapper was noticeably MIA from the Aug. 20 awards show, but he definitely had the night off after he and Migos canceled their Toronto tour-stop at the last minute.
Either way, the time he spent with Sanchez was definitely more valuable than going to the VMAs. And who knows? Maybe next year she'll be well enough for Drake to take her as his date.