Drake Talked About His Son & His Biggest Challenges As A Father In A New Interview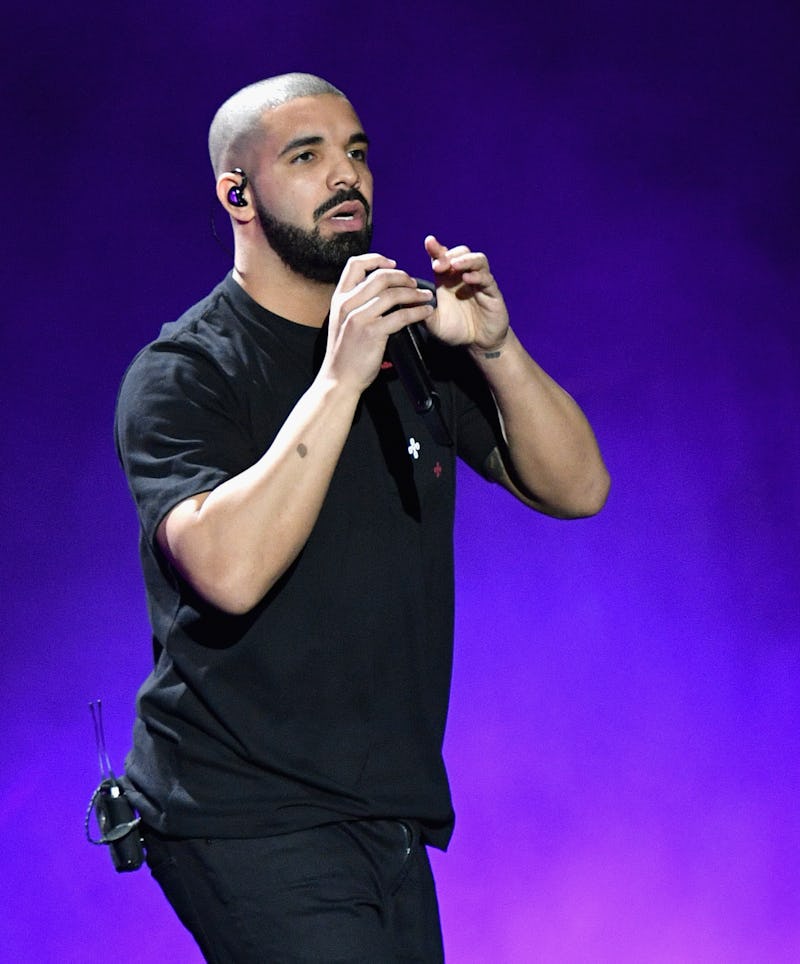 Mike Windle/Getty Images Entertainment/Getty Images
While it took a long time for Drake to feel comfortable enough revealing that he has a son, he's already begun opening up about the struggles of being a single father. During an appearance on LeBron James' HBO show The Shop, Drake revealed his biggest challenges as a father, as reported by Vulture on Oct. 13.
Drake confirmed that he had a son on his most recent album, Scorpion, after Pusha T first dropped the news in his diss track, "The Story of Adidon." On The Shop, he said the thing he struggled with most after finding out that he was going to be having a baby with artist and former adult film star Sophie Brussaux, was sharing the news with his mother.
"I was more scared to tell my mom, because my mom has had real belief and real relationships with women in my life," Drake revealed during his conversation with James and Maverick Carter, according to Vulture. "I'm sure she would be elated if I were to have gotten one of those women pregnant, so it was tough for me to tell her that it was someone that she's never met." The rapper also admitted that because his relationship with Brussaux isn't a "fairy tale," it made him reevaluate the way he reacted to his own parents' contentious divorce growing up.
"I was really hard on my parents for giving me a childhood that I had to wrap my mind around, as I grew," Drake admitted. "I, multiple times, sort of suggested that they could have done a better job at co-parenting, sticking together, not being so divided, and of course, as life takes shape and teaches you your own lessons, I end up in this situation, where I don't have the fairy tale."
Drake and Brussaux were reportedly first spotted together back in January 2017, according to Page Six. Then, in May 2017, TMZ reported that Brussaux was allegedly pregnant with Drake's child. At that time, Drake's rep told TMZ, "This woman has a very questionable background. She has admitted to having multiple relationships. We understand she may have problems getting into the United States. She's one of many women claiming he got them pregnant. If it is in fact Drake's child, which he does not believe, he would do the right thing by the child."
The following May, Pusha T dropped "The Story of Adidon," in which he seemed to claim that Drake and Brussaux were parents. Drake himself confirmed that with the release of Scorpion in late June, and even seemed to reveal that his relationship with Brussaux was contentious, rapping to his son on the song "March 14" that "Hopefully by the time you hear this me and your mother will have come around / Instead of always cutting each other down."
Based on his appearance on The Shop, it seems as if Drake is truly committed to making strides towards being a supportive co-parent. "I am a single father learning to communicate with a woman who — you know, we've had our moments," the rapper said in the interview, before explaining that Adonis and his relationship with his mother is Drake's priority. "I do want to be able to explain to my son what happened, but I don't have any desire for him to not love his mother. I don't ever want to the world to be angry at his mother. We found ourselves in a situation and we're both equally responsible and now I'm just excited to be a father."
Drake even showed James (though not the camera) a photo of his son, Adonis, who the NBA star revealed has "big blue eyes."
"I'm just excited to [share] all of the things that I've learned from and through my father, and all of the incredible things that I've learned from my mother about patience, about love, unconditional love," Drake said. "No matter what happens, I have unconditional love for the mother of my child, because I want him to love his mother."
Drake may not have gotten the "fairy tale" family that he always dreamed of growing up, but from the sound of things, he's well on his way to making sure that his son grows up surrounded by love and support. And hopefully the "empty crib" in Drake's house won't stay empty for much longer.