The One Song On Drake's New Album That Will Have You Reaching For The Tissues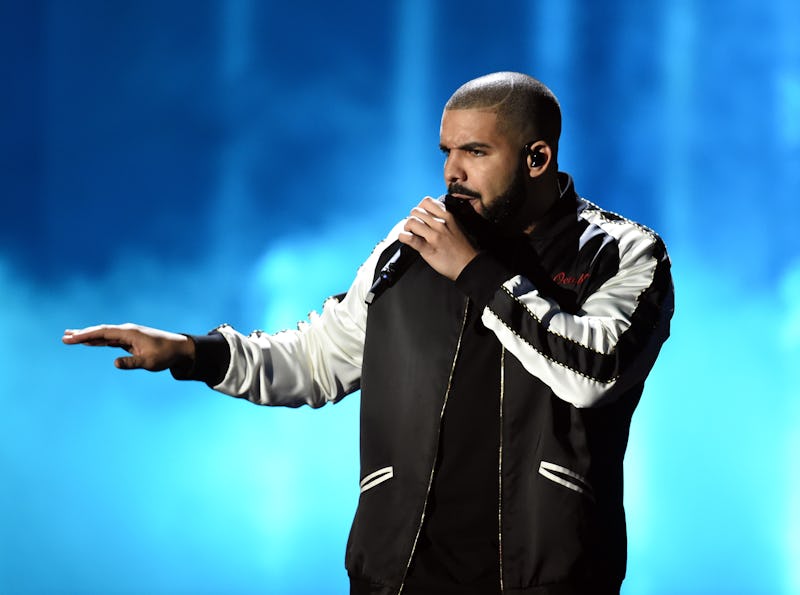 Kevin Winter/Getty Images Entertainment/Getty Images
On Friday, and after much anticipation, Drake's album Scorpion finally dropped. It's filled with all kinds of emotions, but the most emotional song on Drake's new album is "March 14," the track he reveals details about becoming a father. The rapper pretty much confirmed on the album he has an 8-month old son, which rumors have been swirling about for some time now.
In May, rapper Pusha-T alleged in his song "The Story of Adidon" about Drake having a secret son. He raps about a "Sophie," which many assumed was former adult actor Sophie Brussaux, and referred to her as "your baby mother." Part of the song goes as follows:
"Sophie knows better, ask your baby mother / Cleaned her up for IG, but the stench is on her / A baby's involved, it's deeper than rap / We talkin' character, let me keep with the facts / You are hidin' a child, let that boy come home / Deadbeat motherf*cker playin' border patrol"
Pusha-T didn't stop there and continues,
"Adonis is your son / And he deserves more than an Adidas press run, that's real/ Love that baby, respect that girl / Forget she's a porn star, let her be your world"
(When Pusha-T's song was released, Bustle had reached out to Drake's rep, but did not receive an immediate response.) In January 2017, Drake and Brussaux were apparently photographed together, according to Page Six. Then, in May 2017, TMZ alleged Drake asked Brussaux to have an abortion after she reportedly claimed she was pregnant with his child. At that time, Drake's rep told TMZ, "This woman has a very questionable background. She has admitted to having multiple relationships. We understand she may have problems getting into the United States. She's one of many women claiming he got them pregnant. If it is in fact Drake's child, which he does not believe, he would do the right thing by the child."
Now, Drake seems to be confirming reports by rapping about parenthood in "March 14." It's a pretty emotional track. The song begins,
"Yesterday morning was crazy / I had to come to terms with the fact that it's not a maybe / That sh*t is in stone, sealed and signed / She not my lover like Billie Jean but the kid is mine"
That sure seems to be the 31-year-old musician's way of accepting he's a dad. (Bustle reached out to Brussaux for comment, but did not receive an immediate response.) Based on the song, Drake and the mother of his child (he never references Brussaux directly) "only met two times." He then goes onto explain how they've had some "rough times" as of late. He raps,
"I'm out here on front lines just trying to make sure that I see him sometimes. It's breaking my spirit / Single father, I hate when I hear it"
Drake also opens about how this will affect his own family. "I used to challenge my parents on every album," he raps. "Now I'm embarrassed to tell them I ended up as a co-parent / Always promised the family unit / I wanted it to be different because I've been through it / But this is the harsh truth now / Fairy tales are saved for the bedtime stories I tell you now."
Drake also raps directly to his son and wants him to never worry about anything, like where he lives or if he's loved. He promises to be a "dedicated" dad and will try his best. The "God's Plan" artist even raps about celebrating the news he has a son. "This the first positive DNA we ever celebrated," he says, before adding, "I can't forget the looks on they faces / Got the news in Miami that we all now got ones that we raisin' / Tell Gelo bring some, uh, Rosé and Baccarat out for our cheers to the next generation."
However, his happiness quickly fades, as he confesses he's only met his son once and apparently around the holidays. He reveals,
"But this champagne toast is short-lived / I got an empty crib in my empty crib / I only met you one time, introduced you to Saint Nick / I think he must've brought you like 20 gifts"
It appears he and his son's mother are in communication, including talking about how fast their boy is growing. Based on the song's ending, it seems like Drake got to see his son again at some point in time. "They said that in two weeks you're supposed to come in town," he sings. "Hopefully by the time you hear this me and your mother will have come around / Instead of always cutting each other down." Based on the last line, it sounds like Drake wants to move in a positive direction as a father and a co-parent.
The song is definitely a whirlwind of emotions and shows just how vulnerable Drake is willing to be, so be sure to listen to "March 14" for yourself.