Drake Finally Released A Statement About His Controversial Blackface Photo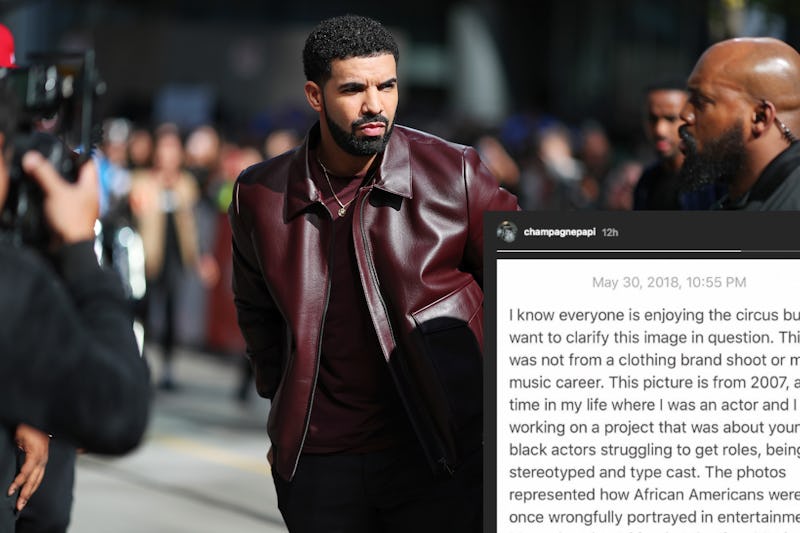 Joe Scarnici/Getty Images Entertainment/Getty Images; Drake/Instagram Story
After Pusha-T released an attention-grabbing diss track featuring a photo of Drake in blackface as its cover art, the rapper is offering an explanation for the image in question. In a statement on his Instagram Story, Drake is explaining the blackface photo that he said is being misconstrued. (Bustle reached out to Drake's rep for additional comment on the situation, but did not receive an immediate response.)
Late Wednesday night, Drake posted a screenshot of his Notes app in which he typed a statement about the controversial photo. "I know everyone is enjoying the circus," he wrote, "but I want to clarify this image in question." He explained that the photo was "not from a clothing brand shoot," as was initially reported, nor was it from "my music career." The photo was taken in 2007 when Drake was still an actor "working on a project that was about young black actors struggling to get roles, being stereotypes and type cast. The photos represented how African Americans were once wrongfully portrayed in entertainment."
Drake explained that the photo, which was taken by photographer David Leyes, was part of a project with his friend and fellow Degrassi castmate Mazin Elsadig (who played Damian on the show) in which they were "attempting to use our voice to bring awareness to the issues we dealt with all the time as black actors at auditions. This was to highlight and raise our frustrations with not always getting a fair chance in the industry and to make the point that the struggle for black actor had not changed much."
Pusha's track was in response to Drake's "Duppy Freestyle," which in turn was a response to Pusha's song "Infared," in which he called out Drake for allegedly using a ghostwriter. On "Duppy Freestyle," Drake took aim at Pusha-T's street cred, something he previously did on his 2016 diss track "Two Birds, One Stone," which also took shots at Kid Cudi, Pusha's G.O.O.D Music label mate, while also name-checking his fiancée.
Pusha-T's diss track "The Story Of Adidon" includes allegations that Drake has an illegitimate child and seemingly mocks producer Noah "40" Shebib's multiple sclerosis, but it was the photo that immediately got people talking. (Bustle also reached out to Drake about the baby allegations, but did not receive an immediate response.)
Many assumed it was a doctored photo, something Pusha-T quickly refuted, tweeting, "Please stop referring to this picture as 'artwork'...I'm not an internet baby, I don't edit images...this is a REAL picture...these are his truths, see for yourself." In an interview with The Breakfast Club on Wednesday, Pusha addressed the photo again saying, "I guess Drake took these pictures a little while ago. They said it was his idea, something he wanted to do."
While some questioned the photo, others came to Drake's defense over the image. On Wednesday, the Toronto clothing brand Too Black Guys, which Drake is wearing in the photos, released a statement explaining that despite the picture not being from one of their photoshoots, they supported Drake's message as a company that "has a history of representing the black experience in an unapologetic way."
Adrian Aitcheson, the founder of Too Black Guys, stated that "Drake, who is a long-time friend of the brand, was brilliantly illustrating the hypocrisy of the Jim Crow Era," while subtly bringing attention to "issues that are still affecting our communities."
Leyes also commented on the image, writing on Instagram that he was "proud to be apart of a strong statement made by a black man about the fucked up culture he is living in." According to Rap-Up, shortly after Pusha posted the photo to Instagram, Leyes filed a claim and the photo has since been removed from Pusha's Instagram for a copyright violation.
Following Drake's statement about the photo, Twitter's response was mixed. "Drake released a statement, not a song," user @rustymk2 wrote. "This battle is over." But, @KAlexander_Co thought this was part of a bigger strategy: "Drake issuing a statement feels like 'okay let me clear this up before I begin the shenanigans.'"
Many fans just wanted more music, though. "I don't know why Drake think we wanted an IG post instead of a new song," user @LuuLion tweeted. While @Pebzus had an interesting prediction: "Drake is petty, he will drop tonight around the same time as Ye's release." Kanye West is slated to release his new album June 1.
Drake's statement puts the controversial photo into context, but it's unclear whether this will stop the conversation surrounding the image. It's also unlikely it will be the last installment in the ongoing feud between Drake and Pusha-T.