Drake's New Music Video Has Already Launched An Iconic Meme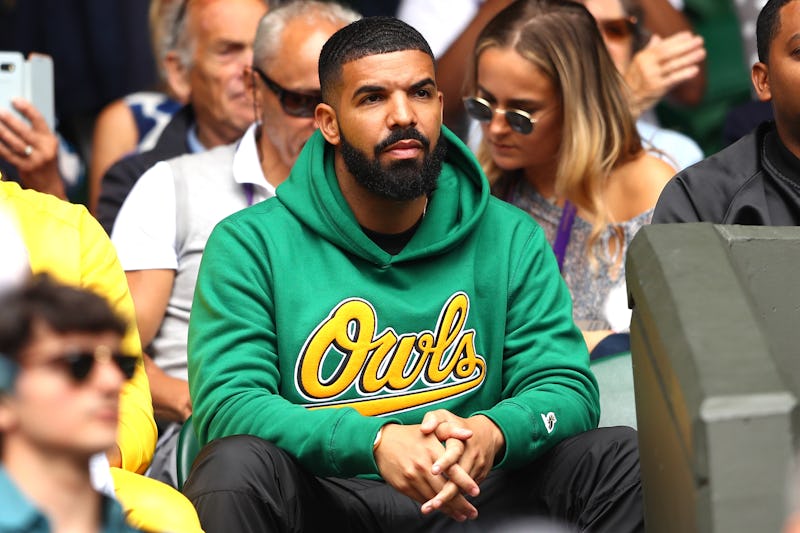 Michael Steele/Getty Images Entertainment/Getty Images
Despite the overwhelming popularity of his song and accompanying dance challenge for "In My Feelings," Drake opted to drop a visual for a completely different track from his Scorpion album on Friday, July 27. Though the video's release may have come as a bit of a surprise to fans, "Nonstop" quickly turned memes of Drake in a durag, sipping tea into the internet's new favorite thing and with one look at the project it's easy to see why. In the video for "Nonstop," Drake takes things completely next level during what appears to be a moment of "me time" for the rapper as he sits poshly at the table for one, drinking from a teacup. The moment is hilarious, to say the least, and has gone on to become the most talked about snippet from the new release.
The 5 minute visual, which was filmed when Drake was in London to perform at the Wireless Festival earlier this month, features cameos from rappers French Montana, Quavo, and U.K. artist Giggs. While the shots of Drake's high-octane stage performance and his trip on a double-decker bus tour of the England locale invigorate much of the black-and-white spectacle, fans just can't seem to get enough of Drake's tea-sipping session during his visit to the European city.
Many, who caught the video's debut on Apple Music, jumped to Twitter to chime in on the epic moment.
1. It's Just Too Good
One fan was totally on board for "durag Drake" sharing a screenshot of the rapper tea time.
2. It's A Major Mood
Another viewer used a snippet of the video to explain exactly their exact feelings.
3. It's Morning Motivation
Someone joked about Drake being the feeling you get when you have your first morning coffee.
4. Drake's Durag For The Win
Another fan shared their sentiments about seeing Drake in his durag, revealing that the moment was all they could have ever wished fore and more.
5. Practicing Patience
This Twitter user the snapshot to make a meme about patience.
6. Rolling Solo
Another fan used a snapshot of the video to make a joke about being the only one to show up to brunch.
7. Best Ever
Someone else referred to the "Nonstop" as the best video Drake's ever made.
8. It's All The Friday Feels
Drake's durag tea session completely made this person's day.
9. His Royal Highness
Someone joked about Drake's mood being the moment when Meghan Markle's family comes to visit the Royal Palace.
10. It's London Legendary
This Twitter user referred to Drake's afternoon tea time as "iconic."
11. New Mood, Who Dis?
The moment has one person's mood reaching brand new heights they never knew they could reach.
Drake's 25-song Scorpion album, which was released on June 29, has spawned massive hits with the videos for "God's Plan," "Nice For What," and "I'm Upset" all being released prior to the album's arrival. According to Complex, the rapper is said to be in the process of filming the soon-to be-released video for "In My Feelings." Billboard also points out that the album is slated to make its fourth straight appearance at Number 1 on its Top 200 chart this week. With a new video that fans seem to absolutely love, and another one on the way, Drake's album success shows no signs of stopping anytime soon, so if all he wants to do is sip tea in peace, well, his fans are clearly all for it.