Fans Have SO Many Emotions About Drake's New Album & It's Not Even Out Yet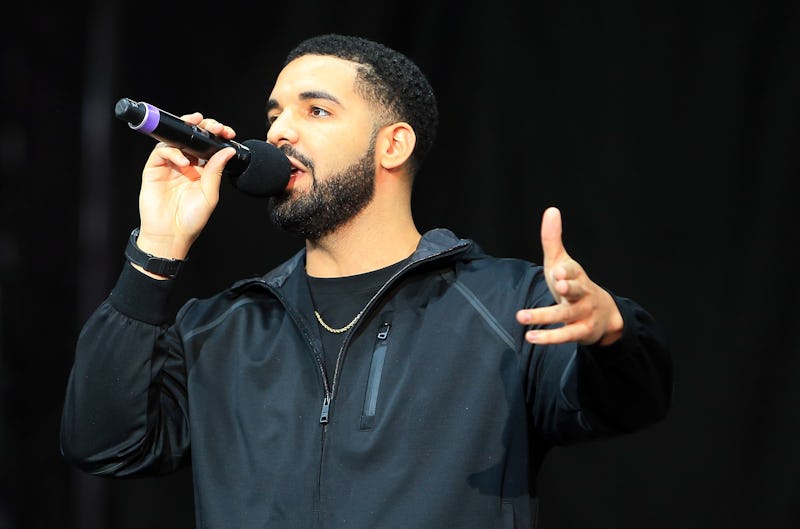 Vaughn Ridley/Getty Images Sport/Getty Images
They haven't heard the songs yet, but that hasn't stopped fans from reacting to Drake's new double album, Scorpion, which will be released on Friday, June 29. Between its mysterious trailer and its newly released track list, there's already plenty for fans to talk about, even before the music is out.
And while the trailer Drake posted on Instagram says that the album will be out on June 29, plenty of fans seem to think it will be available at 11 p.m. on Thursday night. People are tweeting things like "At 11pm I will be zoned out to drake new album" and "Drake's album will be LIVE at 11pm on Apple Music..." in anticipation of the album drop. The theory seems to be based on the fact that Apple Music has apparently released albums at 11 p.m, according to Reddit. in the past. Still, there's no guarantee that Scorpion will be able to stream before the clock strikes midnight on the East Coast. But despite the mystery, it looks like plenty of fans will be staying up past 11 p.m., just in case the album does drop early.
Meanwhile, some people are already predicting what the reaction to Drake's new songs will be like. One Twitter user suggested that within minutes of the album's release, people will tweet that Drake's new work isn't good.
And one person suggested that even Drake haters will hear Scorpion and "secretly love it."
Another Twitter user, meanwhile, suggested that so many people will try to stream Scorpion, Apple Music could crash.
What seems to be getting the most attention, though, is what Drake's song "March 14" could be about. Apple Music released the official Scorpion track list, and the last song on the album's B side is inspiring plenty of speculation.
Twitter users have pointed out that Drake flew to Wyoming on March 14 to work with Kanye West, which has led plenty of people to believe the song has something to do with Kanye. But other Twitter users have noted that Drake played Fortnite: Battle Royale on Twitch that day, with a gamer who goes by "Ninja" on the platform. So it might not have anything to do with Kanye at all. (Or, you know, maybe Drake is just a big fan of celebrating Pi Day?)
And if all of that speculation isn't enough, some fans also think that the album, and specifically "March 14," could address his beef with Pusha-T. Back in May, Pusha-T released a diss track about Drake. It's a bit of a stretch, but since Pusha-T has worked with Kanye in the past, the "March 14" title could have something to do with the feud.
An overlooked theory, in my opinion, is that Drake is a fan of SpongeBob SquarePants, and the track is Drake's attempt to get in on the SpongeBob meme craze. Fans will remember that Plankton once declared March 14 "the day that Krabs fries," so there's a lot that Drake could do with it. That's definitely the most unlikely meaning of the song title, but anything's possible at this point, right?
The Scorpion trailer doesn't shed much light on what the new songs could be about, either. It shows Drake walking outside a gated fence, standing inside an empty house, and driving, before standing in a recording studio. And Drake simply captioned the trailer with the scorpion emoji when he shared it on Instagram.
As soon as Scorpion hits Apple Music, though, expect fans to have plenty more theories and ideas about Drake's new album. Whether or not he releases a Pusha-T diss track, there are sure to be plenty of surprises.