Drake Is Not Here For Donald Trump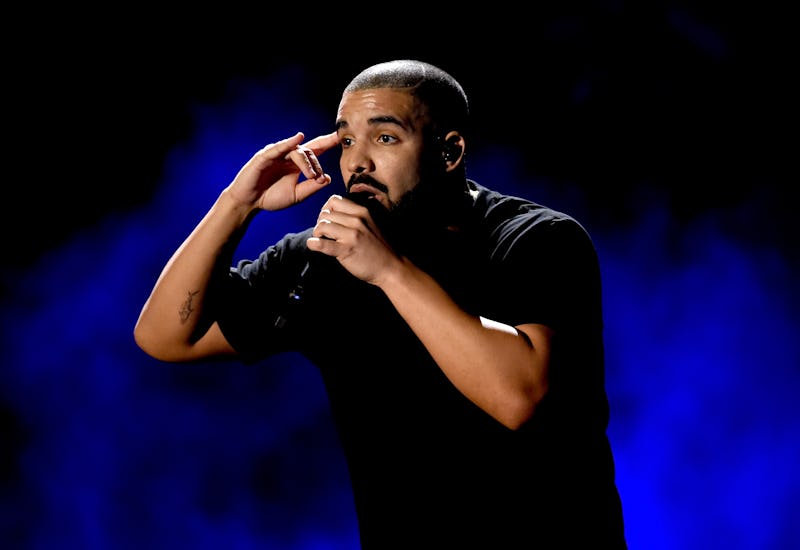 Kevin Winter/Getty Images Entertainment/Getty Images
The list of celebrities speaking out against President Donald Trump continues to grow. In London Sunday as part of his Boy Meets World tour, Drake slammed Donald Trump and the actions he's taken so far as the leader of the United States. Based on his powerful speech, it sure doesn't seem like the rapper is here for Trump's order temporary banning on immigrants and refugees from seven Muslim-majority countries. He let his voice be heard during his concert and spoke out strongly against the 45th POTUS.
Drake began by passionately saying,
"For some reason in my room they got the TVs set to CNN. Every day I wake up, I see all this bullsh*t going on in the world. People trying to tear us apart, people trying to make us turn against each other."
Drizzy then went onto to say that he could care less about how many tickets he sells, but what really makes him proud is to see the number of individuals from different backgrounds and cultures attending his show and experiencing it together in the same room. He said,
"So tonight, my proudest moment isn't selling tickets or having people sing my songs. My proudest moment — if you take a look around in this room, you'll see people from all races and all places — and all we did tonight was come inside this building, show love, celebrate life, more life, and more music."
Drake then ended his speech by letting every concert goer know that the best way to defeat any division they feel is by coming together to fight for what is right. He concluded,
"And I just want you to understand if you ever thought for a second that any one man is going to tear this world apart you're out of your motherf*cking mind. It's on us to keep this shit together. F*ck that man."
Drake has spoken.
Actually, this isn't the first time he's spread a message of love. During the September 2016 iHeartRadio Music Festival, the Views artist opened up about current events and the type of country we're living in, all while giving his opinion on the best way to keep this world afloat:
"It's some crazy times going on that we're living through. And it just gives me peace of mind to see 15, 16,000 people from all races and all places just getting together to enjoy music and showing love to each other. I just want to encourage you to apply this concept to your life when you walk out these doors, because that's how we're going to protect the world, that's how we're going to protect each other and keep this thing spinning. You got to show love."
There certainly needs to be more love, support, and inclusivity in the world today. It's great to know that there appears to be so much of that happening at Drake's concerts, but here's hoping people will take his words to heart and start showing it in all aspects of their lives.