The Protein In This Moisturizer Will Actually Make Your Skin Stronger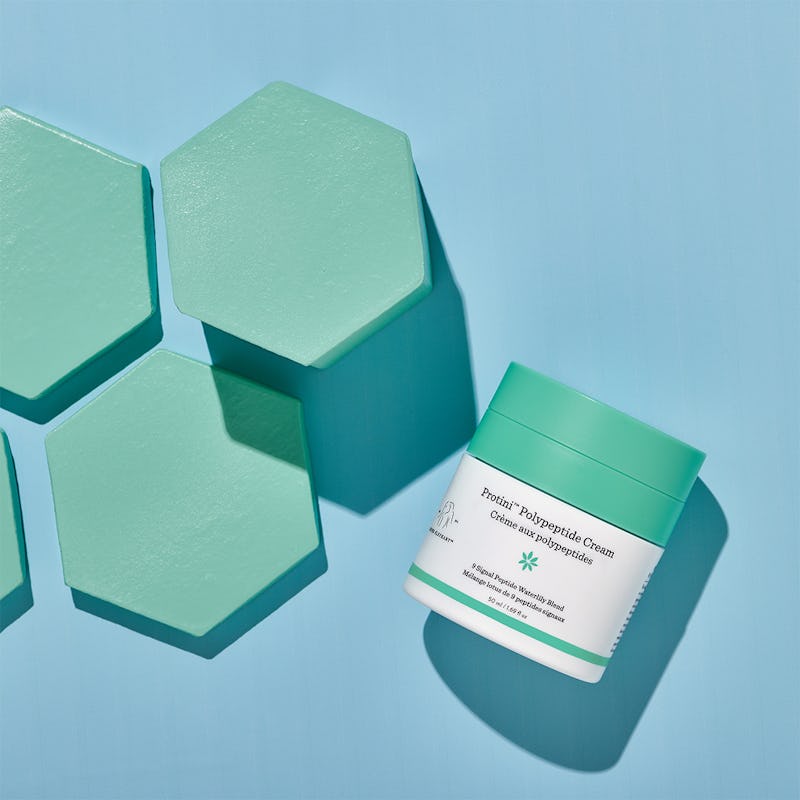 Drunk Elephant
When you think of protein and beauty, you probably picture all of those powder supplements or vitamins that you can add to your smoothies or coffee for stronger hair, nails, and an overall glowier complexion. But what about protein inside your moisturizer? While it might sound strange at first, protein arguably an essential ingredient for your skin. If you have used anything with peptides — which are basically chains of amino acids that are the building blocks of proteins — then you've applied protein topically to your face before. However, Drunk Elephant's new Protini Polypeptide Cream is taking things a step further by using a significant concentration of peptides. You'll find way more peptides in Protini than in a typical peptide face or eye cream — as well as plant-derived growth factors and supportive amino acids to make your skin stronger and healthier, just like those protein supplements and vitamins, only focused on your face.
"It's a shot of concentrated amino acids and peptides that reminds me of the protein powder I add to my smoothie every day for muscle support," says Tiffany Masterson, founder of Drunk Elephant. She lovingly calls it the "get sh*t done" cream.
Protini Polypeptide Cream, $68, Sephora
If you want a more clinical explanation of what protein can do to your skin, here's how NYC-based esthetician and beauty expert Jordana Mattioli puts it. "Certain formulations of amino acids create specific peptides which in turn make specific proteins. Research has shown that these proteins will keep skin firm, improve texture, [and] even soften wrinkles," Mattioli tells Bustle. "They have become an essential ingredient for keeping skin bouncy and resilient."
But if the industry has known that peptides are good for the skin all along, why hasn't a brand already made a similar protein-packed moisturizer like Drunk Elephant? The first reason: cost. "Peptides are typically used in tiny concentrations — they're difficult to stabilize and expensive," Masterson explains. Second, as Masterson mentions, it's no easy feat creating a product with as much protein as Protini has.
"Protini uses peptide and plant-derived growth factors (the good kind) in levels that we've never seen before. This explains why we're seeing such dramatic feedback from our test panels," Masterson explains to Bustle. Although the product just launched on Sephora's website on Monday, it already has 20 five-star reviews and over 6,100 likes. Some customers call it a their new favorite, commenting that their skin feels soft and plump and that they have noticed a difference after using the product consistently.
Protini Polypeptide Cream, $68, Sephora
Protini contains such a high concentration of peptides, in fact, that Masterson says they can't even sell the product in Australia, due to regulations. But don't worry — that doesn't mean it's unsafe to use.
"Every country has their own regulatory quirks that lag behind industry innovation and research — Canada, for example, limits the percentage of alpha hydroxy acids to 10 percent. In the United States, the FDA limits the types of sunscreen actives you can use. In Australia, they're finicky about the types and concentrations of peptides you can use," she tells Bustle.
According to Masterson, research proves that Protini's plant-derived growth factors do not upset the balance of healthy, normal cell production. So, yes, Protini is "absolutely safe" to use, but since it's such an innovative product — having such a high concentration of peptides — it is still currently restricted in Australia.
"But the Protini wouldn't be Protini if we lowered those levels," she tells Bustle, which is a bummer for Drunk Elephant's loyal Australian customers. Guess they'll have to make a trip to the States to purchase their own jar!
Protein aside, the product feels amazing. The gel texture is light and bouncy and absorbs quickly into your skin. It feels hydrating, but won't leave your face greasy, and it doesn't have a strong scent, which is a plus for those who are sensitive to fragrance. Protini easily dispenses through an airtight pump so that the product stays potent and helps reduce the amount of product wasted. According to the product description, suggested use of Protini is twice a day, in the morning and in the evening. You can use it alone or you can also mix it into a serum, cream, or oil to act as a skin-strengthening supplement.
Protini is available for purchase now at Sephora and on Drunk Elephant's website.