Fans At Dua Lipa's Shanghai Show Were Reportedly Removed For 'Waving Pride Flags'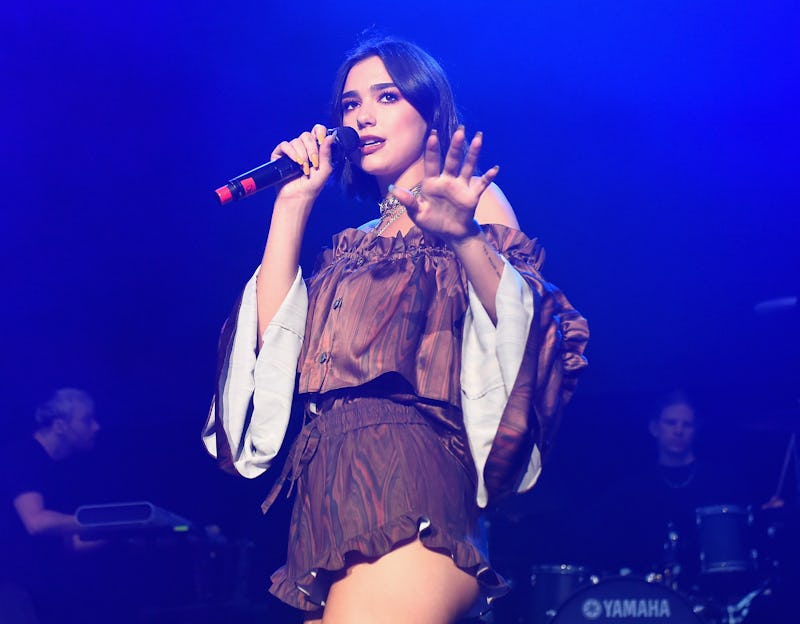 Nicholas Hunt/Getty Images Entertainment/Getty Images
A night of entertainment turned to outrage on September 12, as fans were forcibly removed from Dua Lipa's concert in Shanghai, China, as the Guardian reports. Footage circulating on social media appears to show attendees being removed for standing and dancing in their seats, while others were reportedly removed for waving rainbow flags. Videos show fans being dragged out of their seats in the middle of the show, and further footage appears to show security guards physically attacking fans outside the venue, as the The Guardian reports. Lipa reportedly cried on stage as the events took place, and subsequently posted an emotional statement on social media.
The show took place at the National Exhibition and Convention Center, in the Qingpu district of Shanghai, according to the Guardian. One concertgoer told the BBC that fans were pulled from their seats "just for standing up"; she claimed that both security staff and the police were involved, and called the latter "heavy-handed" and "aggressive." According to the Guardian, other social media users said fans were targeted for waving rainbow pride flags at the concert. In a video taken outside the venue, security staff appear to chase and physically strike a concertgoer.
Attendees reported on Twitter that Lipa was visibly upset by the treatment of fans. A video shows her looking shaken as she tells the audience, "I want to create a really safe environment for us all to have fun," adding, "I want us all to dance. I want us all to sing. I want us all to just have a really good time." Lipa continues, "We're not here for much longer — we only have a few more songs. And I would love for these last few songs for us to really, really, really enjoy ourselves, how about that?"
After the concert, Lipa posted a statement of support for her fans on Instagram and Twitter, saying she was "horrified" by the treatment of audience members. She wrote, "Last night I did it for my fans. A promised show. I stood by them, sang with them and danced with them. I will stand by you all for your love and beliefs and I am proud and grateful that you felt safe enough to show your pride at my show. What you did takes a lot of bravery."
She continued, "I always want my music to bring strength, hope and unity. I was horrified by what happened and I send love to all my fans involved. I would love to come back for my fans when the time is right and hopefully see a room full of rainbows. I love you Shanghai xx."
Fans responded with love and gratitude for Lipa, with several thanking her for continuing the concert. "We Chinese fans are always by your side," one Twitter user said.
According to The Guardian, the events took place during Lipa's first ever tour of China, following her September 11 performance in Guangzhou. On September 14, she'll move on to the Philippines, where she'll play in Manila, before progressing to Bangkok, Thailand, and Taipei, Taiwan. Here's hoping those gigs go over without incident.