Dua Lipa's New Look Has Fans Comparing Her To A Spice Girl & WOW, When You See It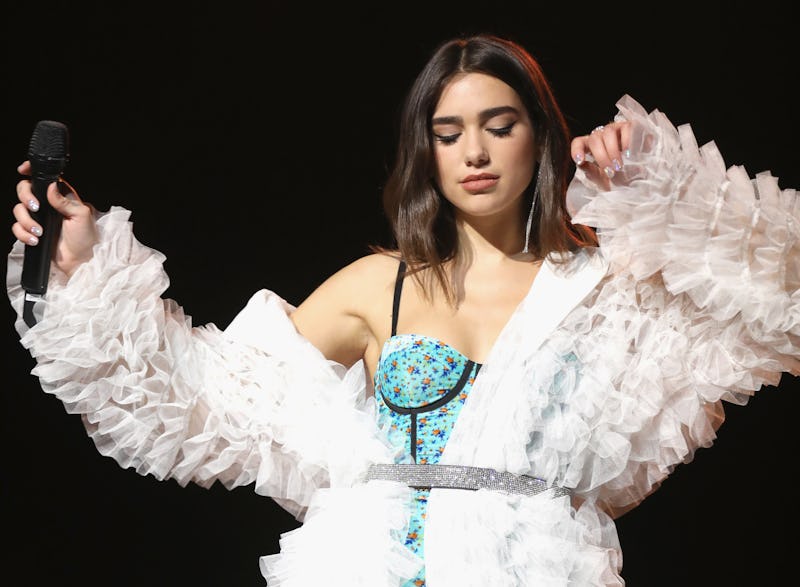 Tim P. Whitby/Getty Images Entertainment/Getty Images
The rise and rise of this multi talented pop sensation has been absolutely astronomical, yet the thing that fans are talking most about right now is Dua Lipa's new hair. Some reckon her latest 'do reminds them of someone. Can you guess who they're talking about? None other than Posh Spice herself, Victoria Beckham.
Fans of the pair were quick to point out how similar they looked in an Instagram picture put up by Lipa, in which she was dressed to the nines for a night out on the town. The singer captioned the image: "I hide Mariah in my bag cuz she's skinny." Erm, I'm not sure whatever the heck that means, but come on, are you not getting serious VB vibes from this pic (below)?People certainly were in the comments section below. Lipa's sleek dark bob is very much à la Beckham in her early Spice Girls days, too. OMG, this twinning is literally low-key amazing and giving life to all our '90s dreams.
In the picture, the singer is wearing a strappy black number, which definitely reminds me of the "little Gucci" dresses that Beckham used to wear back in her Posh Spice days. Have a look. Can you see the similarities?
Oh, by the way, sorry to burst anyone's bubble, but Beckham recently revealed in her Skype documentary, Five Years – The Victoria Beckham Fashion Story, that the "little Gucci" dresses she became famous for wearing in her Spice Girls days were in fact much cheaper imitations, reports Elle. Seriously, lol. But anyway, back to Lipa.
Another teeny detail that's got fans comparing her to VB is their mutual preference for quite a straight pose in pictures. The fashion designer has certainly made it an iconic part of her whole persona, clapping back at haters in the best way when asked why she's not smiling. Go VB! And now, it looks like Lipa is a fan of the pose too — and why shouldn't she be. Can we all just agree women can smile as much or as little as they like and get on with our lives? Good.
So pictures aside, the biggest thing Lipa and Beckham really have in common is their message of girl power. The Spice Girls were all about feminism in the '90s. Fast-forward two decades, and Lipa is sending out the exact same message Beckham has been for the past 20 years. In an interview with the Evening Standard, she said:
I think if you're not a feminist, you're sexist. Both men and women. My idea of feminism is just wanting equality. It's just wanting women to be treated the same and to have equal opportunities. I guess we just need to teach the younger generation. Whatever I can do in my circle, however I can use my platform to get things out — that's the most important thing for me.
Of course, in light of all the similarities Lipa may have with Beckham, let's be honest here, she is a huge star in her own right. With 14.3 million followers on social media and a number huge hits under her belt like IDGAF and New Rules, she isn't walking in anyone's shadow.
At the moment, her summer looks jam-packed with gigs planned across Europe, including performances at Reading Festival, Leeds Festival, and Sziget Fesitval in Budapest. Yikes. Busy bee, huh?
Given all the Spice Girls-era vibes Lipa is serving, I'm kind of hoping that perhaps word will reach the pair and maybe inspire some sort of collaboration. It might be wishful thinking, but who knows? Maybe one day Lipa will even step out on stage with Beckham... Oh, my gosh, please make this happen. Can we make this happen?