The Dunkin' Donuts Fall Lineup Includes An Apple Crisp Donut & Maple Cream Cheese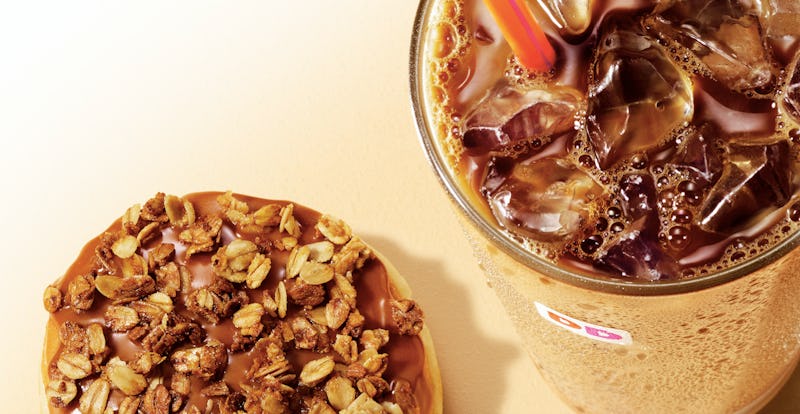 Dunkin' Donuts
Honesty hour: I ate the grilled cheese flat at Dunkin' Donuts every day for approximately a year in college. It was taken off the menu, to my great devastation, and little by little, Dunkin' has been introducing delicious things to get into my good graces ever since. Well folks, the Dunkin' Donuts fall 2018 menu options might be the thing that tips me firmly back into its camp — not only is the chain paying homage to pumpkin as it always does, but this year, Dunkin' Donuts is introducing an Apple Crisp Donut and Maple Cream Cheese as well.
In fact, Dunkin' isn't holding back this spooky season — the list of menu options is decidedly more treat than trick. Two returning fan favorites include the Pumpkin and Maple Pecan flavored coffees, which will be available in hot coffee, iced coffee, espresso beverages, frozen coffee, and cold brew. Also returning are, of course, the Pumpkin Donut, Pumpkin Muffin, Pumpkin K-Cup pods, and packaged pumpkin-flavored coffee (be still my pumpkin princess heart).
But, back to the two reasons to really sound all of the delicious alarms: the two new menu offerings this fall aren't pumpkin-related at all. The Apple Crisp Donut — which, by the way, looks so gorgeous that I'd be intimidated to be in the same room as her, let alone eat her — features "apple filling, frosted with caramel icing and topped with crispy sweet oat topping," according to Dunkin' Donuts. All of those delicious words aside, just look at it.
And perhaps the true pièce de résistance is the Maple Cream Cheese, which you better believe I'm going to slather over every carb within a 50-foot radius of me until someone pries the plastic knife from my hands. This is available primarily to spread on Dunkin's bagels, but listen up, donut connoisseurs: maple cream cheese was patently designed to be glopped with abandon on top of pumpkin muffins and pumpkin donuts, so do yourself a favor and expand to that horizon, too.
If you're looking for more savory autumnal options, you're also in luck. Dunkin' Donuts will be serving two waffle sandwiches to satisfy your seasonal cravings. The Belgian Waffle Breakfast Sandwich (have four holier words ever been combined?) includes "sweet caramelized Maple Sugar Bacon, egg and American Cheese, served between classic golden Belgian Waffles with deep ridges," while the Maple Sugar Bacon Breakfast Sandwich includes "eggs, American cheese and a double serving of Maple Sugar Bacon served on a warm, flaky croissant," according to Dunkin' Donuts.
A moment of silence for whoever just met their death slipping on the drool I left on the floor.
So when exactly can you expect to see all of this deliciousness at a Dunkin' Donuts near you? According to Dunkin', locations will be serving fall menu options no later than August 27 this year — so mark your calendars and ready your stomachs, y'all. Breakfast just got a whole lot more autumnal, and Dunkin' is yet again leading the charge.