Pumpkin Spice Is Landing At Dunkin' Donuts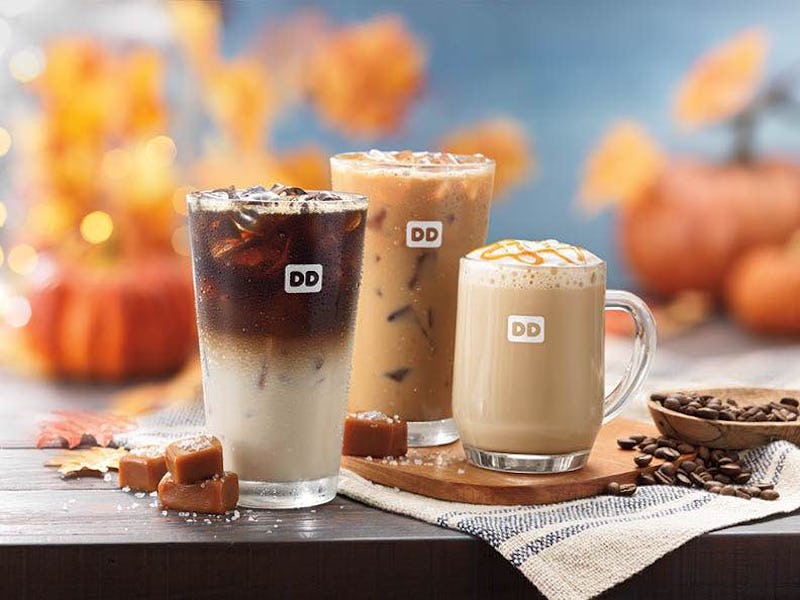 With fall just around the corner, back-to-school commercials and the promise of mild weather rules the air. Soon, the trees will change color and the menus at your favorite spots will follow suit. Basically, the wait for pumpkin and salted caramel coffee at Dunkin' Donuts is finally over people! You'll be able to enjoy that seasonal favorite at your leisure for a limited time.
Beginning on August 18, folks living in the Metro New York area could already enjoy the pumpkin flavored coffee, lattes, and macchiatos served at participating Dunkin' Donuts restaurants. They have been some of the first people to dive into the delicious wave of pumpkin items. If you are not lucky enough to live in the area and crave that mouthwatering taste — don't worry, it's all coming your way very soon. No later than August 29, pumpkin coffees, donuts, munchkins and muffins will be sold in your local Dunkin' Donuts nationwide. Sure, New York might get the first testers, but you'll be seeing and tasting pumpkin for weeks to come. Oh fall, why do you only come but once a year?
Personally I am looking forward to the Salted Caramel flavored coffee, lattes and macchiatos. One of life's greatest pleasures is mixing sweet and salty together — which is why this new addition to the Dunkin' Donuts menu makes my heart beat faster. All of the upcoming drinks can be served hot or iced, so depending on what part of the country you are in, you'll be satisfied. Being in LA means I can have an iced salted caramel treat in December.
When I was in high school I would head to Dunkin' after school at least three or four times a week. My friends and I even walked over there during our lunch hour throughout senior year. There were so many Dunkin' Donuts spots in New York City to choose from that it always felt like home. Moving out to Los Angeles, I realized I might not get a taste of those delicious donut holes ever again. Luckily, I moved at the right time, because Dunkin' has finally come to LA. I've gone to the location in The Valley so many times, they must know me by name already.
While every location feels new, the same questions prevail inside of my head as I walk inside. Is there a limit to how many doughnuts I can eat at one sitting? Will the coffee ever stop tasting so good? Why wouldn't people always put hazelnut sweetener into their drinks? I'm looking forward to adding pumpkin related questions to my inquiries.
So get your wallets and stomachs ready, because pumpkin season is back for a limited time. Catch it before it's gone.
Images: Courtesy of Dunkin Donuts