Dunkin' Donuts' Delicious Pumpkin Spice Iced Coffee Officially Comes In Bottled Form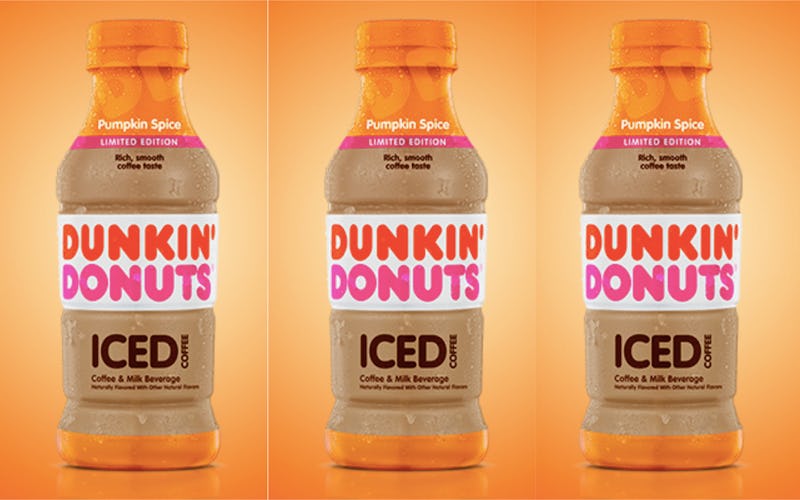 Dunkin' Donuts
Pumpkin Dunkin' has a nice ring to it, don't you think? Well, it should, as Dunkin' Donuts is dropping a brand new bottled iced coffee flavor — one that is perfectly flavored for fall. If you thought other coffee chains had the market cornered on pumpkin drinks, you are sorely mistaken. Dunkin' Donuts Pumpkin Spice Bottled Iced Coffee has officially hit the scene, joining the lineup delicious bottled iced coffee flavors at Dunkin' for a limited time.
Of course, this is only the newest of the chain's expansive line of pumpkin products. Each year at the beginning of September, the New England-based chain adds a plethora of pumpkin-based snacks to its menu. Pumpkin-flavored Hot and Iced Coffee, Lattes, Cappuccinos, Frozen Coffee and Cold Brew Coffee make up just a sample of the fall beverage options offered. Pumpkin muffins, donuts and Munchkin donut hole treats will satisfy your seasonal sweet tooth. Last but not least, in addition to the bottled iced coffee, you can take pumpkin flavored K-Cup pods and packaged coffee for the road. It's a pumpkin jamboree — and now, thanks to this iced version in a bottle, you can take that jamboree on-the-go.
Dunkin' Donuts, it seems, has been creating with the commuter in mind. The other flavors of the iced coffee bottle line include Espresso, Cookies and Cream, French Vanilla, Mocha, and Original — but if you're looking for something that packs a little more punch, Dunkin' has you covered there, too. In addition launching to the bottled Pumpkin Iced Coffee, the chain's first-ever canned beverage just hit store shelves.
The brand new "Shot in the Dark" coffee espresso blend combines the tastes of both Dunkin's signature coffee and espresso beverages and serves them chilled so there is no need for waiting for your sip to cool. A hint of cream and sugar mellow out the boldness of the brew, making the slim can a perfect way to grind through the day.
In a press release, Brian Gilbert, the VP if Retail Business Development at Dunkin' announced, "Now, for the coffee-loving consumers who want something a little bolder than a traditional cup of coffee, but not as strong as a shot of espresso, our Shot in the Dark creates an exciting and energizing new option when on-the-go." You can find it on store shelves, both inside and outside of Dunkin' Donuts locations.
But let's circle back to all things fall, the season that Dunkin' goes all out. Perhaps what makes Dunkin' Donuts an essential stop for all things fall-flavored is it doesn't only offer pumpkin treats. In fact, its fall repertoire is vast.
In August, Dunkin' Donuts announced its special new additions to the fall menu. Some non-orange highlights include an Apple Crisp Donut and two savory-sweet Maple Breakfast Sandwiches. The donut features "apple filling, frosted with caramel icing and topped with crispy sweet oat topping." So, snackin' on this is basically the closest you can get to eating pie for breakfast without *actually* eating pie for breakfast.
The Belgian Waffle Breakfast Sandwich (yes, Belgian Waffle, because who needs bread when you can have a waffle) includes "sweet caramelized Maple Sugar Bacon, egg and American Cheese, served between classic golden Belgian Waffles with deep ridges." The more ~traditional~ Maple Sugar Bacon Breakfast Sandwich is piled high with "eggs, American cheese and a double serving of Maple Sugar Bacon served on a warm, flaky croissant," according to Dunkin' Donuts.
For those who prefer a simple, lighter breakfast, there is something fall-inspired for you, too. Spice (or sweeten, rather) up you morning bagel with maple cream cheese — available at Dunkin' only through the fall. Just don't forget to pick up a few Pumpkin Spice Bottled Iced Coffees on your way out — just like the fall menu, they're only around for a limited time!