Dwayne Johnson's Birthday Video For Chris Hemsworth Is Hilariously Perfect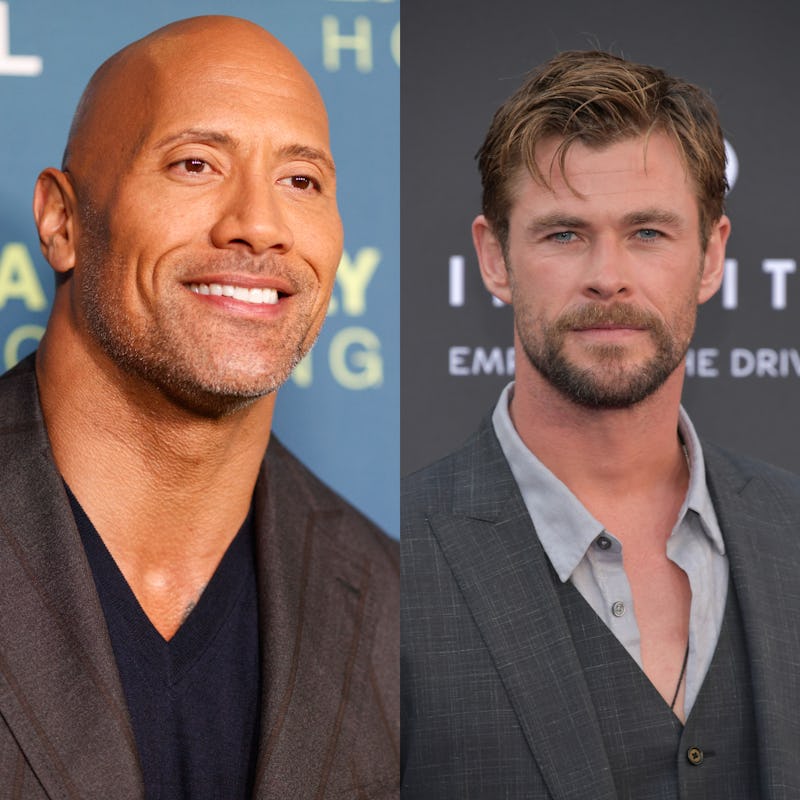 Christopher Polk/Getty Images Entertainment/Getty Images/ Neilson Barnard/Getty Images Entertainment/Getty Images
In case you missed it, Chris Hemsworth turned 35 on Saturday. Other celebrities, including Chris Pratt, wished Hemsworth a happy birthday on Instagram, as Buzzfeed reported. But Dwayne Johnson's birthday message for Chris Hemsworth included a lot more than his Instagram comment on Hemsworth's page.
Johnson posted an Instagram video over the weekend explaining that he'd paused his workout to record his birthday message for Hemsworth. He altered the lyrics to the traditional "Happy Birthday" song, though — here's what Johnson sang in the clip:
"Happy birthday to Thor / you Australian man-whore / You're the greatest Chris, and that's a fact / after Evans, Pine, and Pratt"
Johnson went on to say in the video, "Happy birthday, you handsome son of a b*tch, Chris Hemsworth, sending you a lot of love, man." He kept up the teasing in his Instagram caption, though, joking that unlike some people, he wasn't actually happy about Hemsworth's birthday. Johnson captioned the post,
"Happy Birthday @chrishemsworth you handsome alien looking SOB! Many people in this world are so grateful you were born - I am not one of them. Enjoy your birthday w/ the ohana my brother and see ya down the road.
Johnson's post looks like it's definitely all in good fun, and there doesn't really seem to be any love lost between the two actors. Still, the post is even funnier when you add in the fact that Johnson had a movie idea for himself and Pratt, one of the Hollywood Chrises he named as being superior to Hemsworth.
Back in April, Johnson shared an Instagram video congratulating the cast of Avengers: Infinity War on the movie's box office success. He listed off some of the movie's stars, including Hemsworth and Pratt, before hinting that he and Pratt should costar in a movie of their own.
"I always listen to what the fans want," Johnson said in the video, referring to the potential collaboration. "I have a vision board in my gym, the Iron Paradise. I wrote our names down," he says in the video, before revealing a chalkboard that reads "Rock & Pratt." Johnson ended the video by saying he had an idea for the movie — but he didn't actually share what the idea was.
Based on Johnson's posts, it looks like blockbuster action movie stars have to stick together, and they don't mind sharing some laughs at each other's expense. And considering the fact that Hemsworth reposted Johnson's video on his own Instagram page, it looks like he sees the humor in the situation. Hemsworth wrote of the post,
"If anyone was gonna break the news to me being the least favourite Chris I'm glad it was you @therock and embedded in that message a birthday song brought me joy. Also my kids after seeing this said "dad are you friends with Jumanji!!!". And now possibly think I'm cool. They expect you at each of their birthday parties in the coming years"
Whether or not there will be a future movie starring Johnson and Pratt has yet to be seen. But based on their recent Instagram interactions, it seems like a movie featuring Johnson and Hemsworth would be just as funny.