Here's How Celebs Answered "Why Are You Wearing Black" At The Golden Globes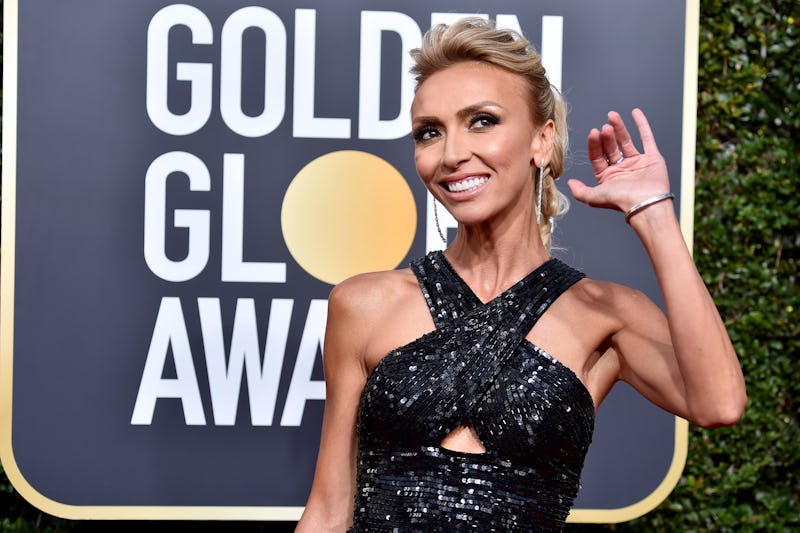 Frazer Harrison/Getty Images Entertainment/Getty Images
The 2018 Golden Globes red carpet was a profound moment in Hollywood awards show history, and the E! network's OG red carpet coverage made sure to fall in line. This year, E! asked celebrities, "Why are you wearing black," instead of, "Who are you wearing" on the red carpet, and unsurprisingly, the celebrities asked had plenty to say.
Rumors about celebrity plans to wear black on the red carpet began circulating in late 2017, when whispers of stars wearing black in solidarity began making their way to media outlets. The choice to wear black is a statement, one made against the rampant sexual harassment women have to face in their professional and personal lives — both in the entertainment industry and beyond. According to preliminary reports from several entertainment media outlets, more than 300 figures in the entertainment industry signed on, including America Ferrera, Nicole Kidman, and Reese Witherspoon.
E! covers the Golden Globes red carpet each year, and usually, much of the red carpet conversation centers on what the stars are wearing. However, this year, E! red carpet hosts chose to push the conversation further and ask celebs why they are wearing black. Here are some of the best responses.
Debra Messing
Messing decided to use her response to call out the network itself. "I was shocked to hear that E! doesn't believe in paying their female cohosts the same as their male cohosts," she said.
Meryl Streep & Ai-Jen Poo
Streep attended the Golden Globes with Ai-jen Poo, Director of the National Domestic Workers Alliance. Both of them were asked why they wore black on the red carpet.
"We feel sort of emboldened to stand together in a thick black line, dividing then from now," Streep responded.
"We all deserve workplaces where we're safe and our work is valued and we can work in dignity," Poo said. "This a movement where there's space for everyone and a role for everyone."
Emma Watson & Marai Larasi
Watson brought black feminist activist Marai Larasi to the Globes, and both were asked about their decision to wear black. Watson described the experience as "so emotional," before passing the mic to Larasi.
"There's something about women in Hollywood speaking out," Larasi said. "There's a wall of silence, and every time someone speaks out, it just creates a bit of a crack in that wall. So we don't want to to create hierarchies where we're saying women in Hollywood are more important than other women, but we're saying women in Hollywood have an opportunity to amplify the issues and to shine a little light on things. And that's incredibly important."
Alison Brie
"It's important for me to stand with those who feel like they don't have a voice," Brie told E! red carpet host Giuliana Rancic. "I love that this movement isn't just about talking about an issue, but it's about actually taking action for that issue. And the legal defense fund has been set up to provide legal aide for those who can't afford it. You know we talk about wearing black tonight which could be construed as a somber color but actually the atmosphere is so celebratory, it's so empowering. And that's what I'm about."
Brie also commented on her choice of silhouette for the evening. "Tonight is about women wearing the pants," she said, "So I chose to literally wear the pants."
Eva Longoria
"It's not a moment," Longoria said. "It's a movement. We're here in black to say Time's Up on this imbalance of power and we're also here to honor the women who came out originally — who really kicked the door open for this conversation to even happen."
Reese Witherspoon
"We're here to stand up for all women and men who have been silenced for abuse and harassment and discrimination within their industries," Witherspoon said. "Not just Hollywood, all industries."
Viola Davis
"All these women embracing their authentic voices and standing in solidarity with one another," Davis said. "I think people feel like Hollywood can be out of touch sometimes, but I'm here because of the voices of women who say, 'Me too,' and one of them is me. Those people who are nameless, faceless, every day, who don't have a platform to talk about their sexual assault and rape, and I hear those voices."