East Coast Flights Are Canceled Even For The Day After Winter Storm Quinn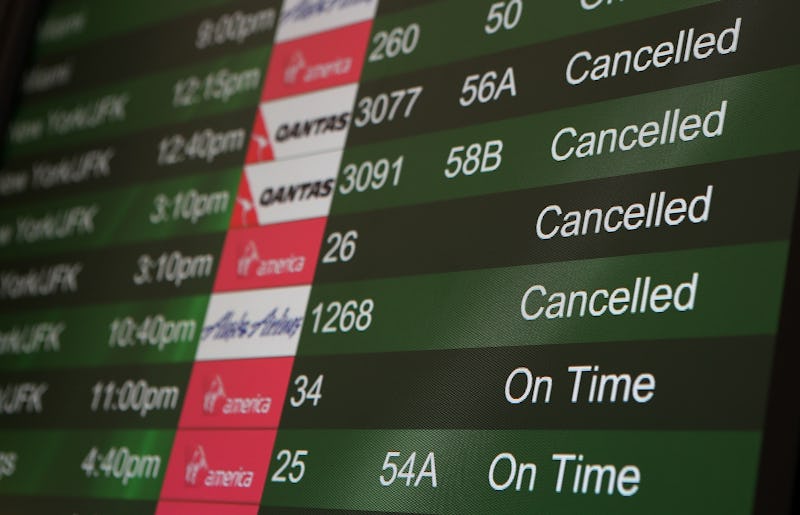 Justin Sullivan/Getty Images News/Getty Images
For anyone flying Wednesday or Thursday, it's a good idea to note that airlines aren't taking any risks with Winter Storm Quinn. Canceled flights and delayed planes now number over 2,000 across the Northeast, due to the potential threat of weather conditions, with the possibility of more interrupted travel to come.
Quinn is forecast to dump snow throughout much of the Northeast between Wednesday and Thursday, with some places expected to get as much as 18 inches. But airlines didn't wait to see if meteorologist predictions came true — they grounded upwards of 800 flights scheduled for Wednesday before a single snowflake hit the ground. Another 180 flights scheduled for Thursday have also been preemptively canceled.
Most of the canceled flights were set to take off from or arrive in airports in cities that were expected to be hit hardest by Quinn. Those include Boston, New York, and Philadelphia, which helps explain why the number of grounded planes is so high. With densely populated areas forecast to receive potentially heavy snow and high winds, the number of people (and flights) impacted goes up.
For travelers whose flights are canceled, most airlines are offering flight waivers and refunds to make the hassle a little less of a burden. Specific policies vary by airline, so travelers should contact their airline for more details.
Even travelers outside of New England could see their travel plans disrupted by Quinn. More than 24 flights set to arrive in Orlando and Ft. Lauderdale, Florida have been canceled, which means departures from those airports will also likely be affected.
Quinn's winter conditions leave little doubt as to why so many flights have been canceled. Begun a week ago from the Gulf of Alaska, the storm has been moving eastward across the northern United States, causing blizzards in parts of California and bringing winds strong enough to knock semi-trucks over in Wyoming.
And Quinn could give New England residents a glimpse at a rare meteorological marvel — thundersnow. The event is pretty much encapsulated by its name, occurring when thunder happens during a snowstorm. According to AccuWeather, there's the possibility of thundersnow with Quinn, which is probably exciting news to meteorologists.
But thundersnow is definitely not a welcome development for airline pilots — or their passengers. In places like Finland, where thundersnow is more common, planes are more likely to get hit by lightning in the cold winter months than in summer. Like everyone else, pilots are not expecting lightning during a snowstorm like they would be during a summer rainstorm.
In fact, 10 different planes in Helsinki were reported hit by lightning from a snowstorm on the same day in 2011.
The danger of a lightning strike to a plane is minimal — they're constructed with that possibility in mind. But lightning chasing a moving airplane is a danger to structures and humans on the ground. On one occasion, lightning aimed for a landing airplane struck the ground instead, resulting in a nearby house burning down entirely.
Despite its menacing name, thundersnow is not at all the most dangerous winter weather flight risk. Rather, the combination of snow and wind is a much greater threat to safe airline travel.
Planes take off and land at very high speeds, which are easier to keep under control when the runway is dry. Additionally, when wind is added to the condition of a wet runway, it can become impossible to keep an airplane on a straight trajectory down the runway.
Even without the wind, heavy snowfall can be enough to ground planes. Accumulated snow or slush will put a drag on plane wheels, which then impedes them from reaching the speed necessary to take off in flight.
So while canceled flights are certainly an inconvenience, the heavy snow and winds brought by Winter Storm Quinn could pose a serious risk to airline passengers. Disrupted travel plans are a worthy price to pay for a safe arrival.