Terrifying & Brilliant Pennywise Halloween Costume Ideas For 'It' Fans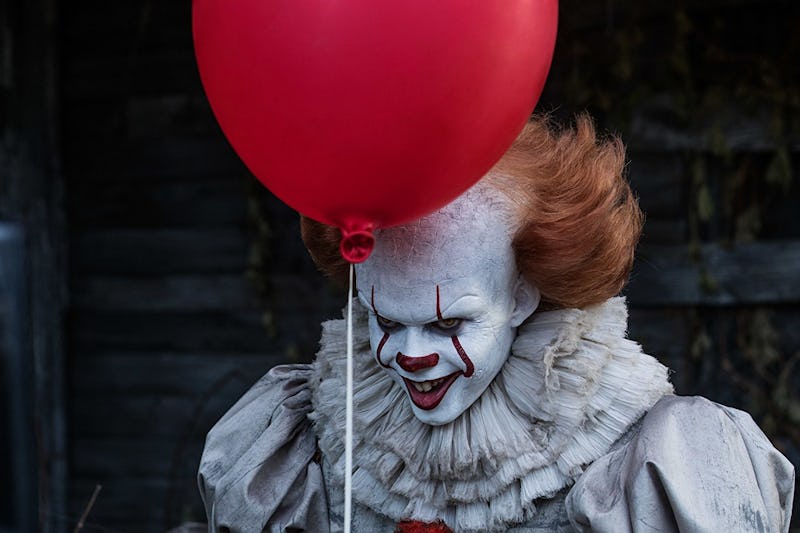 Warner Bros Pictures
If seeing the new take on Stephen King's It (or, if you're me, seeing just the trailer for the new take on Stephen King's It) hasn't sufficiently terrified you from now until Halloween 2018, then your next logical step is probably to take on the infamous Pennywise as your costume for this year. After all, if he doesn't scare you, why not embody him? Luckily, coming up with some quick Pennywise Halloween costume ideas is actually fairly easy.
There's something about this clown demon character that plays into many people's deep-seated fears. Is it his leering expression? The way he holds that red balloon? The otherworldly shape of his face? I'm not sure, but I do know this: if you show up to my house to trick or treat in even a tame version of this costume, I'll probably give you all my candy and make a run for it.
The recent resurgence in the clown's popularity (thanks largely to the shockingly handsome actor who played him in the recent film) has led to lots of takes on this costume — including some glam Pennywise makeup tutorials that will put the movie character to shame. Let's take a step back here, though, and return to basics with some ideas to help you put together 11 of the simplest elements of this iconic nightmare-haunter. I'll just be over here practicing my best "I'm not scared!" face.
Check out the entire 'What's Up, Boo?' series and other videos on Facebook and the Bustle app across Apple TV, Roku, and Amazon Fire TV.
White Shirt
Long Sleeve Button-down Blouse, $11, Amazon
Vintage Ballet Bubble Skirt (White), $9, Amazon
Use an old white button-down shirt as your base, and get your hands on a tutu that you won't feel too upset about cutting into shreds. With a little help from a hot glue gun, you can use pieces of the tutu as ruffled embellishments around the wrists, neck, and shoulders to mimic the Pennywise look. You should also glue three red pom poms along the front of the shirt as buttons.
Coffee Filter Ruff Necklace
Rockline Basket Coffee Filters (700 Filters), $9, Amazon
Crimped Curling Ribbon (White), $5, Amazon
Create an inexpensive DIY version of Pennywise's Victorian-style ruff using coffee filters and a ribbon. Fold each coffee filter into fourths, then staple the middle. Punch a hole below the staple, cut off the pointy end, and slide the filter onto the ribbon. Continue sliding filters onto the ribbon until the ruff can cover your whole neck.
Novelty Contact Lenses
Crazy Clown Contact Lenses, $24, Sclera Lenses
They say that the eyes are the window to the soul. In the case of Pennywise, however, it's probably more apt to say that the eyes are the window to the dark, creepy soul-lacking being that lurks beneath that tattered clown costume. Getting the right look for your eyes is key for pulling off a good Pennywise, so invest in orange novelty contact lenses that will immediately give your expression a devious look.
Prop Teeth
Killer Clown Dentures — Adult, $5, Walmart
It's important that you be able to mimic Pennywise's all-too-chilling smile. The best way to do it? False teeth, of course! There are tons of options available online that will get you closer to scary clown status, so look for a pair that's sharp and pointy.
Wig
Rubies Pennywise Wig, $25, Amazon
Pennywise's 'do is a little less round than your typical clown's, so a standard clown wig isn't going to give you quite the look you're going for here. Costume retailers and manufacturers everywhere have picked up on the fact that Pennywise is making a major comeback for Halloween 2017, so you should have no problem tracking down something that will look a lot more true to the It character.
Face Shape
Liquid Latex, $10, Amazon
Basic Solid White Bulk Tissue Paper, $5, Amazon
Cosmetic Sponges, $3, Amazon
Pennywise has a thick brow and forehead — which helps with his whole perpetually angry look — and if you're ready to get a little more hands on with your makeup, you can recreate the unique shape of his face. Use a sponge to dab liquid latex along your forehead, then build up super thin layers of tissue paper on your skin so that it's thicker in the center and near your brows. Be sure to allow for drying between layers. It's kind of like paper maché on your face.
Makeup
YouTuber and pro makeup duper Pinkstylist has a great tutorial for this — check it out above.
Face
Chromacake — Pure White, $28, MAC
For face make-up, recommends a MAC Chromacake in Pure White as the best base for Pennywise's face. In his YouTube tutorial, he applies it all over his neck, face, ears, and bald cap (which he's opted to wear under his wig).
Mouth
Chromacake — Basic Red, $28, MAC
Makeup Cosmetic Brush by Molie, $3, Amazon
Maybelline Color Sensational Shaping Lip Liner, Brick Red, $6, Amazon
Once again, Pinkstylist recommends a MAC Chromacake for this part of the Pennywise look, this time in Basic Red. Use a fine brush to trace out the shape of the clown's smile around your own lips. You'll want to fill in your lips first (like you would with a standard lipstick), then create the swooping lines up to your eyes and ending in points on your forehead. Use lip liner to make your Pennywise pout stand out a little extra from the other lines you've drawn.
Nose
Chromacake — Basic Red, $28, MAC
Makeup Cosmetic Brush by Molie, $3, Amazon
Pennywise is not your standard clown, and he definitely doesn't have the standard round clown nose. You can use the same fine brush and red MAC Chromacake you used for your lips to create a nose more fitting for this creepy character. Fill in three red circles on your nose — one in the middle (near the tip of your nose), then one on the side of each nostril. Blend the color up slightly toward your forehead.
Eye Makeup
Chromacake — Black Black, $28, MAC
Line your eyes on the top and bottom with heavy black makeup. Pinkstylist recommends the MAC Chromacake in Black Black.
BYOB (Bring Your Own Balloons)
Perhaps the most iconic images of this already iconic clown are those featuring Pennywise alongside a pack of floating red balloons. Ask a fellow It-obsessed friend to play the role of this all-important prop by putting a spin on a costume DIY hack best known for recreating a cluster of grapes. Use a hot glue gun ($6, Amazon) to attach (inflated) red balloons ($6, Amazon) to a plain red shirt ($3, Amazon).