The Ridiculously Easy Marvel Halloween Costume Hack That Lets You Be 5 Different Characters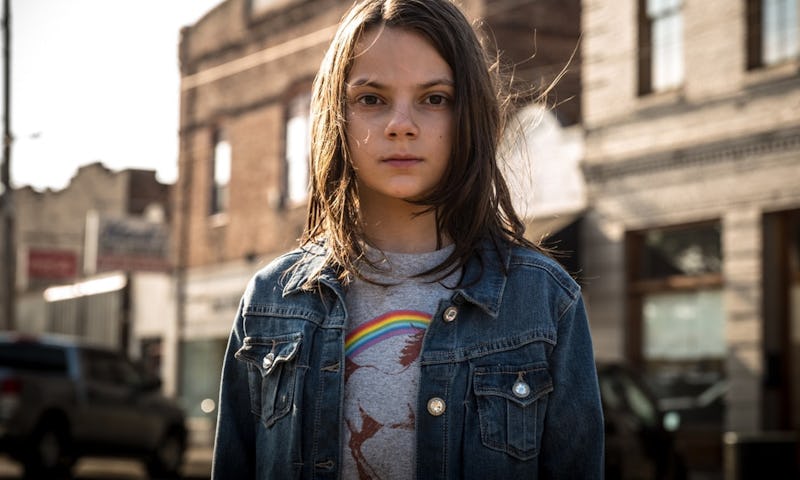 20th Century Fox
Not all heroes wear capes, but a great deal of them do wear spandex, and even more of them cary around snazzy, world-saving accessories. It's part of what makes dressing up as a superhero for Halloween so much fun. But as tempting as it is to just splurge on that official Iron Man costume, complete with your own personal Jarvis, it's actually a lot more fun to try out these easy Marvel Halloween 2017 costume ideas. And, it will probably save you some cash too.
With the constant addition of new movies to the Marvel Cinematic Universe (MCU), not to mention the countless Netflix and network TV shows, it can be hard to pick just one Marvel superhero to be this Halloween. Do you get your friends together to be the Avengers or the Defenders? Do you go solo like Doctor Strange or villainous like Loki? So many possibilities, so few hours in the day. These easy Marvel Halloween costume ideas run the gambit form Captain America to Laura (aka mini Wolverine from Logan), and can easily be as detailed or as easy as you want. Just don't be surprised if you're asked to save a man from a burning building or stop a candy burglar while you're out trick-or-treating.
Captain America
What you'll need:
Captain America Shield, $9, Walmart | Captain America Shield Harness, $55, Amazon | Captain America Mask, $34, Amazon | Captain America T-shirt, $24, Torrid | Captain America Fleece, $40, Amazon
Prove that you, too, could "do this all day" with a Captain America ensemble fit for the glory of Chris Evans' biceps. The centerpiece here, of course, is the Captain America shield, but in a pinch, you can't go wrong with this Captain America fleece that will both give you a costume and keep you warm in the cool fall weather.
Jessica Jones
What you'll need:
Black Biker Jacket, $43, Shein | Infinity Scarf, $19, Amazon | Fingerless Gloves, $25, Nordstrom | Blackberry Crewneck T-Shirt, $26, Lands' End | Messenger Bag, $24, Amazon | Vintage Camera Photography Case, $4, Amazon
Get ready to do some private detective work as Jessica Jones with this fully fashionable getup. Jessica Jones is known for her low-key style, so nothing you wear will really look like a costume. The standard Jessica Jones Halloween costume of a biker jacket and infinity scarf is really practical if you want to look badass on Halloween night and beyond.
Laura
What you'll need:
Rainbow T-Shirt, $18, Etsy | Denim Jacket, $41, Torrid | Sunglasses, $15, Amazon | This Is Wolverine Reader, $3, Amazon | Logan/Wolverine Dog Tags, $6, Amazon
Laura is the superhero we deserve. The mini Wolverine and breakout star of Logan has a style that's childish and fun (see the rainbow t-shirt and brightly colored sunglasses), but also incredibly threatening and badass at the same time.
Nick Fury, Black Panther, Hulk, Luke Cage, Colleen Wing
What you'll need:
Hulk Mask, $18, Target | Eye Patch, $2, Party City | Yellow T-Shirt, $26, Lands' End | Katana Sword, $29, Amazon | Black Panther Mask, $20, Etsy
If you're more of a low-key Halloween person, check out these individual details that can make a Marvel costume. A eye patch will turn any outfit into a costume of Nick Fury undercover. Layer a hoodie over a yellow t-shirt, and — BOOM — you're Luke Cage. Throw a katana over your shoulder, you've become Colleen Wing, and handy masks can turn you into any superhero form the Hulk to Black Panther.
This Halloween don't just be a hero, be a Marvel superhero. Or, at least, be a Marvel standout. Just remember: wearing awesome superhero outfits will not give you incredible strength or the ability to scale a wall like a spider. You'll just have to work for those yourself.