The Lyrics To Ed Sheeran & Beyoncé's Duet Will Leave You Swooning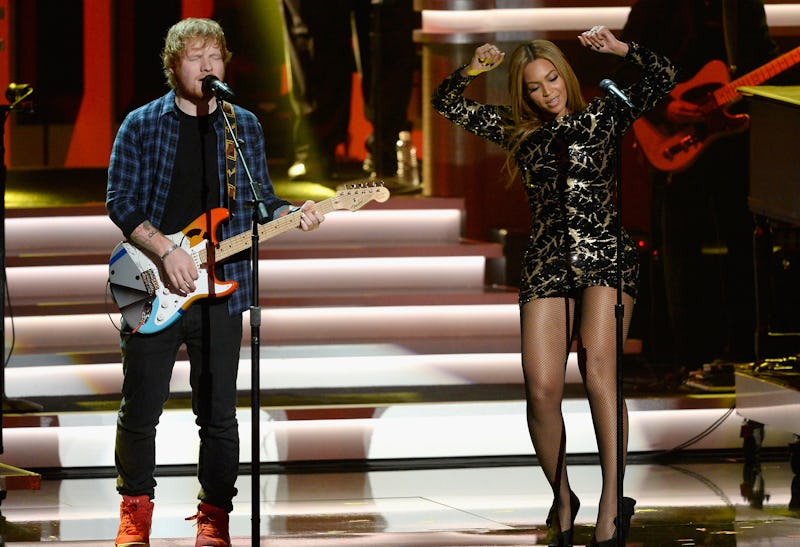 Kevork Djansezian/Getty Images Entertainment/Getty Images
Though the freshly released duet mostly stays true to the original, Ed Sheeran and Beyoncé's "Perfect" lyrics do make some subtle, but still notable, tweaks. The concept is the same — a romantic, laudatory ode to a significant other — but with a few altered pronouns. Where Sheeran used to sing, "Well I found a woman, stronger than anyone I know," Beyoncé swaps in "man," and "Be my girl, I'll be your man" has been changed to say "Be your girl, you'll be my man." Sheeran's verses stay intact, and the closing stanzas that the two belt out together don't have any gender-specific mentions, so those also stay the same.
It's a small shift, but it has a sizable impact, as it makes the song play more like a call-and-response. Instead of Sheeran simply serenading a woman, it now sounds like two people expressing their mutual love for one another, which drives home the sentimental message at its core. (The choral inflections that back Beyoncé's vocals also give it a more soulful feel).
Take, for example, the chorus:
"Baby, I'm dancing in the dark with you between my arms
Barefoot on the grass, listening to our favorite song
When you said you looked a mess, I whispered underneath my breath
But you heard it, darling, you look perfect tonight"
Before, Sheeran's words came across like a confessional diary entry, but now they seem tangible, direct, like he's performing for his partner in real time.
And even more so when Beyoncé chimes in:
"Well I found a man, stronger than anyone I know
He shares my dreams, I hope that someday I'll share his home
I found a love, to carry more than just my secrets
To carry love, to carry children of our own
We are still kids, but we're so in love
Fighting against all odds
I know we'll be alright this time"
Her reply further roots the song in the present, as if two lovers have sprung into spontaneous song about how deeply they care for each other, musical style.
"Perfect" itself certainly isn't old — it comes from Sheeran's March album, Divide — but the remix breathes new life into the standout single. While detailing the collaboration during a recent interview with Channel 4 Radio, Sheeran even said he was basically going to "Despacito" the song, referencing Luis Fonsi and Daddy Yankee's breakout reggaeton-pop hybrid with Justin Bieber.
Like "Perfect," which spent 26 weeks on the Billboard Hot 100 and peaked at No. 3, "Despacito" was plenty successful on its own. When it was first unveiled in January, it debuted at No. 2 on the Hot Latin Songs chart, landing Fonsi his biggest debut ever and his highest charting single since 2009. But when the remix with Bieber was released in April, it launched into a cultural phenomenon. It sat atop the Hot 100 for 16 consecutive weeks, earning both Fonsi and Yankee's first No. 1 on the chart and tying with "One Sweet Day" by Mariah Carey and Boyz II Men as the longest-reigning No. 1 single in the Hot 100's history. The music video for "Despacito" has since become the most watched YouTube video of all time with more than 3 billion views, and together, the two versions of the track have earned "Despacito" title as the "most streamed song in history." Nearly a year after its initial release, "Despacito" is still inescapable.
Sheeran, it seems, hopes the same will apply to "Perfect," and with Beyoncé, he definitely aimed high. It's worth noting that "Perfect" marks the Lemonade powerhouse's third collaboration in as many months. She appeared on a remix for "Mi Gente," from Colombian singer J Balvin and French singer-producer Willy William, in September, then joined Eminem on his emotional new ballad, "Walk On Water," earlier this month.
Both tracks have been charting well, but that shouldn't mean too much competition for "Perfect." Beyoncé and Sheeran are some of music's most sought after talents, each with fervent fan bases of their own, and it seems inevitable that their duet will hit big (judging by the social media reactions rolling in, it already has.) The altered lyrics are a nice addition, but the collaboration would have been big with or without them.