Ed Sheeran & Beyoncé Just Dropped A Duet & You'll Want To Hear It Immediately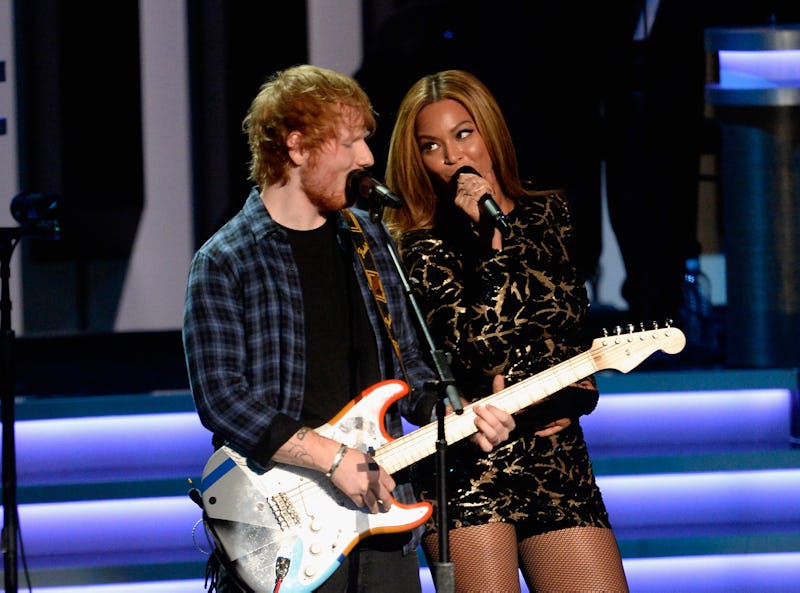 Kevork Djansezian/Getty Images Entertainment/Getty Images
In news that will make music lovers weep tears of joy, Ed Sheeran and Beyoncé collaborated on the song "Perfect." And yes, it totally lives up to the song's name. Originally released on Sheeran's Divide album, the love ballad just got a million times better, simply by adding Bey to the track. Because yes, that's the secret formula for how to improve any song ever. Seriously, fans of either artist are going to want to listen to it as soon as humanly possible. It's currently available on Spotify and TIDAL.
On Thursday morning, Sheeran teased the news on Instagram, writing, "Got Beyoncé to duet with me on Perfect," as if it was the most casual announcement in the world. But true fans know this isn't the first time the pair has blended their voices with one another. They performed a Stevie Wonder tribute together back in 2015. And later that year, Bey and Sheeran sang "Drunk In Love" at the Global Citizens Festival. Basically, they're old pals at this point, but that doesn't make any new collab any less exciting.
In the track, Sheeran sings,
"I found a love for me
Darling just dive right in
And follow my lead
Well I found a girl beautiful and sweet
I never knew you were the someone waiting for me
'Cause we were just kids when we fell in love."
Of course, he's not singing to Beyoncé, as she's married to JAY-Z (and they're doing better than ever, based on Jay's recent interview with the New York Times). But that doesn't make the song any less romantic.
As for Beyoncé's contribution to the song, you know she brought her A-game (or should we call it Bey-game?), since her vocals are always top-notch. She belts out the song's original verses with slight lyric changes:
"Well, I found a man
Stronger than anyone I know
He shares my dreams
I hope that someday we'll share our home
I found a love to carry more than just my secrets
To carry love, to carry children of our own"
And yes, fans are already loving the updated track. Just look at some of their responses on Twitter:
While Bey hasn't released any solo music in what feels like far too long, she's been doing quite a few collaborations over the past year. She sang on J Balvin and Willy William's "Mi Gente" remix to raise money for hurricane release efforts at the end of September. Then, a few weeks ago, Beyoncé and Eminem released "Walk On Water." And who could forget "Family Feud" on JAY-Z's 4:44 album in June? The couple even snagged a 2018 Grammy nomination for Best Rap/Sung Performance.
Now, that brings us to Sheeran. Hopefully the release of "Perfect" means a new music video starring both of them is on the way. Can you imagine how glorious that would be? Anyway, while you wait and wonder and play the track on repeat another million times, you can also look back at their previous performances together and reminisce.
Here's their version of "Drunk In Love" that transforms the song into an acoustic masterpiece. The guitar and Bey's vocal are so good together. This needs to occur way more often.
And here's their tribute to Stevie Wonder where the pair honors the legendary artist with their own musical styles.
The fact that they've collaborated multiple times by now means they should totally team up and go on tour together, right? Maybe? OK, for now, that's just a musical dream. But in the meantime, feel free to go replay "Perfect" as much as your heart desires.