Ed Sheeran & Baby Spice Join Musical Forces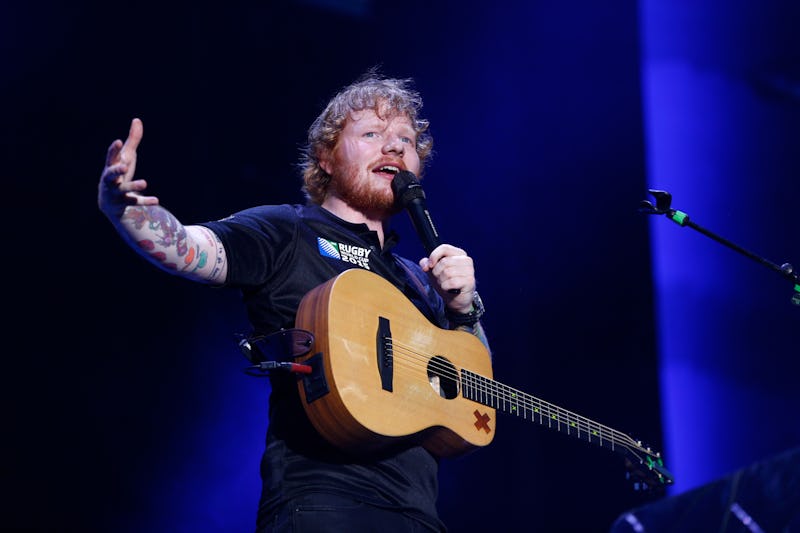 Phil Walter/Getty Images Entertainment/Getty Images
What happens when Ed Sheeran and Emma Bunton team up for a hot minute to perform a quick rendition of a song by the best-selling girl group of all time? You better believe my ears devour every delightful second. And I'm sure your ears will do the same. As The Daily Mail pointed out, Sheeran and Bunton sang Spice Girls track "Goodbye" on a recent episode of the latter's Heart London radio show. Accompanied by the "Thinking Out Loud" singer's guitar, the duo belted out the chorus of the first single off of Forever. And it was so ridiculously charming and lovely and wonderful. Full stop.
Post-performance, Sheeran joked that he could be Ginger Spice, and Bunton joke-agreed. And now I can't stop envisioning the "Goodbye" music video, but with Sheeran filling in the platform shoes Geri Horner (née Halliwell) left behind: Sheeran roams around that spooky ice castle with the other Spices. Sheeran accidentally bumps into a frozen icicle person. Sheeran stands in a ballroom while white guitar picks fall from the sky. Sheeran stares at the pack of wolves. Oh, and Sheeran's wearing a Union Jack fur coat the whole time. Obviously.
Enough of my dream music video scenario, you can check out Sheeran and Bunton's version of "Goodbye" here:
This clip truly is a GEM.