Ed Sheeran Is Performing At The Grammys, Too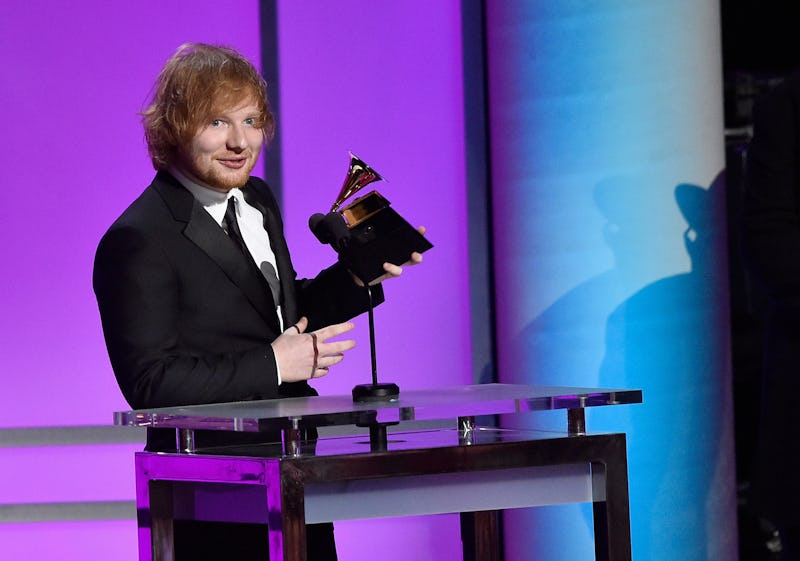 Kevork Djansezian/Getty Images Entertainment/Getty Images
This weekend is looking like a pretty great one for singer/songwriter Ed Sheeran. The artist performed Saturday, Jan. 11 on Saturday Night Live, then announced the next morning via Instagram that he would be performing at the Grammys later that evening. But what sort of tunes will everyone's favorite red-haired vocalist be gracing his audience with at the awards show? Sheeran's Grammy performance could feature the singer debuting his latest singles, the Billboard Hot 100-toppers, "Shape of You" and "Castle on the Hill," live for all to hear. I'm so hopeful it happens.
The 25-year-old twice-Grammy winner is joining a star-studded list of celebrity performers such as fresh-off-the-Super-Bowl Lady Gaga, Metallica, Adele, Bruno Mars, fresh-from-pregnancy-announcement Beyoncé, and Carrie Underwood. While the massively talented members of that list is certainly an intimidating group to perform alongside, there's no doubt that Sheeran, who is nominated for Song of the Year as songwriter of Justin Bieber's "Love Yourself," can hold his own.
Sheeran released both of his new singles on Jan. 6, 2017, and gave a nice sampling of the two tracks during his recent SNL performance. They are both leading songs from his third album, Divide, which is set for release on Mar. 3. The album comes at the heel of Sheeran's self-imposed time away from social media, which he announced on his Instagram account with the promise that his latest album would be, "the best thing I have made thus far." That's a pretty hefty vow, but based on the two singles we've heard, it seems like it could turn out to be an accurate one.
You can catch Sheeran's performance at the 59th Grammy Awards Sunday at 8 p.m. ET on CBS, and see how those new songs (or perhaps some other tune) sound live on-stage.