8 Scary Anti-LGBT Measures That Could Pass In 2017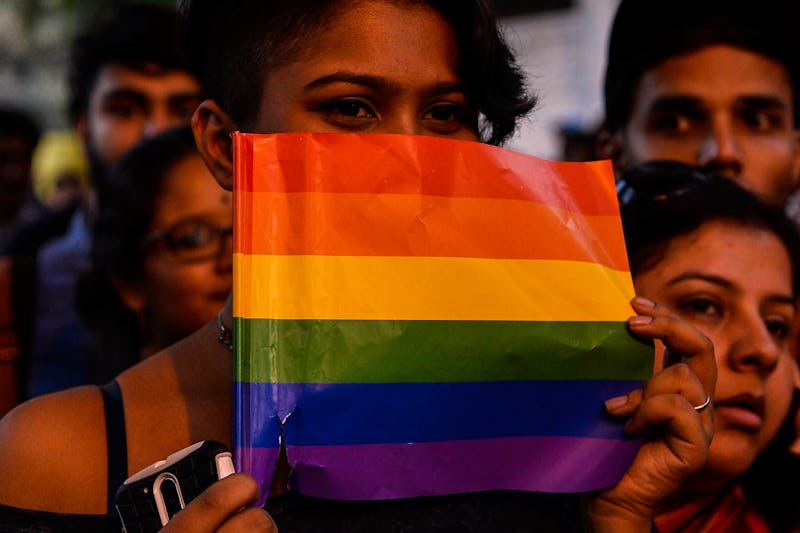 CHANDAN KHANNA/AFP/Getty Images
Buckle your seat belts, folks. If you thought 2016 was rough on LGBTQ rights, you'll be in for a bumpy ride this year, unfortunately. Although more anti-LGBTQ legislation was proposed in 2016 than had been introduced in nearly a decade, advocates and activists have warned that the onslaught of anti-LGBTQ legislation will likely get worse in 2017.
Although the LGBTQ community has gained an increase in public visibility and acceptance over the past few years thanks to high-profile public figures like Apple CEO Tim Cook, Olympic athlete Caitlyn Jenner, actress Laverne Cox, and Wisconsin Sen. Tammy Baldwin, to name only a few, the rights of LGBTQ people continue to face repeated challenges. In 2017, the ACLU is anticipating that a slew of religious freedom bills, many of which will serve to legalize discrimination against LGBTQ people, will follow Donald Trump's inauguration.
"We expect the volume to continue to rise in 2017, both because we have more conservative state governments than in the past, and also since our side defeated an overwhelming majority of bills in 2016," ACLU Advocacy and Policy Counsel Eunice Rho recently told CNN. Rho said the ACLU was also expecting to see an increase in bills targeting transgender people.
While the year has only just gotten underway, anti-LGBTQ bills are indeed already popping up around the country. Here are some of the anti-LGBTQ bills that have already been pre-filed or introduced for 2017:
1. HB24 In Alabama
HB24 would allow adoption and foster care agencies to use "religious objection" as a legal means for refusing to place children in a home, potentially closing the door for same-sex or transgender couples looking to adopt or foster a child.
2. HB205 In Missouri
HB205 would allow government and religious officials in the state to refuse to perform marriage ceremonies due to "religious objections."
3. SB98 In Missouri
SB98 would prohibit transgendered children from using a bathroom that corresponds to their gender identity. Should SB98 pass, transgender kids would be required to use individual bathrooms.
4. SB1 In Tennesse
SB1 would allow for mental health counselors in the state to refuse services to LGBTQ patients on the grounds of "religious objections."
5. SB92 In Texas
SB92 would standardize nondiscrimination laws throughout the state of Texas, thus barring local governments from passing legislation with stronger protections. Currently, the state has no nondiscrimination laws aimed at protecting the LGBTQ community.
6. H3012 In South Carolina
H3012 would prohibit local governments or other political subdivisions from passing a law to allow transgender people to use a multi-occupancy bathroom or locker room that does not correspond to their biological sex.
7. HB1612 In Virginia
Known as the "Physical Privacy Act," HB1612 would require public school principals to notify a parent or guardian within 24 hours should their child request to be recognized, treated, or identified as a member of the opposite sex or use a restroom that does not correspond to their biological sex. The bill also mandates that "no individual shall enter a restroom or other facility designated for use by members of the opposite sex."
8. HB106 In Kentucky
HB106 would require public schools, state universities, and state and local government offices to mandate bathrooms under their control "only be used by persons based on their biological sex."
In light of the number of anti-LGBTQ bills that have already been pre-filed for 2017, it's important to keep yourself informed and engaged regarding challenges to LGBTQ rights. You can continue stay up to date with the above legislation (and learn about additional measures introduced later in the year) using the ACLU, which has vowed to track anti-LGBTQ legislation across the country.
Those who live in states where legislators are proposing anti-LGBTQ measures can reach out to their state representatives to demand they oppose any legislation that seeks to legalize discrimination against gay, lesbian, bisexual, or transgender people in any way, shape, or form. Calling, writing, and emailing your state's governor, assembly members, and state senators is one of the most effective actions you can take to combat bills that harm the LGBTQ community. Websites like Open States can help you find out who your state legislators are along with various ways to contact them.
Those who don't live in states currently contemplating anti-LGBTQ measures might consider donating to the ACLU or other LGBTQ organizations to help fund the fight to protect and advance gay and transgender rights.