The Star & Director Of 'Eighth Grade' On Why People Are Only Now Taking Teen Girls Seriously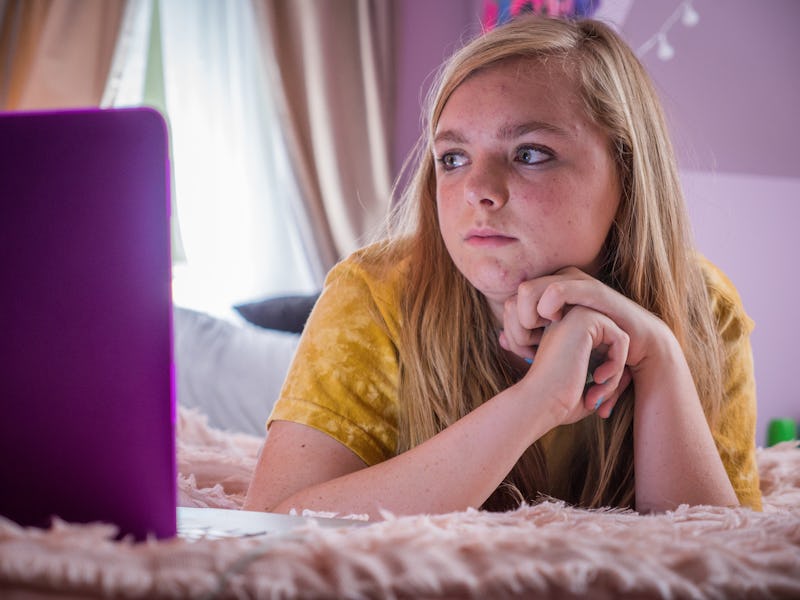 A24
Kayla, the lonely 13-year-old protagonist of Bo Burnham's new movie Eighth Grade, would probably never describe herself as hero or a leader — she likely wouldn't even deem herself the star of her own story. Yet to audiences, Kayla is just the latest in a line of teens taking center stage in movies (Lady Bird, The Diary of a Teenage Girl, Edge of Seventeen), on TV (Grown-ish, The Runaways), and even in real life. These days, it seems, teen girls are in the spotlight — and Eighth Grade star Elsie Fisher, for one, couldn't be happier to finally have that platform.
"With all that's been going on with shootings [and gun violence across the country], we've seen young girls and teens in general rise up and get to speak," says the 15-year-old actor, when we sit down at A24's New York office in June. "There are awful issues going on, but it makes me proud that teens are being given a voice... A lot of teens, for forever, have had opinions and ideas that could help. But now we're finally being heard."
It's true; for the first time in what feels like an eternity, the world seems to be paying closer attention to what teenagers have to say, whether it's on-screen (just look at those Lady Bird box office numbers) or off (already, there are tangible results of the gun control movement led by Emma Gonzalez and her Parkland peers). For once, the words and actions of young adults — especially young women — are not being cast off as inconsequential or unimportant, because both politicians and audience members alike understand that teens can affect real change — and it's about damn time. Says Burnham, "It's really nice that we seem to be in a moment of taking kids seriously."
According to both Fisher and Burnham, a big reason that adolescent girls' voices are being magnified these days is simple: the rise of social media. Through platforms like Twitter, YouTube, and Instagram, teens across the globe are able to share their thoughts on issues big and small, and actually get heard; young public figures like Malala Yousafzai and Yara Shahidi have millions of followers each, while non-famous teens use social media to communicate the details of their lives in a more open, frequent way than ever before.
"It's a deep experience for them. It's not like, 'selfie!'" says Burnham, with a laugh. "Everybody thinks it's like this decorative, vapid thing, and it's not. It's very, very meaningful." Adds Fisher, "We've become self-aware much younger, and I think that comes along with the internet."
With Eighth Grade, his feature directorial debut in theaters July 13, Burnham portrays the adolescent experience as something worthy of attention and respect, rather than ridicule; Kayla is painfully awkward and sometimes self-absorbed, yes, but she's also kind, curious, and determined to better herself in any way possible. In other words, she's as real a teen girl as it gets, full of contradictions and messing up as often as she succeeds.
"I felt like I could really make a connection with this character who struggled to articulate, because I often struggle to articulate," says Fisher. A lot of times in media, teens are like, 'I know what I'm doing all the time, and I'm very well-spoken, and I'm ready to party.' But, wrong."
Burnham hopes that seeing Kayla's everyday challenges in Eighth Grade will encourage adult viewers to not only take teens more seriously, but to be more empathetic toward their struggles. "I don't want the movie to be prescriptive or preachy or anything — it's just like, this is what it feels like and this is what it means," he explains. "For parents with kids on their phone at the dinner table, [think about] the day they had, maybe, that led them to want to be on their phone. Also, take a look around the world. Maybe they don't want to be off their phone because they don't want to look up at this sh*tty world. You know what I mean?"
Adds Fisher, "[Parents] went through teenhood and they know what it's like... hopefully, this will make everyone be a little more understanding and sympathetic." By putting young people's thoughts and concerns in the spotlight and treating them with respect, Eighth Grade might just have a huge impact — and this current "moment" for teen girls will hopefully have no end.