El Paso's Migrant Shelters Are Full — Forcing Hundreds Into Hotels & Onto The Streets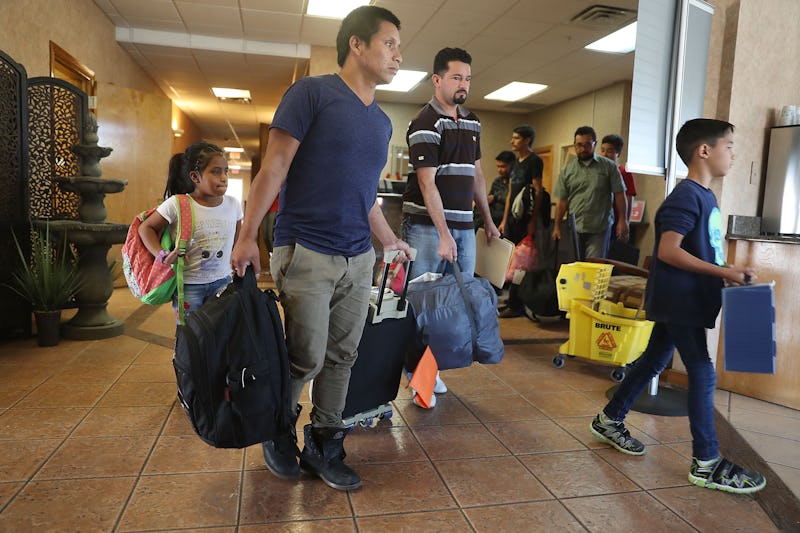 Joe Raedle/Getty Images News/Getty Images
After the government released some 1,600 migrants in the city this week — hundreds at a time starting last Sunday, all without warning — El Paso's migrant shelters reached far beyond capacity. Now, relying temporarily on hotel rooms to house families, migrant advocates are calling on the government for a more permanent solution.
Ruben Garcia, the executive director of Annunciation House, the city's largest migrant shelter operator, told The Guardian that his organization has done all it can to find housing for families. Throughout the week, staff and volunteers worked into the night to find placements.
Large groups were released on Sunday, Dec. 23, Christmas Eve, Christmas Day, and on Thursday. The shelter operator, with its partners, has space for about 2,200 people and is looking to expand to about 3,000. Temporarily, families have been booked in hotel rooms — running about $150,000 a month. Now, though, with the Sun Bowl taking place on Monday, many of those rooms are booked.
Garcia says a system must be found to "ensure families are not released on the street." He told The Guardian that it is "unacceptable to release families with children, some of them very young children, to the street."
"That, we have to say, is a non-negotiable, that is simply not acceptable. Whatever logistics, whatever pressures may exist, we have got to find a system," Garcia told the paper.
Speaking with local media, Garcia underlined the fact that releasing so many migrants without warning was a departure from the past practices of Immigration and Customs Enforcement (ICE) and Customs and Border Protection (CBP).
"I'm calling upon ICE and CBP to commit themselves to ensuring that — never again — will families be released to the streets," Garcia told local news channel KVIA ABC-7. "We hope that is something that will never again be implemented and left in the past."
Bustle has reached out to ICE and CBP for comment. An ICE spokesperson provided Bustle with the following statement:
We are in regular communication with government officials, local representatives and the NGOs, and ICE makes an effort to provide advance notification of the estimated number of family units that need to be released. The NGOs typically inform us of their available shelter space. If the number is beyond what the NGOs can accommodate then ICE will move the additional family units to a designated location if requested by the local community.
Due to the rising influx of family units crossing the border, NGOs have expressed they are over capacity and cannot accommodate all the family unit releases.
Because ICE is severely limited in providing family detention due to judicial decisions interpreting the Flores Settlement Agreement, the agency is forced to release family units even when the NGOs are unable to provide shelter placement. We are redoubling efforts to work with them and with other local partners so they can attempt to seek other assistance.
Incoming Rep. Veronica Escobar penned an op-ed in The El Paso Times commending the community for their dedication to the migrants, and criticizing the government for not doing more. "It's obviously not a question of resources for the federal government," Escobar wrote. "This administration seems to have a blank check when it comes to incarcerating children at the Tornillo camp facility. It's a question of will."
The bills for the hotel stays are being paid in part by donations. The El Paso Community Foundation and the Prudential Foundation gave $40,000 to Annunciation House on Friday to help cover the costs.
"As a community, we are going to do whatever we need to do to take care of these people," Escobar told The Guardian. "They are vulnerable. They deserve compassion. And help. And support. And El Pasoans always rise to that occasion."
The El Paso Catholic Diocese Bishop Mark Seitz released a statement also calling on the government to act. He pointed to the deaths of children while in detention and said "an undeniable picture is coming into focus and it is not one of which we Americans can be proud."
Seitz said the church was working with Annunciation House to receive hundreds of people a day. But he said the government must act, too. "Our government has a responsibility when it takes these refugees into custody to provide for their basic needs," Seitz said in his statement.