Elizabeth Warren Just Hinted That She Might Run In 2020 — Because Of Trump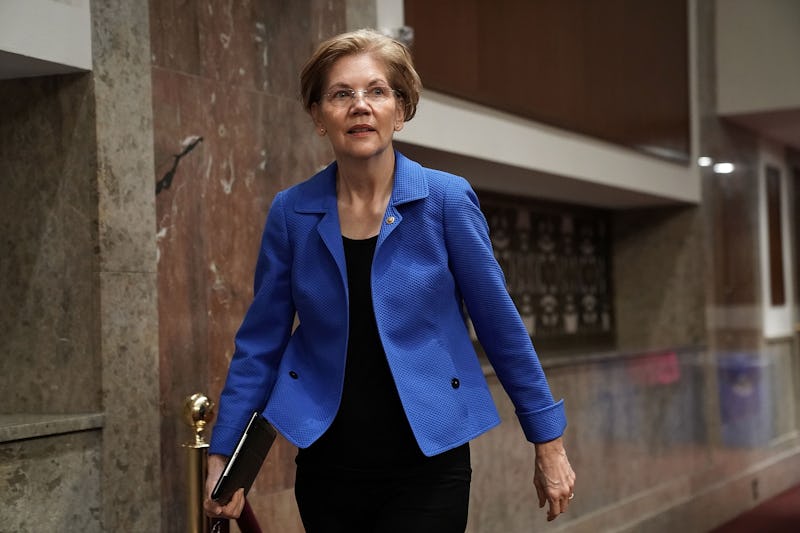 Alex Wong/Getty Images News/Getty Images
Could we see one of President Donald Trump's most vocal critics on the presidential ballot in 2020? Amid increasing speculation about Sen. Elizabeth Warren's potential plans for a 2020 presidential run, the Massachusetts senator admitted Friday that at least one thing has changed since she last mulled over the idea in 2016.
Congressional Black Caucus Chairman Rep. Cedric Richmond questioned Warren about a potential 2020 presidential bid during a town hall-style Q&A panel at Dillard University in New Orleans, Louisiana. And although Warren refrained from explicitly saying whether she planned to run or not, she did drop what could potentially be a major hint.
"Two words: Donald Trump," the Associated Press reported Warren said when asked if anything had changed since she opted not to run for president in 2016. But the Massachusetts senator dodged any further questions of her 2020 plans; she quickly turned the conversation toward the importance of treating the upcoming 2018 midterm election as Democrats opportunity to chip away at Republicans' control of Congress in order to be better aligned to oppose Trump's administration.
In March, Warren was extremely clear in telling CNN that she had no 2020 campaign plans. "I am not running for president in 2020," she said. She reiterated a similar message in April, telling reporters her plan was to run for re-election to the Senate in 2018. "I'm running for the United States Senate in 2018," she said, adding that her plan was to serve the full six-year Senate term if re-elected in November. "I am not running for president of the United States."
But perhaps Warren's recent remark at Dillard University is evidence that Trump's presidency has, at the very least, caused her to reconsider her previous decision to remain in the Senate rather than campaign for the White House.
Indeed, Warren is one of five politicians The New York Times recently characterized as "a small advance guard of Democrats who appear to be moving deliberately toward challenging President Trump" by fundraising and speaking in cities across the country.
Prior to her panel with Richmond at Dillard University, Warren gave a speech at Netroots Nation in which she, according to the Daily Beast, seemed to hint at a potential 2020 presidential campaign. "We believe that in America every family deserves a fighting chance, and we're ready to fight as hard as it takes, as long as it takes, to deliver on that promise," Warren said, zeroing in on a rhetoric the Daily Beast's Gideon Resnick has argued "would prove crucial to any possible run" in 2020. "It won't be easy," Warren went on to say. "We're going to have to fight uphill. Me? I'm going up that hill."
"The Republicans will continue to practice the politics of division," she continued. "They will keep right on attacking anyone who dares to stand up to the rich and the powerful. They will call us every ugly name in the book. Nevertheless, we will persist."
Warren's team was also spotted distributing "Persist" signs ahead of the senator's speech at Netroots Nation, which some members of the media said signaled her intent to run against Trump in 2020. The phrase "Nevertheless, she persisted" became something of a rallying cry for Warren and her supporters in 2017 after the Senate Majority Leader said it in an attempt to silence Warren and block her from raising objections to Attorney General Jeff Sessions' nomination on the Senate floor.