Elizabeth Warren Wants This One Thing For Her Birthday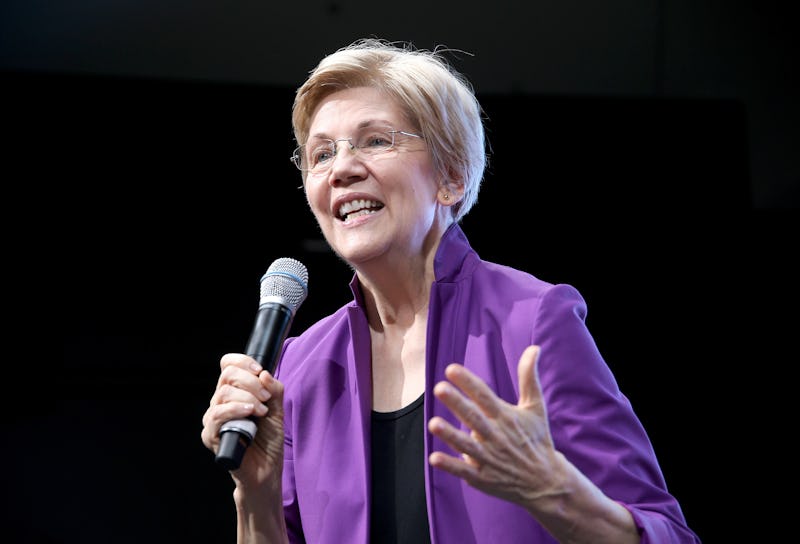 Paul Zimmerman/Getty Images Entertainment/Getty Images
As the senior senator from Massachusetts and the champion of the Democratic Party's progressive movement, Elizabeth Warren's been hailed for her persistence in turning her policy wish list into a record of realities. And Warren's agenda is growing by one this week as she celebrates her 68th birthday on June 22, the same day Senate Republicans finally revealed their new health care bill.
Republicans are pushing to make good on one of President Donald Trump's core campaign promises to repeal and replace the Affordable Care Act. After the nonpartisan Congressional Budget Office determined an Obamacare repeal bill passed in the House of Representatives would cause 23 million people to lose their insurance over the next ten years, Senate Republicans took to drafting their own version of the bill.
"This year I really, really want a bazillion women (and friends of women) to speak out loudly against the Republican plan"
Warren has been an outspoken critic of Senate Republicans for drafting their bill in secret, and now that it's out in the open, she's says she's hoping to galvanize Americans to stand up against a bill that proposes cutting Medicaid and reducing coverage for mental health care and maternity care in some states.
Warren tells Bustle exclusively about her birthday wish:
This year I really, really want a bazillion women (and friends of women) to speak out loudly against the Republican plan to rip health care away from millions of people so they can give billionaires a giant tax cut. There's not much time left. So when I blow out the candles tonight, I'll be wishing for lots of friends who will say, 'I'm fighting back.'
The House version of the GOP health reform bill would drastically hobble Planned Parenthood specifically, since the law would prohibit federal dollars from being spent on any insurance plans that include abortion services and ban funds from going to their clinics entirely. According to Vox, 2.5 million American women depend on Planned Parenthood for their reproductive health care needs. Warren blasted this attack on women's health on the Senate floor on Wednesday.
"I am sick of coming down to the Senate floor to explain to Republicans what Planned Parenthood does," she said. "I am sick of explaining it provides millions of women with birth control, cancer screenings, and STI tests every year. I am sick of pointing out again and again that federal dollars do not fund abortion services at Planned Parenthood or anywhere else."
The federal government has been prohibited from paying for abortion services since 1976, when the Hyde Amendment was passed. Planned Parenthood maintains that abortions make up only three percent of its services, which are funded from private donations. Contraception accounts for a third of visits, while screening and treatment of sexually transmitted infections makes up 42 percent of services provided annually, according to CNN.
The Senate bill proposes defunding Planned Parenthood for one year, making it vulnerable to losing the support of two moderate Republicans, Sen. Susan Collins of Maine and Sen. Lisa Murkowski of Alaska. With a 52-seat majority, Senate Republicans can only afford to lose the support of two senators in their party, provided every Democrat and Independent votes against the bill and Vice President Mike Pence breaks a tie in favor of Republicans.
From the campaign stump to the White House, President Trump has repeatedly vowed to defund Planned Parenthood, which operates as the sole abortion provider in some states. Warren and other members of the Senate won't have long to debate the bill. Senate Majority Leader Mitch McConnell is looking to hold a vote by the end of next week, before lawmakers head home for the July 4 recess.