Elizabeth Warren's Message To House Republicans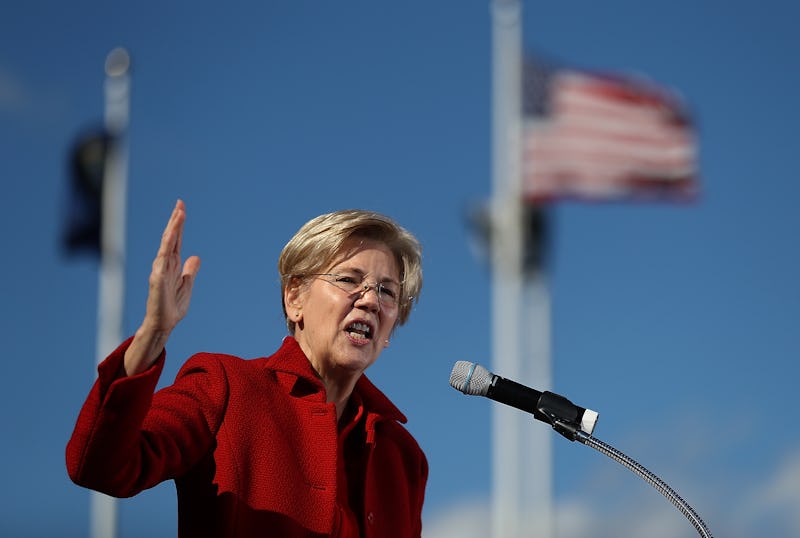 Justin Sullivan/Getty Images News/Getty Images
Though Republicans may have appeared intent on "draining the swamp" with the help of the new administration, it seems they may have just pulled the plug on the entire operation. With no prior warning or debate, House Republicans voted to significantly cripple the powers of an outside ethics office used to investigate scandals and corruption within House members. There has been backlash against the Jan. 2 vote from both sides of the aisle, but Massachusetts Sen. Elizabeth Warren's response to the Office of Congressional Ethics removal has been particularly critical.
Warren, like other critics of the controversial move, fears that any ethics violations will now be merely tossed to the House Ethics Committee, an internal group that has been notorious for its refusal to investigate credible allegations of corruption by lawmakers. So while House Republicans would build a new Office of Congressional Complaint Review in place of the Office of Congressional Ethics, there are some clear problems with their proposed arrangement.
The new office would not take anonymous complaints and any final decision would be overseen by the House Ethics Committee, which is comprised of lawmakers that toe their own party line. Any chance of "draining the swamp" — at least in a manner outside of lawmakers' need to protect themselves — has been effectively squashed with this new amendment.
Warren responded to this hypocritical move, tweeting:
Warren likewise pointed out how ridiculous it is to gut the office under Trump, given how much of his own administration seems to have skirted government ethics rules for years. "Trump's cabinet of billionaires and CEOs have ignored government ethics rules and dragged their feet on FBI background checks and financial disclosures. And now the House GOP is gutting its ethics office in the middle of the night – hours before the new Congress is sworn in," she said.
House Republicans voted 119-74 for the measure, despite some initial outcry from Speaker Paul Ryan. Ultimately, he was unable to sway a majority of House Republicans, who feel they have been unfairly targeted by the Office of Congressional Ethics.
And Ryan's office later defended the amendment in a statement, saying that the amendment's proposals offer "greater due process rights, clear timelines for consideration of complaints, and a basic level of oversight by the evenly-split bipartisan ethics committee. It does NOT remove the responsibility of the office to review complaints, carry out investigations, and make referrals to the ethics committee. The office will continue to operate in the new year and provide public accountability to Congress."
Yet all of this, of course, comes at a time when the country will be swearing in a new president who, by and large, seems to have no understanding of what ethics actually means. It's clear Warren is not letting her opinions on this matter go unheard.