Ellen Pompeo Misses April & Arizona On 'Grey's Anatomy' Just As Much As You Do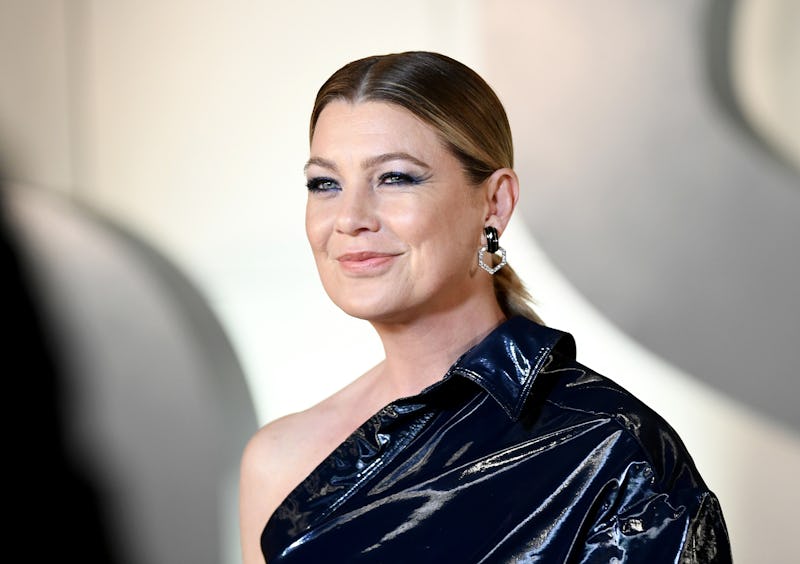 Emma McIntyre/Getty Images Entertainment/Getty Images
With only three fellow OG Grey's Anatomy cast members now left at Grey Sloan Memorial, Ellen Pompeo has learned to say goodbye to a work bestie or two over her more than 13 years on the ABC medical drama. As evidenced by Pompeo's new comments about Sarah Drew and Jessica Capshaw leaving Grey's Anatomy, parting is still such sweet sorrow for the Golden Globe nominated actor, regardless. During an interview with People at the recent Marie Claire Power Trip two-day women's empowerment conference, Pompeo reflected on working on the first new season of Grey's without Drew's Dr. April Kepner and Capshaw's Dr. Arizona Robbins.
"Of course [they are missed]," Pompeo told People. "We don't see them every day anymore, of course, because they don't come to set. We all have gone through the experience of what it is to work on Grey's, which is deep, intense and emotional. We do 10 months out of the year."
Despite admitting she's had to accept that "actors come and go" in her line of work, Pompeo reiterated that very real bonds are still formed in the land of make-believe. "You do movies with people, you get close," she added to People. "TV shows are worse because you work together year after year after year. You go through births and deaths and, you know, hard days and bad days. It's like a family and it isn't. You know, it's weird — everyone throws around that word family, and it kind of is, but then it kind of isn't."
When all was said and done, Pompeo had almost a decade each of working with Capshaw and Drew, who both left Grey's following the Season 14 finale earlier this year. So it seems safe to say there had been plenty of life milestones shared over the years between the women. Keeping that in mind, Pompeo said she completely understands why Drew recently said it's been too "painful" to watch Grey's following her exit from the series.
"Of course I don't know firsthand and I don't want to speak for anybody, but I think it's probably a rush of emotions, because it's almost like the party goes on after you leave," Pompeo also told People. "I don't want to hear that the party kept going all night long and that it got better or had more people or was more fun, you know. And actors are emotional creatures. We're very sensitive."
Pompeo had to stay strong herself when fans initially blamed her for allegedly forcing Capshaw and Drew off of Grey's back in March. The backlash stemmed from a January 2018 piece in The Hollywood Reporter in which Pompeo revealed she'd negotiated a $20 million a year deal to continue starring in Grey's. When ABC shockingly announced months later that Capshaw and Drew were leaving the show at the end of the season, some viewers were quick to jump to conclusions, putting Pompeo into what she once called "a defense mode," in an interview with Bustle.
"It was really challenging because I, in trying to figure out what was going on and show compassion for my coworkers... felt like I had to defend myself, which was detracting me from paying attention to my friends — which was really what I needed to be doing, focusing on them," she explained. "So it was a lot of unnecessary noise that we didn't really need."
Drowning out the unsubstantiated fodder, Pompeo sang her costars' praises, bidding each farewell in separate social media posts. Acknowledging Capshaw's profound effect on the LGBTQ+ community as Arizona, Pompeo wrote to Capshaw that she "lit that screen up with your glow on the LGBT community... making a difference and making it all look so easy."
Pompeo also uploaded a photo of Drew, writing: "THANK YOU to this lady....@thesarahdrew you served up the sugar and spice for 9 years and it's been a blast. Your passion and talent for storytelling has touched so many people provoked thought and Greys is a better show because of it and you."
Grey's fans can at least take some comfort in the fact that Pompeo is still missing April and Arizona this year right along with them.