The Reason Sarah Drew Can't Watch 'Grey's Anatomy' Anymore Will Break Your Heart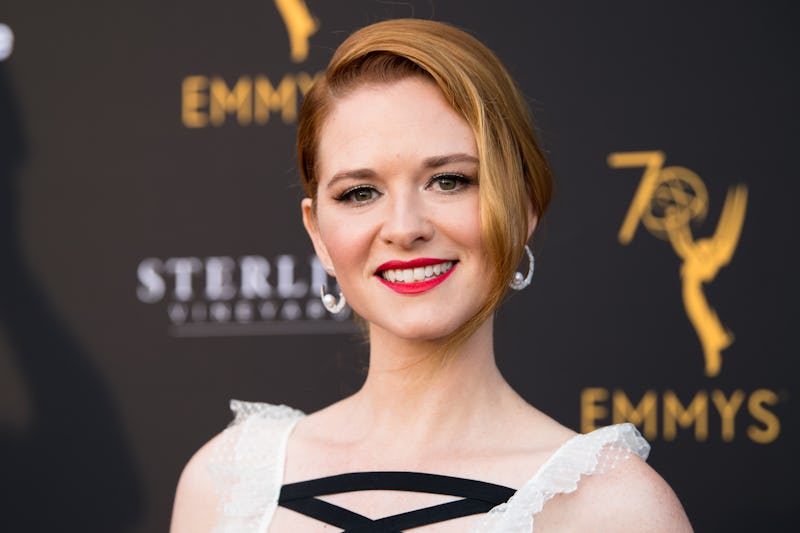 Emma McIntyre/Getty Images Entertainment/Getty Images
Having trouble getting into the new Grey's season sans April Kepner? Turns out, Sarah Drew can't watch Grey's Anatomy anymore, either, according to a new report from Us Weekly. And why is that, exactly? After parsing through the actor's new comments, it sounds like Drew's response to that question basically boils down to a pretty typical post-breakup (in this case, the professional kind) coping technique. So, the same way you'd probably want to steer clear of your ex's social media accounts in the immediate aftermath of a big-time split, Drew is similarly steering clear of Grey's Anatomy Season 15.
During a conversation with Us at the Rape Foundation's Annual Brunch in L.A. this past Sunday, Oct. 7, Drew — who played Dr. Kepner for nine seasons on Grey's — said she hasn't been keeping up with the goings-on of her former fictional colleagues since April's unexpected departure from the series earlier this year. Mostly because, as the actor explained, it still feels a little too soon. And while Drew made sure to wish her former cast mates "the best," she told the publication:
"I haven't been watching [Grey's new season]. I think it's, you know, it's a little painful to go and watch your family move on without you."
Ouch. Of course, as those who watched the show's last season already know, Drew's longstanding Grey's family isn't necessarily moving on without April by choice. (That said, it seems important to note here that the whole situation sounds exceedingly tough to grapple with, regardless.) In fact, after April left Grey-Sloan Memorial for good during the previous season's finale episode back in May, her fellow cast members were pretty open about their personal grief over the loss of Drew and her character.
"Over the last 14 seasons I've cried many tears on screen and off. This year was no different," wrote Ellen Pompeo (aka Dr. Meredith Grey) in an IG post addressing Drew's exit — and probably Jessica Capshaw's, too —during last season's finale, which was also April's last episode. Continuing, Pompeo wrote, "Saying goodbye to characters, cast mates, friends is always very hard regardless of the circumstances."
But, as difficult as it must have been for Drew's fans and colleagues to see April go after having spent almost a decade getting to know her, it seems like the transition has (understandably) been comparatively more difficult for the actor herself. "In a way, you almost feel like you're attending your own funeral. Weirdly," Drew told Vulture back in May, speaking about what it was like to film and eventually watch her Grey's character's final episode.
But, even though Drew might not be caught up on Grey's new season, it definitely doesn't sound like the actor is holding onto any lingering bitterness about April's exit. "The nine years on the show were absolutely formative and transformative and an absolutely incredible season of my life," Drew told Us during their conversation over the weekend. Continuing, she explained that, after nine glorious, emotionally-wrought seasons, it was probably time for her to hang up Dr. Kepner's scrubs, anyway. She said,
"In some ways, I feel like it was time for me to go, and I was ready to go, but it would have been hard for me to walk away ... I'm actually, in this moment, I'm feeling grateful for that."
So, to all those Grey's fans still mourning the loss of Dr. Kepner, know that you're probably in pretty good company. With that said, it definitely doesn't sound like Drew's fans need to boycott Grey's Anatomy's new season to appease her, by any means. Drew might not be ready to watch her former surgical family on TV just yet, but her latest comments (not to mention her recent Emmy nomination for Outstanding Short Form Comedy or Drama Series) suggest pretty strongly that the actor is totally thriving right now. Thankfully, she doesn't need April for that.