Ellen Pompeo's Heartfelt Post About The 'Grey's' Season Finale Will Make Fans Teary-Eyed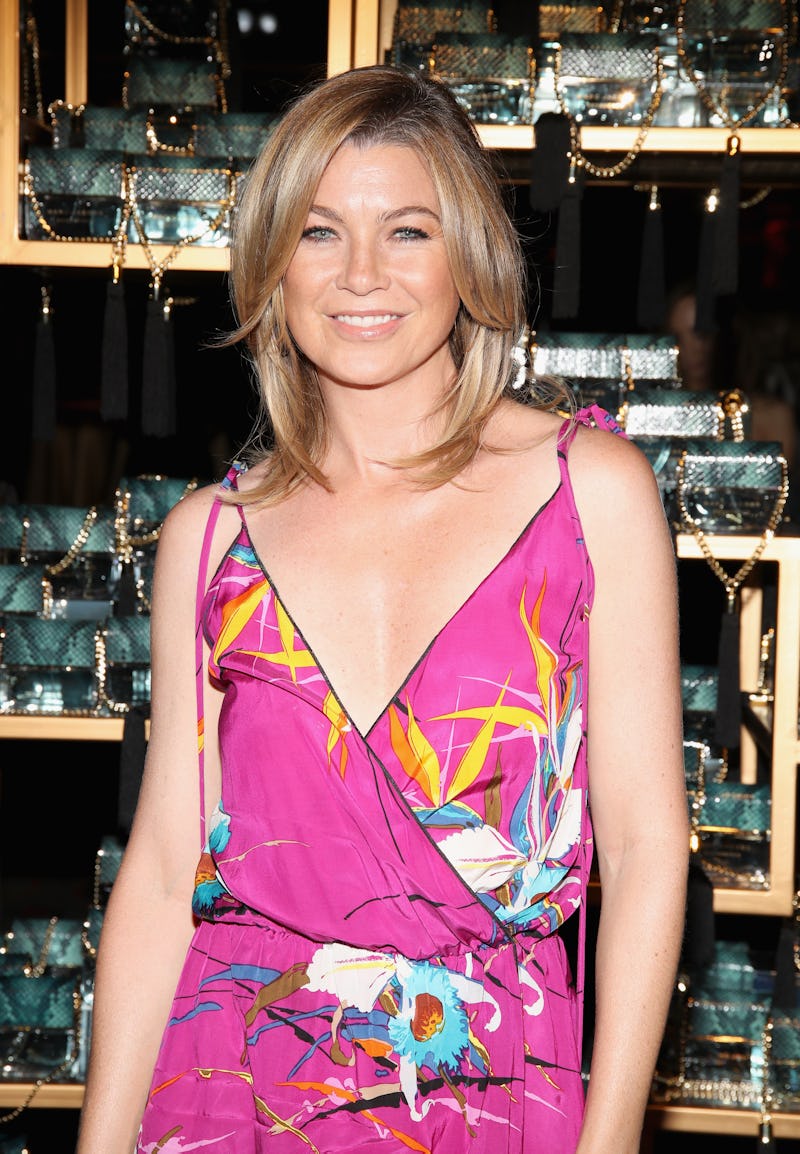 Randy Shropshire/Getty Images Entertainment/Getty Images
When Grey's Anatomy wrapped its fourteenth season Thursday night, it was an emotional evening. Fans said goodbye to two beloved characters, Arizona Robbins and April Kepner, played by Jessica Capshaw and Sarah Drew, respectively. However, viewers weren't the only ones who found the end of the season moving. The show's star, Ellen Pompeo, posted a touching note on Instagram, saying goodbye to her castmates and thanking the show's fans for their support.
On a bright pink background, the actor who plays Meredith Grey wrote,
"Over the last 14 seasons I've cried many tears on screen and off. This show has brought me so much joy and so much laughter but truth be told it has never been easy. This year was no different. Saying goodbye to characters cast mates friends is always very hard regardless of the circumstances. What remains and what keeps us going is the incredible passion and loyalty of our fans. So in classic Grey's bittersweet style we will leave you tonight with tears in your eyes and hopefully smiles on your faces. Thanks for riding with us on this roller coaster known as Shondaland. Much love Ellen".
Spoilers ahead. Despite the bittersweetness of Pompeo's message, April and Arizona's storylines came to relatively happy conclusions. After it seemed April might die in the second-to-last episode, the finale jumped forward a few weeks, revealing that she had quit her job at Grey Sloan Memorial to do God's work. She also ended up marrying ex-fiancé Matthew, played by Justin Bruening, after the two had been secretly dating for months.
Meanwhile, Arizona moved from Seattle to New York so her daughter Sofia could be closer to her other mom, Callie, played by Sara Ramirez. Arizona also noted that Callie is single, perhaps hinting that the two might get back together.
Still, Capshaw and Drew's characters were fan-favorites, making their departures particularly difficult to process. The characters were members of the LGBTQ and Christian communities, both of which are underrepresented on primetime television, and their storylines resonated deeply with many members of the show's audience.
After the finale aired, fans also took to social media to share their sadness at seeing the characters go.
A fan named @huntermadison97 wrote, "My eyes aren't sweating because Arizona and April are leaving greys, oh wait YES THEY ARE," along with crying and brokenhearted emojis, and @calzonaslovato tweeted, "I MISS ARIZONA AND APRIL ALREADY".
@Ninjashome also said, "One more time @JessicaCapshaw @sarahdrew Thanks for amazingly 10/9 years as Arizona and April. Will miss you."
Co-showrunner Krista Vernoff told Deadline in March that the decision was strictly creative, and creator Shonda Rhimes wrote issued her own emotional statement. Rhime said,
"It's always hard for me to say goodbye to any of my characters. Both Arizona Robbins and April Kepner are not only beloved but iconic - both the LBGTQ and devout Christian communities are underrepresented on TV. I will be forever grateful to both Jessica and Sarah for bringing these characters to life with such vibrant performances and for inspiring women around the globe. They will always be a part of our Shondaland family."
Pompeo seemingly echoed those sentiments when she joked in an interview with Entertainment Tonight on May 1, "You only get killed off when your behavior is bad. If you're a nice actor you die nice."
Lucky for fans, neither April nor Arizona met untimely demises, making it possible that the two might make return appearances in the the future. In the meantime, viewers can rest assured that the long-running show will be back with new episodes in the fall — and maybe even after that. According to Variety, in January Pompeo renewed her contract for two more years, giving fans plenty of Grey's to look forward to.