Ellen Pompeo's Latest Statement On The 'Grey's Anatomy' Exits Might Make Fans Less Upset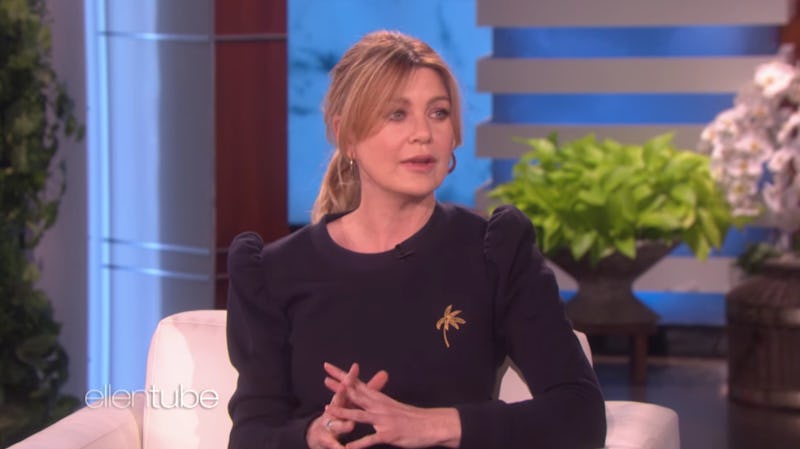 TheEllenShow
Following the shocking departures of her co-stars, Jessica Capshaw and Sarah Drew, Ellen Pompeo explained the Grey's Anatomy exits in a way that may help to finally put some of the chatter to bed. Rumors that the actor's recent salary hike was the alleged reason behind Capshaw and Drew's exodus began swirling shortly after a March 8 announcement revealed that the conclusion of Season 14 would be April and Arizona's final moments on the show. And, during Thursday's episode of The Ellen DeGeneres Show, Pompeo openly addressed both that rumor and the reasoning behind the decision
In response to the host's suggestion that the show could no longer afford Capshaw and Drew's salaries due to her increase in pay, Pompeo explained: "It's absolutely not true. I'm not involved in these kind of decisions." Pompeo then offered her own insight on a potential reason for their departures:
"There's a few problems that you encounter doing a show for 14 seasons. One of them is the writers have a really hard time creatively thinking up new stories for all these characters. I think we have 16 regular cast members, and I think it's always sad when we lose people for whatever reason. Whether they want to go or don't want to go, it doesn't make it any easier."
The issue has become a sore subject for fans of the show who have fallen in love with April and Arizona during their time on Grey's. Although both started out as recurring characters, their roles quickly turned into full time positions. Capshaw, who joined the show in Season 5, has been with the series for a decade, playing Head of Fetal Surgery, Dr. Arizona Robbin. Meanwhile Drew, who came on board in Season 6, has portrayed attending trauma surgeon, Dr. April Kepner, for nine years.
This isn't the first time that Pompeo has had to address the rumor. In fact, she used Twitter to respond to a past report that Capshaw and Drew's departures came just weeks after Pompeo signed a lucrative new deal that included a reported pay increase of more than $20 million per year.
Pompeo responded by asking fans not to "fall into the trap" of thinking that her recent salary increase had anything to do with Capshaw and Drew. "I'm a big girl @DEADLINE can take shots at me if they want but to the fans please don't fall into that trap. This is above my pay grade," she tweeted.
And, when speaking to DeGeneres, the actor also made it a point to remind viewers that there is a seat at the table for everyone and that people should remember to uplift instead of pitting women against one another:
"I think that it's important for us to not pit women against each other and to really dispel the notion that women are always victims. You don't have to pit us against each other. We're not enemies. We do lift each other up and support each other, and we're not victims. We're very strong and we're capable of many, many things."
In a piece for The Hollywood Reporter, Pompeo revealed that she allegedly made less that co-star Patrick Dempsey despite being the drama's titular character. "At one point, I asked for $5,000 more than him just on principle, because the show is Grey's Anatomy and I'm Meredith Grey," she claimed. "They wouldn't give it to me." According to Pompeo, her salary finally changed once Dempsey left the show in 2015.
Now, TV Line reports that her new contract will reportedly earn her $575,000 per episode as well as "points on the backend." But Pompeo maintains that her reported fight for equal pay has nothing to do with the creative decisions that will force fans to say goodbye to April and Arizona. So, with the controversy surrounding Capshaw and Drew's departures now fully addressed, Pompeo will hopefully be able to move on to the next chapter of her life.