Grey's Anatomy' Paid Ellen Pompeo Less Than Patrick Dempsey For Years, But She Fought Back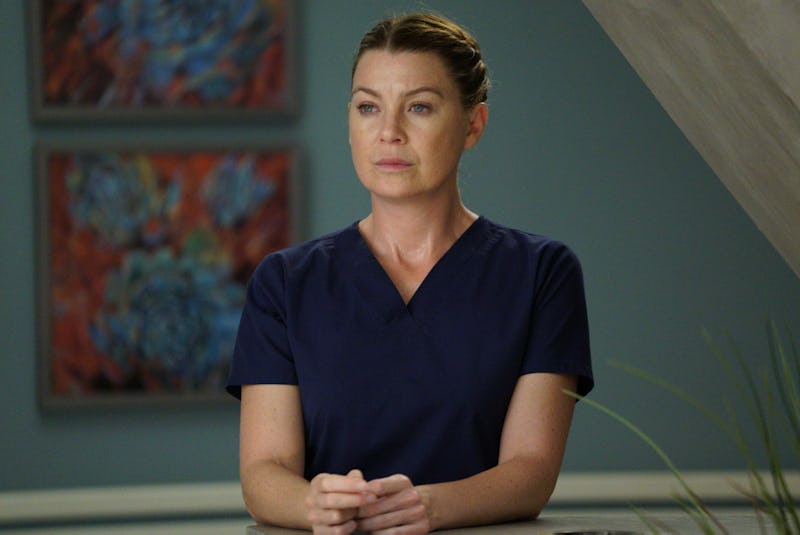 ABC/Richard Cartwright
You already knew Meredith Grey was your favorite TV doctor, but now there's an entirely new reason to be impressed. According to reports, for much of its run, co-stars Ellen Pompeo and Patrick Dempsey didn't receive equal pay on Grey's Anatomy (series creator: Shonda Rhimes). (Bustle has reached out to both ABC and Patrick Dempsey's team for comment on these claims, but did not immediately hear back.) But, 14 seasons in, Pompeo has executed an impressive contract renegotiation that puts the power firmly back in her hands. In fact, the Grey's Anatomy star wrote about the evolution she's experienced over a decade on television in a piece for The Hollywood Reporter that's as illuminating as it is empowering.
Not only has the actor signed on for two more seasons, making her the highest-paid actress on television, but she's also facilitating her burgeoning producing career. And best of all? She's eager to share the secrets of how she made all of this happen with the younger generation. In the Jan. 17 article, Pompeo claims that she played second fiddle for years, right up until Patrick Dempsey's departure from the series in 2015:
"For me, Patrick leaving the show was a defining moment, deal-wise. They could always use him as leverage against me — "We don't need you; we have Patrick" — which they did for years. I don't know if they also did that to him, because he and I never discussed our deals."
She alleges that she made multiple overtures to Dempsey, offering to join forces for added negotiating power, but claims, "he was never interested in that." So Pompeo writes that she reportedly continued putting the pressure on the network, instead. "At one point, I asked for $5,000 more than him just on principle, because the show is Grey's Anatomy and I'm Meredith Grey," she alleges. "They wouldn't give it to me."
Pompeo says she considered leaving the show in protest, but that she reportedly found herself wondering why she should "walk away from a great part because of a guy?" Instead, she turned to the show's creator Shonda Rhimes, who advised her star to look within and not without for her answer. "Decide what you think you're worth and then ask for what you think you're worth," she reportedly instructed her lead actress. "Nobody's just going to give it to you."
So, with Dempsey out the door, that's what Pompeo reportedly did in late 2017. She says that, even with her name in the title and over a dozen successful seasons behind her, she struggled to know how much to ask for:
"As women, we're like, "Oh, can I ask for that? Is that OK?" I'd call Shonda and say, "Am I being greedy?" But CAA compiled a list of stats for me, and Grey's has generated nearly $3 billion for Disney. When your face and your voice have been part of something that's generated $3 billion for one of the biggest corporations in the world, you start to feel like, "OK, maybe I do deserve a piece of this."
While there's been no response from the network about her claims on how she got to this point, Pompeo's new contract will reportedly earn her $575,000 per episode, or $20 million a year, as well as "points on the backend," which basically gets her an ownership stock in the franchise. (And, according to THR, another reported $6 or $7 million.) It will give her a producing credit that begins halfway through the current season, it will give her a co-executive producing credit on the Grey's Anatomy spinoff that's been announced for March 2018, and it will ensure that her production company Calamity Jane is well-placed for future ventures.
It's a whole lot of capital, sure, but represents only a small portion of what Pompeo is bringing to the table. In November, Variety reported that the series' 300th episode was watched by 8.13 million people, and, even though Seasons 15 and 16 haven't yet been officially greenlit, with Pompeo on board and these kinds of numbers behind them, the series shows no signs of slowing down.
So while it's frustrating to read that the titular character in one of the most successful shows on TV reportedly didn't receive the same treatment as her male co-star until he exited the show, don't let that get you down. Let a report that something like that could happen get you angry, and, just like Pompeo, fight for a world where that doesn't happen anymore.