Elon Musk Just Said He's Going To Help Fix Flint's Water Crisis — Here's How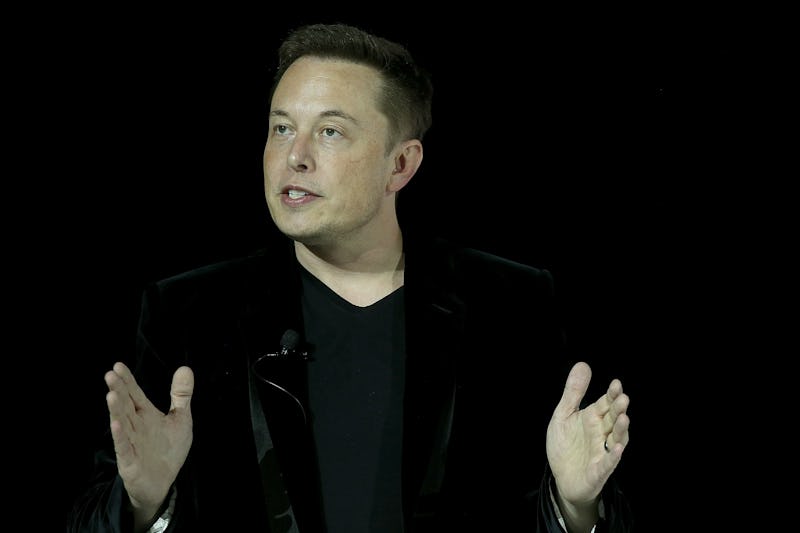 Justin Sullivan/Getty Images News/Getty Images
On Wednesday, after months of pleading from Twitter users, Elon Musk said he'll help fix Flint's water crisis. The billionaire and SpaceX founder wrote that he'll pay for and arrange the installation of water filters for all homes in the Michigan city that still don't have clean drinking water, and asked any affected residents to contact him on Twitter for assistance.
"Hey @elonmusk I heard a bunch of people saying there's NO WAY you could help get clean water to Flint, Michigan," Twitter user @DylanSheaMusic tweeted on Wednesday. "Said you wouldn't be capable idk"
"Please consider this a commitment that I will fund fixing the water in any house in Flint that has water contamination above FDA levels," Musk tweeted in response. "No kidding."
In subsequent tweets, Musk said that he's working on setting up an email address so that residents with contaminated drinking water can contact him, and in the meantime, that he'll "send someone to install a water filter" for anyone in Flint who replies to his tweet with test results of their home's water quality.
Flint has struggled to provide potable water for its residents since 2014, when state officials began using the Flint River as the city's water source.
Residents soon began complaining that the water tasted and smelled bad, and testing by the Environmental Protection Agency the following year detected dangerous levels of lead in the city's water. Progress in solving the crisis has been slow, and a University of Michigan report concluded in 2018 that Michigan Gov. Rick Snyder bore "significant legal responsibility" for the lack of drinkable water in the city.
In May 2018, PolitiFact reported that the city's water quality had substantially improved in recent years, according to 2017 testing by Susan J. Mastern of the Department of Civil and Environmental Engineering at Michigan State, a fact Musk addressed on Twitter Wednesday.
"Most houses in Flint have safe water, but they've lost faith in govt test results," Musk wrote. "Some houses are still outliers. Will organize a weekend in Flint to add filters to those houses with issues & hopefully fix perception of those that are actually good."
Twitter users have been asking Musk, who's reportedly worth over $20 billion, to help fix Flint's water crisis for over a year, and many have criticized him for failing to do so sooner.
Before promising to tackle Flint's contaminated water, Musk pledged to do what he could to help rescue a boys' soccer team that was trapped in a cave in Thailand. After brainstorming various possible solutions on Twitter, Musk ultimately went to Thailand and delivered a child-sized submarine to help extract the children from the cave.
At that point, however, the rescue effort by Thai authorities was already underway. All of the kids were successfully rescued shortly after Musk's mini-sub was delivered, and Narongsak Osottanakorn, the former provincial governor in charge of coordinating the operation, said that the equipment Musk provided was "not practical for our mission."
"Even though the equipment has state of the art technology, it does not fit our mission in the cave," Narongsak said, according to the New York Times.
The episode led some to accuse Musk of inserting himself into the situation as a publicity stunt. Musk pushed back against that characterization, writing on Twitter that Narangsak "is not the subject matter expert" and that the reaction to his efforts has "shaken my opinion of many people."
"We were asked to create a backup option & worked hard to do so," Musk tweeted on Wednesday. "Checked with dive team many times to confirm it was worthwhile. Now it's there for anyone who needs it in future. Something's messed up if this is not a good thing."