Emilia Clarke's 'Game of Thrones' Hair Has Had Some Seriously Wild Consequences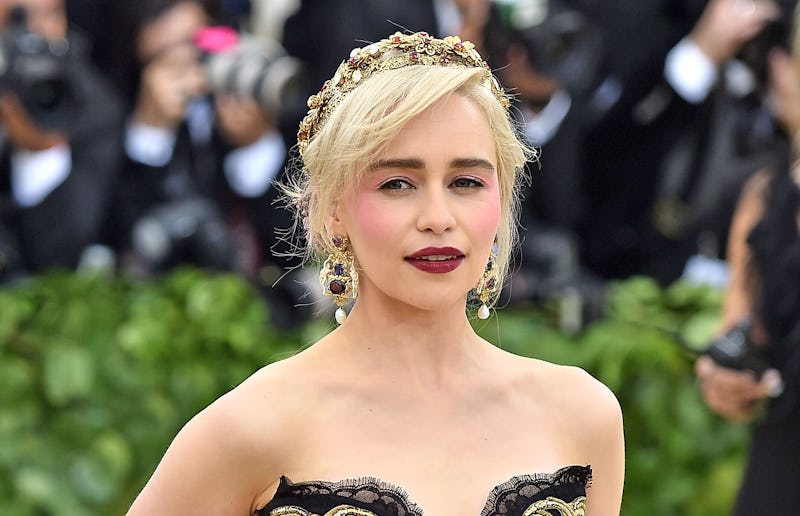 Theo Wargo/Getty Images Entertainment/Getty Images
When I — against the advice of everybody who loved me — decided to scrap my brunette locks and go blonde, my hair took years to recover. I remember my turning point was when I watched a few brassy strands literally snap at 90 degree angles. (It was also when I realised that I'm one of those Asian kids on whom blonde is really not a good look.) But I'm not alone. It turns out, Emilia Clarke's Game of Thrones hair also had some pretty disastrous consequences.
The actress is naturally a brunette. However, like many actors, bleaching and dyeing hair is just a necessary part of their job rather than a misguided post-uni whim. In fact, many a celeb's tresses have sadly paid the price — including the woman behind the Unburnt, Queen of the Andals and the First Men, Daenerys Stormborn of the House Targaryen.
Although Clarke usually wears a wig on Game of Thrones, she dyed her hair blonde earlier this year voluntarily for the final series — and it's safe to say she's regretting it. She now rocks a much shorter platinum look than her steely character IRL and she knows you've noticed. In an interview with Harper's Bazaar, she said: "Yes, [my hair] is quite short — because my hair was, like, dying! So I've cut it a little bit shorter. It's almost the shortest it's been."
I've been there, girl. Sometimes they're no saving it, you've just gotta go for the big chop.
The Me Before You actress bleached her hair last September according to her Instagram pic above, and rather than heading off to some swish salon, she turned to her Thrones family for the peroxide treatment.
In the post, she thanked the HBO series' hair designer Kevin Alexander and hair/makeup artist Candice Alexander for "making this magical moment a reality." Given that she revealed they were literally the masterminds behind the Khaleesi wig, there was nobody better to colour match and perfect the look.
Now that she's finally wrapped up the final series, the moment doesn't seem to be as magical anymore. She revealed to Harper's, Bazaar: "I'm honestly trying to grow out the blonde, because it's just killed my hair, and I miss having nice hair!"
She's not the only major celeb to have encountered bleaching disasters. Katy Perry, whose hair has been basically every colour of the rainbow, revealed on The Ellen DeGeneres Show why she opted for a pixie cut because of the damage constantly colouring her hair had done. She said: "I don't know if you've ever dyed your hair too blonde, but sometimes your hair falls out when you go too blonde so that's the way I handled it."
But, back to Emilia. It turns out that switching up her natural brunette locks had an annoying consequence. Since she stars in one of the most popular television shows of the decade, there's no doubt somebody's going to recognise her at any given time. Now that she's rocking Khaleesi's signature colour however, way more people are able to pick her out on the street and apparently, it's become a hassle.
"I get recognised a lot more, and I'm less good at dealing with that," she explained to Harper's Bazaar. "You clock anyone who's got this hair colour anyway. So you see someone with peroxide blonde hair you look, and then [people] go 'oh my god it's that chick from the show with the dragons' — and then I'm running!"
You live and you learn, I guess. Maybe next time she should hit up her GoT hairdressers for a personalised wig that she can rock every now and again, rather than committing to the full look 24/7.
Here's hoping Clarke's hair pulls through. Get on that Olaplex, girl.