Emilia Clarke Wants This 'Game Of Thrones' Co-Star To Join Her In The 'Star Wars' Universe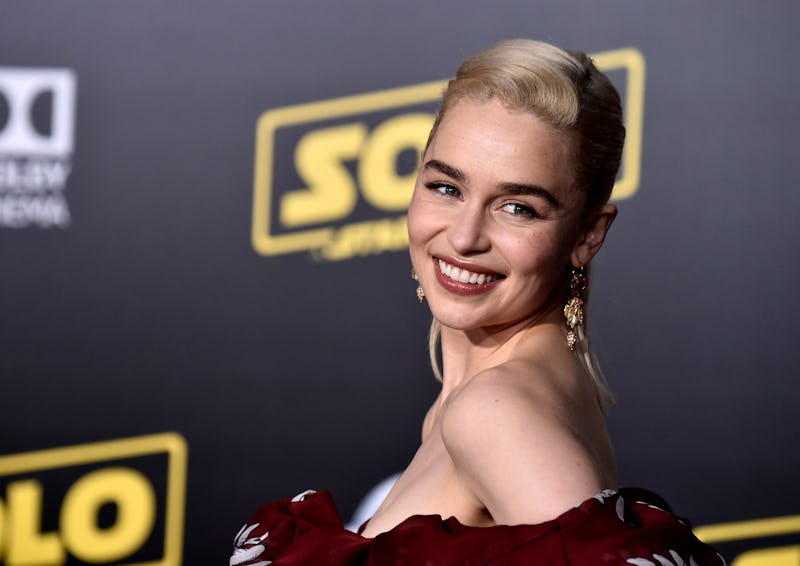 Frazer Harrison/Getty Images Entertainment/Getty Images
The fandom worlds collided when Game of Thrones star Emilia Clarke was cast in Solo: A Star Wars Story, but if the actor gets her way, that was only the beginning. It turns out that Emilia Clarke wants Game of Thrones' Kit Harington to join her in the Star Wars universe as a young Luke Skywalker. Just let that sink in at how epic that would be.
At the red carpet premiere of Solo, Entertainment Tonight asked Clarke if she'd like any of her Game of Thrones costars to join the Star Wars franchise in the role of young Luke. Without missing a beat, Clarke replied "I feel like I have to say Kit Harington. Because I have to, do you know what I mean?" That's as much as she said at the time, but please keep asking her this question, because the world deserves a longer answer to it. The King in The North as Young Luke? Is it hot in here, or is it just that incredible idea?
Clarke also revealed on the red carpet to E! News that she feels she lives in a permanent world of spoilers. Between a starring role in the upcoming Star Wars spinoff and the unknown fate of Khaleesi in Game of Thrones Season 8, Clarke's entire life boils down to "Try not to talk about it." But in a fun way, of course.
The fact that Clarke can't help talking about not wanting to spoil things for fans makes her second Instagram account all the more understandable. She recently let it slip that in addition to her charming, public-facing Instagram account, she has a second one — a super-private one — so avoid accidentally revealing new details to the masses. Oddly enough, that might mean that her friends and family are permanently at risk of having Clarke's projects spoiled for them.
That's something you probably have to accept about being friends with Khaleesi, though. It's not her fault she's constantly being cast in high-profile projects with excitable fanbases. In addition to starring in Game of Thrones and a Star Wars film, Clarke also played the lead in a Terminator sequel. Those would be major, career-defining accomplishments for any one actor. She has all three under her belt, and only began her professional acting career in 2009.
Whether Kit Harington will end up playing young Luke Skywalker one day is a different story. There is no young Luke-centric film currently in development, and if there were, the internet has already fan-cast the actor Sebastian Stan in the role, so he'd have that obstacle to overcome. (The I, Tonya star does look a startling amount like Star Wars actor Mark Hamill in his youth.) Since Clarke's idea to cast Harington in the role of young Luke Skywalker only just came up, he's yet to publicly comment on the idea. Hopefully, though, he'd be game for it. He's less stoic than his onscreen role would have fans believe, after all. Just look at his role in Andy Samberg's sports parody documentary 7 Days in Hell. That's all the proof you'll need.
Casting someone as beloved as Harington in a role as iconic as Luke Skywalker would be enough to melt the Internet for good. People would love it, people would hate it, people would create Tumblr GIF sets and Twitter threads and extremely long Facebook posts explaining their point of view, as fans are wont to do when studios inject new life into their childhood favorites.
Still, Harington excels on Game of Thrones in the role of a brooding, frustrated, and gifted dude suddenly handed power beyond all recognition — and with the fate of the world on his shoulders, no less. Maybe Clarke is really on to something with this one.